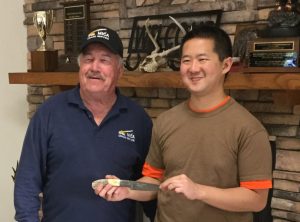 The 2018 Penwell Memorial Skeet Shoot at Grand Prairie Gun Club was held April 6-8, 2018. The weather in Texas is always a challenge in April, and this year was no exception. A cold front brought temperatures in the 40s with a strong north wind on Saturday.
Doubles began on Friday with milder temps, as the cold front was not there yet. Fifty shooters took the fields, and Grand Prairie's own Jason Foshea only dropped one target to win the championship with a 99. Will Chisum was runner-up with a 98, and Nicholas Godfrey was 3rd with a 97.
The 12 and 20 gauge were on Saturday, after the cold front arrived. Conditions were very cold and windy, but the shooters prevailed. Will Chisum (another Grand Prairie member) won the 12-gauge championship with a 99. Nicholas Godfrey (also a Grand Prairie member) took runner-up in a shoot-off with 98. GP member Michael Dennis was 3rd.
Michael Lee (not a GP member, but wants to be) won the 20-gauge title in a shoot-off with Jason Foshea, runner-up, after both posted 99s. Nicholas Godfrey was 3rd with a 98 – great shooting in these events under the conditions that existed. The fireplace in the clubhouse was very popular when the squads came in to warm up. As always, our volunteers provided great meals for everyone, and the Penwell signature shrimp boil Saturday evening proved to be a huge success.
Sunday provided milder temperatures and calm wind. Andrew Benson was the 28-gauge champ, winning the shoot-off of 99s with Darian Mock (another GP member), runner-up, and Johnny DeLeon 3rd.
Darian Mock won the shoot-off of 96s for .410 champ, with Jason Foshea runner-up and Robert Ellington 3rd.
At the close of the day there were three 388s vying for HOA champ. Michael Lee prevailed for champ, Jason Foshea took runner-up and Nicholas Godfrey was 3rd.
Another great Grand Prairie Gun Club skeet shoot is now in the books, and a good time was had by all. This only happens with the help of all the volunteers. For those that run the shoot, maintain the facilities, prepare the meals, load the targets and clean up – thank you! These shoots would not be the success they are without you. And if you have not been to a Grand Prairie Gun Club shoot, you need to put one on your shoot calendar. It's a great time, good targets and spirited competition. The World Warm-Up in September is our next event. Hope to see you there.
– Submitted by Randy Walhood
Click on any photo to enlarge it.