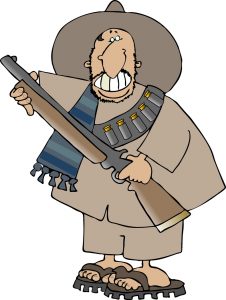 The Poco Loco is a 4×100 .410 shoot that has seen increased participation every year since it was first held in 2010. St. Joe Valley Conservation Club, home of the Kolar Mid-America and the Harry Michelson Open, hosts the Poco Loco, which has seen only two 400 straights in its history, both shot by Paul Giambrone, III.
At this year's event on June 24-25, 85 competitors took to the fields for the first event Saturday morning under blue skies, with light winds. Two shooters posted perfect scores: Paul Giambrone and Nick Marsden, who came all the way from England. Though the day started out promising, the wind picked up considerably for the afternoon event and stayed around for the shoot-offs. As a result, it didn't take long for Marsden to claim the championship over Giambrone in a mere four stations. Reg Hooper was 3rd alone, with a 98. AAA1, AA1 and A1 were all won with 97s by Al Magyar, Dave Scott and first-timer Pam Larrowe, also Lady Champion. Bill Costello (B), Trish Magyar (C) and Steve Wilson (D), rounded out the class winners.
Giambrone saw some redemption in the afternoon event by winning outright with the lone 99, but, alas, will have to wait until next year for a shot at another 4-by-4. Five 97s shot off for the remaining spots on the podium. Even though there were more shooters, it took only one more station to sort out all the places, with Sam Armstrong, runner-up; Bruce Poyer, 3rd; Gordon Novak, AAA1 and Ed Dean, A1. Fred Tschantz (AA), Dwight Moore (B), Trish Magyar (C) and Steve Wilson (D) all won their class without firing another shot. Becky McCumber won the shoot-off for Lady Champ.
In between events we took a break to dine on the fabulous fare offered by Jim Casaburro, owner, and his number one chef, Al, from everyone's favorite local restaurant, Casa Ristoranti Italiano, along with a variety of pies and cookies from the Amish Dutch Heritage bakery. Then, it was back to the fields for the afternoon event. After the completion of shoot-offs everyone was treated to more fine fare.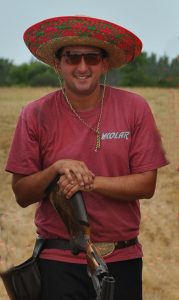 Sunday dawned with scattered clouds and, much to everyone's chagrin, continued breezy conditions. With the wind behind the high house, the baseline targets were a challenge for everyone. Three 98s topped the scoreboard. It took only two stations for Giambrone to claim victory over Dennis Jameson (RU) and Jadon Butler (3rd and Junior Champ). Armstrong (AAA) won his shoot-off, as did Mark Molenaar (AA), W.C. Parks (A) and Reg Hooper (B). Monty Murphy (C) and Steve Wilson (D) were at the top of their classes. Larrowe was Lady Champ..
The afternoon's fourth and final event saw a lone 100 posted by Giambrone. There were no 99s, so 98s shot off for the remaining spots on the podium. Novak quickly dispatched David Schiebel, 3rd. Armstrong won his shoot-off for AAA1, and Moore, his for B1. Tschantz (AA), John McGinnis (A), Murphy (C) and Wilson (D) rounded out the class winners. Larrowe repeated as Lady Champ after a three-way shoot-off.
Though there was no 4-by, Giambrone shot 397, dominating the High Over All. Next was Armstrong at 386 for runner-up, followed by Novak with 385 for 3rd. Magyar was AAA1 with 384; Tschantz, AA1; Marsden, A1; Hooper, B1; Trish Magyar C1; and Wilson, D1. McCumber was Lady HOA Champ.
For those of you who think the Poco Loco is only for AAA and AA shooters, nothing could be further from the truth. More than three-quarters of the shooters were in classes A through D, with winnings of nearly $20,000! There were also free Ladies handicap events totaling $1,000, with the lion's share going to B and C class shooters; $2,000 added money to Class HOA; $1,500 added to Concurrent HOA. And, last but not least, the very generous "Juan" Waters subsidized $160 of each four-gun entry for every Collegiate, Junior and Sub-Junior shooter to help defray their fees. Oh, and did I mention the two days of great food included with your entry?
Of course, the shoot, with all of its goodies (this year's entry gift was an engraved pocket knife plus towels and t-shirts for first-timers) and the huge cash payouts would not be possible without the sponsorship of the "three Juans" – John Haugh, John Ramagli and John Waters – especially John Haugh. The referees are the best of the best. The members and volunteers from St. Joe Valley Conservation Club also deserve a hearty "thank you" for their tireless efforts. I encourage you to attend one of St. Joe's shoots – it's a top-notch facility, and the hospitality of the members is unsurpassed. And, if you are feeling just a little crazy, maybe the Poco Loco will find its way onto your shoot calendar next June 23-24.
Poco Loco Scores

Place
Name
Score
HOA Champion
Paul Giambrone
397
HOA Runner-up
Sam Armstrong
386
HOA Third
Gordon Novak
385
HOA Lady Champion
Rebecca McCumber
380
HOA Lady Runner-up
Pam Larrowe
378
HOA AAA1
Al Magyar
384
HOA AAA2
Ben Gallup
382
HOA AA1
Fred Tschantz
382
HOA AA2
Brent Edwards
377
HOA A1
Nick Marsden
384
HOA A2
W.C. Parks
384
HOA B1
Reg Hooper
381
HOA B2
Dwight Moore
373
HOA C1
Trish Magyar
353
HOA C2
John Wilmesher
349
HOA D1
Steve Wilson
331
HOA D2
Barney Laverty
297
HOA Junior Champion
Jadon Butler
372
HOA Triple Sub Champion
Paul Giambrone
397
HOA Sub-Sub Senior Champion
W.C. Parks
384
HOA Sub-Senior Champion
Sam Armstrong
386
HOA Senior Champion
Al Magyar
384
HOA Veteran Champion
Jimmy Smith
365
HOA Retired Military Champion
Dennis Jameson
383
HOA Military Veteran Champion
Sam Armstrong
386
Event 1 Champion
Nick Marsden
100
Event 2 Champion
Paul Giambrone
99
Event 3 Champion
Paul Giambrone
98
Event 4 Champion
Paul Giambrone
100