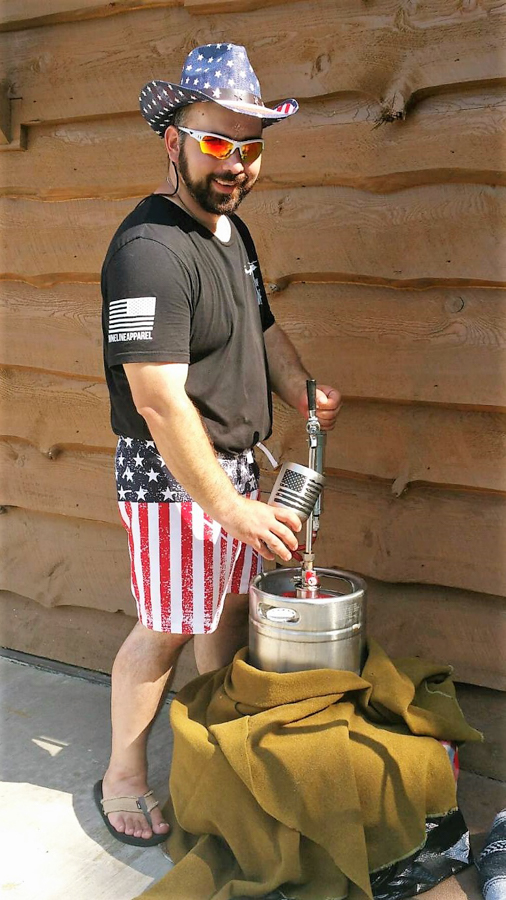 Tarentum District Sportsmen's Club (TDSC) near Sarver, Pennsylvania (about 20 miles north of Pittsburgh) held its Patriot 200 on July 4, 2018. The weather was hot and humid. Thirty-three shooters participated in the 12-gauge event in the morning, and despite the heat, 28 hung in for Doubles in the afternoon. Chris Kline's 197 was the high two-gun total for the day, with Ernie Avolio's 189 coming in second.
Kline and Avolio both posted 99s in the 12-gauge; Kline won the shoot-off and was 12-gauge champion. Class firsts went to Avolio (A), Debra Meade (B), Morgan Evans (C) and Mike Rykaczewski (E). Meade was Lady champion, and Paul Augustin won a shoot-off of 96s with Sam Marks to take Senior champ honors.
A tasty and abundant lunch was provided and devoured. Regina Nemurgut, Nick Sisley and Deb Meade shared food preparation duties. Several yummy desserts were also included, and a cold keg of draft 1919 root beer was very popular, especially over vanilla ice cream in a glass (can you say brown cow?).
Doubles were shot in the afternoon. Kline smacked 98 of them and was champion. Richard "Frenchy" Larosa (after winning a shoot-off of 94s with John C. Avolio), George Kirik, Bob Desort and Justin Avolio took firsts in A, B, C and D classes, respectively.
Bob Waite of Butler, PA shot his first 25 straight in the 12-gauge event, and his hat was properly perforated. Special kudos go to John Smith, Chris Smith and Rich Larosa for pulling and scoring – it was tough out there! Bill Straub and Deb Meade handled overall shoot management.
A lovely cake, commemorating Bill Straub's 75th birthday, was enjoyed by the shooters. Happy Birthday, Bill!
– Contributed by George Gleich