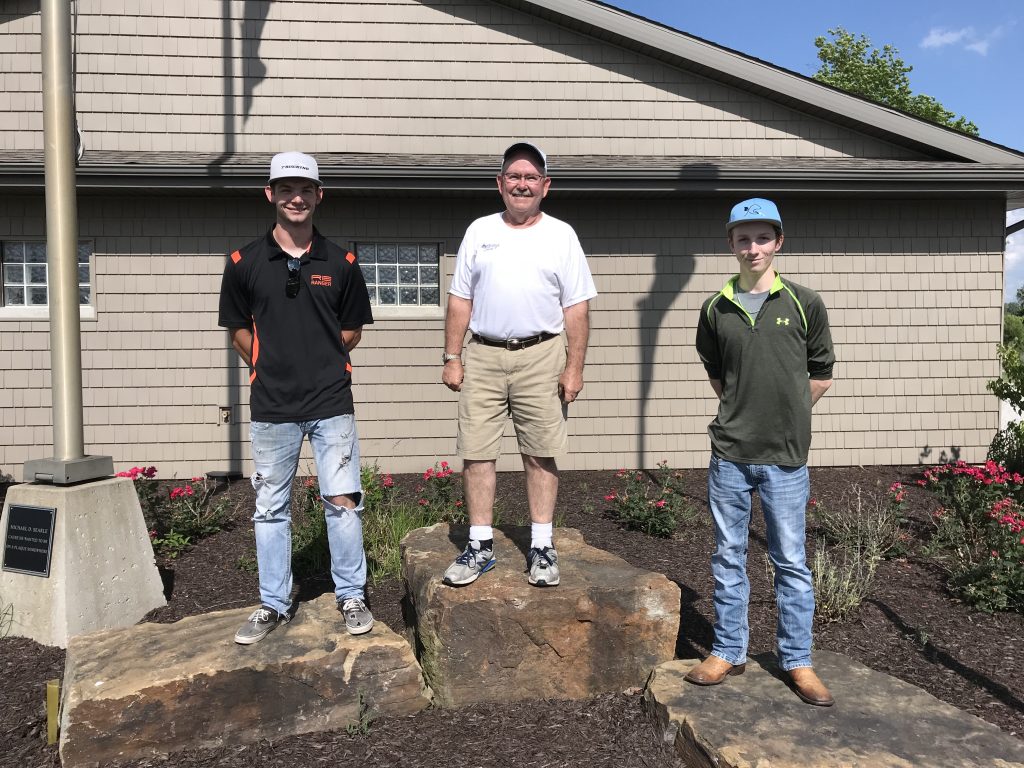 The Poco Loco 4X100 .410 skeet shoot was first held in 2010 at St. Joe Valley Conservation Club in Ft. Wayne, Indiana, home of the Mid-America and the Harry Michelson Open. "The Poco" has seen two 400 straights, both shot by Paul Giambrone III. Even with perfectly engineered fields and blue-sky background, the weather can sometimes make shooting challenging.
One shy of 80 competitors took to the fields for the first event Saturday morning under overcast skies, with a slight threat of rain, but NO wind. The conditions couldn't have been better. Gordon Novak was the only one to post a perfect score, with three 99s vying for the remaining two spots on the podium. Pam Larrowe (also Lady Champ) bested Al Magyar (third) and Andy Peter (AAA1) for runner-up. Jason Johnson won AA outright with his 98; Susan Huszai won her shoot-off of 97s for A1; David Bowers won his shoot-off of 95s for B1; Robert Thorn (C1) and Keith Snow (D1) won their classes outright.
St. Joe workhorse Bruce Christian was the lone 100 in the afternoon event, which is quite a feat given that he is not only the trap mechanic, but also recently assumed the responsibilities as the skeet chairman and is the president of St. Joe. He does all of that and runs 100 in the .410!! Quite impressive. A pair of 99s shot off for the remaining positions on the podium, with Magyar moving up a spot to runner-up and Steve Malcolm at third. The lone 98 by Thomas Shipley earned him AAA1 (and Junior Champ), as did Dan Adams' 97 for AA1. Owen Knight won his shoot-off of 97s for A1, and Todd Swortzel his shoot-off of 96s for B1. Jim Carfagno (C1) and Snow (D1) won their classes outright. Trish Magyar's 96 earned her Lady Champ.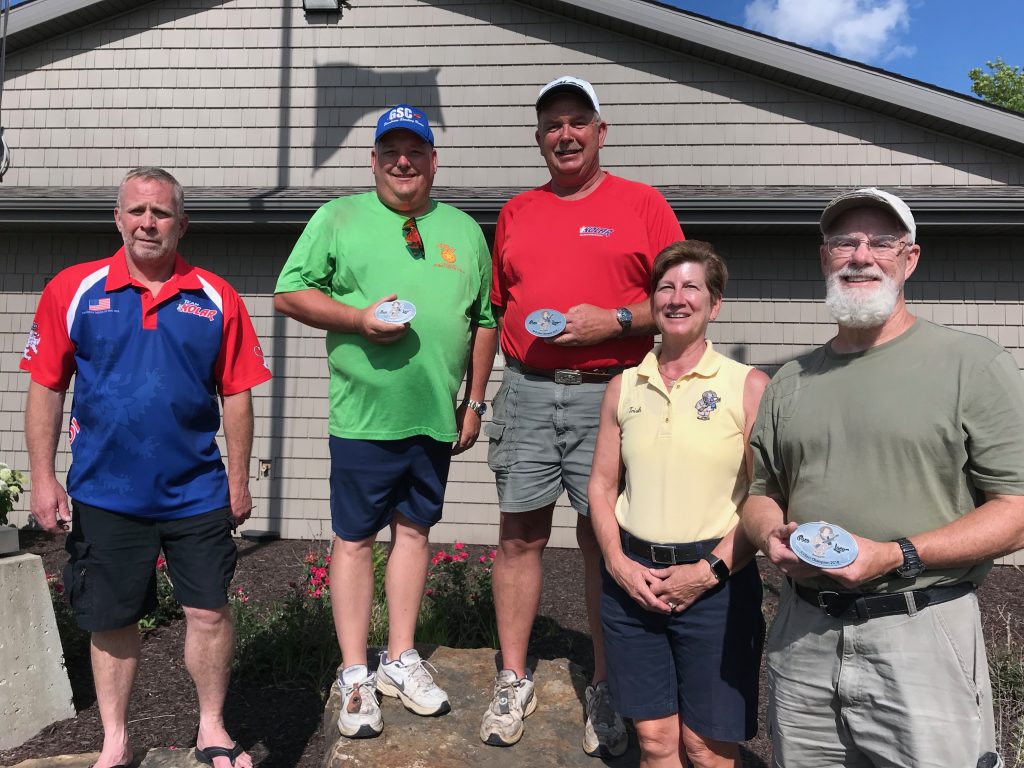 In between events we took a break to dine on the fabulous fare offered by Jim Casaburro, the owner, and his number one chef, Al, from everyone's favorite local restaurant, Casa Ristoranti Italiano, along with a variety of pies and cookies from the Amish Dutch Heritage bakery. Then, it was (albeit a little sluggishly) back to the fields for the afternoon event. After the completion of shoot-offs, everyone was treated to more fine fare, which included four different entrees featuring prime rib. And, again, more desserts! There was no shortage of food, and if anyone left hungry, they had no one to blame but themselves.
Sunday dawned with scattered clouds, more heat and humidity, and, much to everyone's chagrin, breezy conditions. With the wind behind the high house, the baseline targets were a challenge for everyone. Young Shipley posted the only 99 to claim the championship. Magyar and Larrowe shot off 98s, with Al once again taking the event runner-up spot and Pam third and Lady Champ. Christian defeated Novak for AAA1; Tschantz won AA outright; Gintert won A class in a three-way shoot-off; Trish Magyar (B1) won her class outright, as did Snow (D1); and Thorn was the C class victor in a shoot-off.
A midday break once again saw everyone headed for the chow line. Jim treated us to beef brisket, along with pulled pork with three different BBQ sauces, an array of salads, and what remained of the dessert spread – there was plenty to go around!
The afternoon's fourth and final event saw a pair of 99s, with Novak the winner over Al Magyar. Charlie Parks earned the final spot on the podium in a shoot-off of 98s with Sue Huszai (A1 and Lady Champ). Shoot-offs in AAA and AA decided those winners, with Christian and Johnson the respective winners. Mike Kick (B1), Kirby Hedrick (C1) and Blake Wiehe (D1) topped their classes. Shipley was the Junior Champ.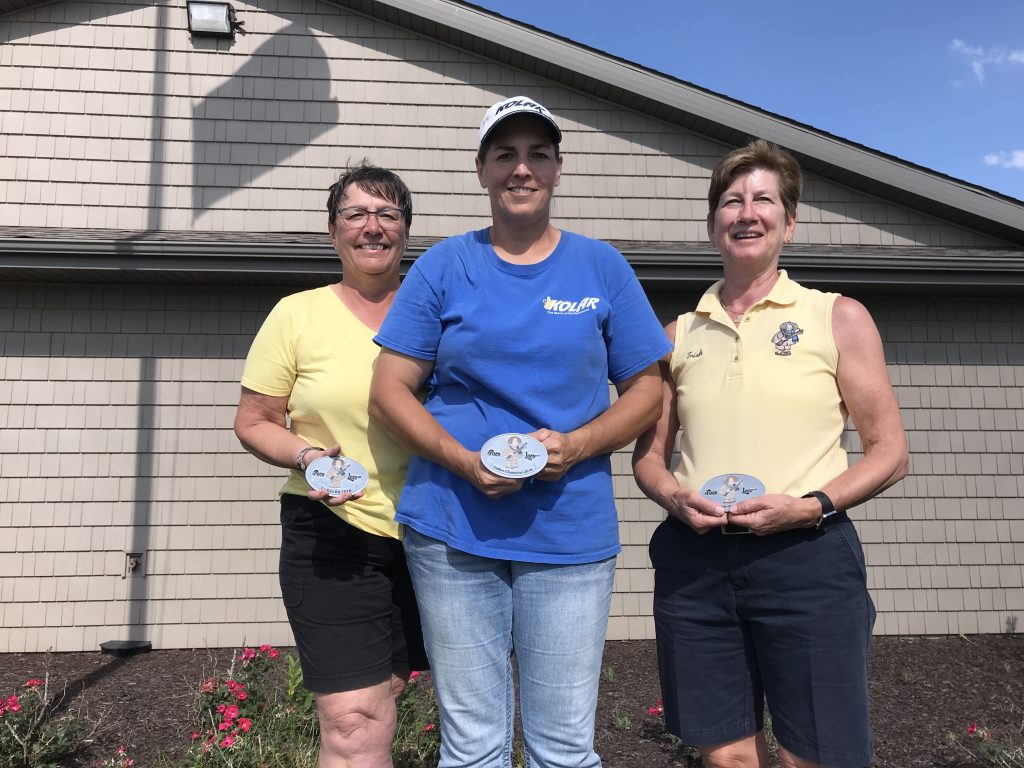 Al Magyar shot an impressive 395 for the HOA championship, with Novak hot on his heels with a 393 for runner-up, and Shipley third at 391. Shoot-offs were required to decide AA and A, with Tschantz and Mark Molenaar the respective victors. Christian (AAA), Trish Magyar (B), Thorn (C) and Snow (D) topped their classes, with Larrowe as Lady Champ.
For those of you who think the Poco Loco is for AAA and AA shooters, nothing could be further from the truth. More than three-quarters of the shooters were in classes A-D, with winnings of nearly $20,000! There were also free Ladies handicap events totaling $1,000; $2,000 added to class HOA; and $1,500 added to concurrent HOA. And, last but not least, the very generous "Juan" Waters subsidized $160 of each four-gun entry for every Collegiate, Junior and Sub-Junior shooter. Oh, and did I mention the great food included with every entry?
Of course, the shoot, with all of its goodies – this year's entry gift was a swag bag that included logoed umbrellas, pens, USB power packs, participant pins and zipped pouch, plus a very nice pocket knife with "Juan" etched on the outside and "Poco Loco" on the blade for first-timers – and the huge cash payouts would not be possible without the sponsorship of the "Three Juans" – John Haugh, John Ramagli and John Waters – especially John Haugh. The referees are the best of the best. The members and volunteers from St. Joe Valley Conservation Club also deserve a most hearty "thank you" for all of their tireless efforts.
If you want to experience St. Joe, I encourage you to make plans to attend one of their shoots. It's a top-notch facility, and the hospitality of the members is unsurpassed. And, perhaps, if you are feeling just a "little crazy," maybe the Poco Loco will find its way onto your shoot calendar next June 22-23 for the 10th shoot, for which John Haugh has something special in store. We'd love to show you what a great time you can have shooting the .410!
– Contributed by Trish Magyar
Poco Loco Winners

Place
Name
Score
HOA Champion
Al Magyar
395
HOA Runner-up
Gordon Novak
393
HOA Third
Thomas Shipley
391
HOA Lady Champion
Pam Larrowe
381
HOA Lady Runner-up
Susan Huszai
380
HOA AAA1
Bruce Christian
389
HOA AAA2
Andrew Peter
383
HOA AA1
Fred Tschantz
381
HOA AA2
Pam Larrowe
381
HOA A1
Mark Molenaar
381
HOA A2
Owen Knight
381
HOA B1
Trish Magyar
375
HOA B2
Debra Perry
368
HOA C1
Robert Thorn
353
HOA C2
Kirby Hedrick
347
HOA D1
Keith Snow
326
HOA D2
Blake Wiehe
313
HOA Junior Champion
Thomas Shipley
391
HOA Sub-Junior Champion
Owen Knight
381
HOA Collegiate Champion
Gordon Novak
393
HOA Triple Sub Champion
Gordon Novak
393
HOA Sub-Sub Senior Champion
Fred Tschantz
381
HOA Sub-Senior Champion
Andrew Peter
383
HOA Senior Champion
Al Magyar
395
HOA Veteran Champion
Barry Hall
378
HOA Senior Veteran Champion
Donald Tesch
379
HOA Military Veteran Champion
Fred Tschantz
381
Event 1 Champion
Gordon Novak
100
Event 2 Champion
Bruce Christian
100
Event 3 Champion
Thomas Shipley
99
Event 4 Champion
Gordon Novak
99