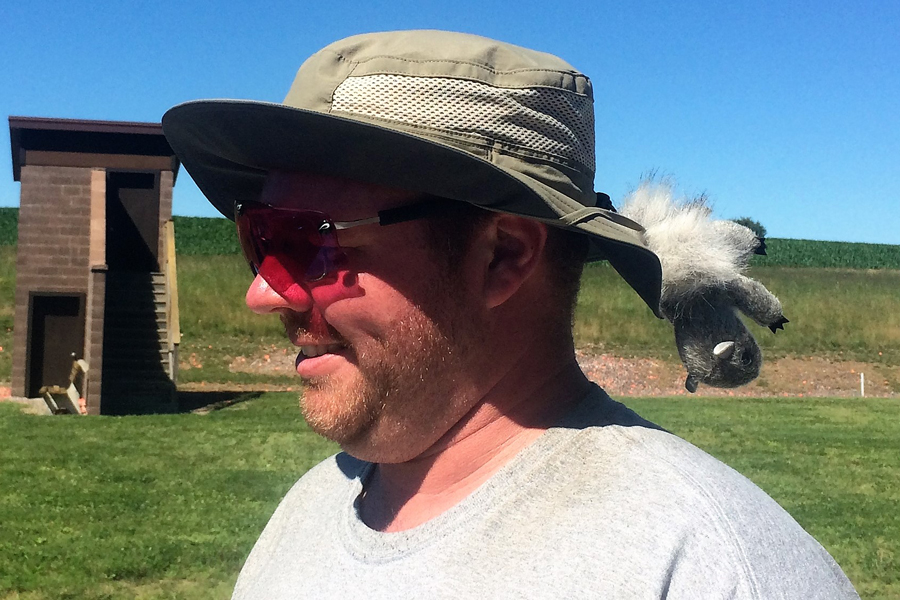 Generations Skeet Club's 20th annual Firebird 400 was held at their beautiful, still new, four-field club near Patton, Pennsylvania on July 6-8. The weather was lovely all week-end, 70 to 80 degrees, mostly clear and dry with variable winds. The shoot was a sell-out, with 48 competitors shooting at least one gun. Dan Felton was HOA champion after winning a shoot-off of 391s with Mike Wollard, runner-up, and Chris Kline, third. Missy Vescovi was Lady HOA champion.
Doubles were shot on a lovely but windy Friday afternoon, with 26 shooters taking the field. Kline's 97 won him champion honors. Class firsts went to Wollard (A), Chris Norris (B), John Davies (C), and George Gleich (D).
The 28-gauge shooting with 40 participants began on Saturday morning. Kline shot the only 100 straight and was champion. Class firsts included Felton (AA), Ed Call (A), Richard ("Frenchy") LaRosa (B), Mark Postlewait (C), and Rick Sherry (D).
Forty-three shooters shot the big gun on Saturday afternoon. Wollard posted the only 100 straight and was 12-gauge champ. Kline (AA), Roy Holtz (A), LaRosa (B), Jared Shaffer (C), Davies (D), and Steven Dickerman (E), were class champs.
The Saturday night feast in the Youth Barn was superb! Pat Leyo provided, and Joe Vescovi prepared and served, delicious prime rib. Pulled pork, barbeque chicken, baked beans, skin-on potatoes, corn-on-the-cob, and various vegetables and salads, along with a large selection of yummy desserts, rounded out the meal. The gobs (if you aren't from PA, you might call them whoopie pies) were an especially big hit! Beverages included cold beer on tap, soft drinks, and home-made wine. The kids enjoyed playing sports at the Youth Barn each day, and Saturday night the group headed to Lake Eddie to enjoy swimming, jet skiing, tubing, fishing, and a campfire.
Sunday morning, and time for the .410-bore with 38 shooters; yes, the .410 was shot first. Hunter Dickerman's 99 took the championship outright. Class firsts went to Wollard (AA), Adam Vollmer (A), Michael Moats (B), Jeff Wright (C), and Steven Dickerman (D).
The 20-gauge event was last and took place on Sunday afternoon with 44 shooters. There were four 100 straights. Wollard won the shoot-off and was champion, with Felton besting LaRosa and Frank Smithmyer to take A1. Shaffer, Davies (after a shoot-off with Tom Hilyer) and Joe McGarvey took firsts in B, C, and D classes.
The three-man blind, with teams picked by the computer and based on .410 scores, was won by the team of Wollard, Vollmer, and Hilyer, with each receiving $50. Gleich bought the winning team in the blind auction and cleared $117.
Paul Hunt, from Ashburn, Virginia, had his first registered 25 straight in the 28-gauge; his hat was properly vented! Katie Burrows fired her first registered targets ever and had a fun time busting clays. You'll be seeing more of her in upcoming shoots.
"The Squirrel" made an appearance over the weekend. This tradition, begun in 1996 by Scott Harvey, involves a lovely little stuffed gray squirrel that is awarded occasionally, and sometimes surreptitiously, to a shooter who does something very good or very bad during the shoot. The rodent was "awarded" to two people this weekend. Rich Vensel received it after he missed his last 12-gauge bird for a 99 on Saturday, and it found its way into Hunter Dickerman's shell pouch after he missed the last bird in his .410 round for a 99 on Sunday. Great shooting to both, but missing the last bird has to rank right up there with having a root canal with no Novocain! Potential runners-up for the award included Theresa Call who forgot to bring her shotgun to the shoot and George Gleich who "smoked" 70 birds in the 28 gauge.
Tori Holtz ably handled registration, scorekeeping, and posting. Michael Vescovi was chief referee, and his fine group of young referees included Paige McMullen, Adam Bobak, Courtney Burgoon, Kelsey Krug, Mikayla Lansberry, and Zach Stoltz. Numerous members of the Generations family pitched in as needed to keep things running smoothly.
Last, but certainly not least, Pat Leyo brought many doughnuts on Saturday and Sunday morning, and they were enjoyed by all. When he walked into the clubhouse on Sunday morning, a convoy of youngsters followed him in to get first pick!
 – Contributed by George Gleich