Victor Rod and Gun Club proudly hosted the 2023 JTH Agency Classic, June 9-11. This year's event was the 34th anniversary of this registered skeet tournament and the 19th consecutive year that John and Elizabeth Hessney, owners of the JTH Agency, sponsored the doubles and four-gun events. The Hessneys were very generous, as they always are, providing over $6000 in added money and valuable prizes for this year's shoot. Shooters traveled from around the regional area to attend this well-respected tournament.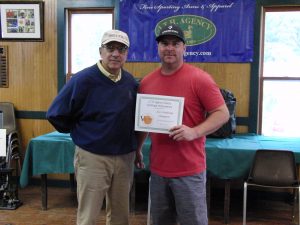 As club members and shoot committee greeted the shooters, the new pre-registration process helped speed the shooters through the registration process. This year's shoot was expanded from 50 shooters to 60 shooters to meet the increased interest in this shoot.
Mother Nature provided a very pleasant weekend for shooting with no rain, temperatures in the 70's, and light winds. The smoke from the Canadian fires even abated. The grounds were in great condition with the grass looking more like a golf course than skeet fields, thanks to the dedicated efforts of the grounds crew. We were set for another great skeet tournament.
Friday afternoon started the competition with 46 shooters in the doubles event. Mat Kelley was the lone shooter to run the rack for a 100. Squadmates Dess Ivanov and Don Lewandoski were one target behind Mat. In a short shoot-off, Don prevailed as runner-up, with Dess taking the AA class title. Other class winners were Scott Janowski (A), Zach Jacot (B), Ron Casella (C), and Tom Williams (D). After the conclusion of the shooting, the shooters were treated to a happy hour and meal compliments of Jim and Hilda Thompson. Thanks, Jim and Hilda!
Saturday's weather cooperated with the shooters. The morning skies were partly cloudy with little wind, but not bad for early summer in the Northeast. Fifty-eight shooters took to the fields for Saturday's competition with the .410 bore event first. Four shooters finished the event with a score of 98. Denny Lehman prevailed in the shoot-off to take the .410 champ title with Clay Tietjen claiming the runner-up spot. Class winners were Steve Wood (AA), Kody Hoth (A), Dale Patterson (B), Mike Kinsella (C), and John Yackiw (D).
The 20-gauge competition commenced on Saturday afternoon. Three shooters posted scores of 99. After a lively shoot-off, John Boone was crowned 20-gauge champ, with Kody Hoth following as runner-up and Rick Ayers taking A1. The remaining class winners were Steve Wood (AA), Ethan Call (B), Ed Cornelius (C), and Dave Pickles (D).
This year, Pete Hamann of Pete's Stockworks in Bloomfield, New York, generously donated $300 in added money for a special 20-gauge handicapped event for B-C-D class shooters only. Ed Cornelius won this year's handicapped event, with Owen Cooley and Dave Pickles splitting the 2nd and 3rd place monies. Thank you, Pete, for your generous support of this event and for all that you do for the recreational shooting community.
A special shout-out goes to Gavin Polmanteer. Gavin is new to registered skeet shooting. Gavin posted his first 25 straight in the 20-gauge event. As a result, Gavin has a new highly ventilated hat. Congrats, Gavin!
At the conclusion of Saturday's shoot-offs, the shooters, family members, guests, and gun club volunteers all enjoyed a great happy hour and a succulent steak dinner donated by a group of Victor Rod and Gun Club members. The steaks were grilled to perfection, and all savored them to the last bite.
Sunday's weather continued to be delightful. With great anticipation, the shooters went to the fields to compete in the 28-gauge and the 12-gauge events. First up was the 28-gauge event. Five shooters were able to post 100's. Mat Kelley prevailed in the shoot-off to take the 28-gauge champ title, with Steve Wood closely behind to take the runner-up spot. Class winners were Jeff Ventry (AA), Denny Lehman (A), Doug Paddock (B), Ed Cornelius (C), and Joan Paddock (D).
Sunday afternoon featured the 12-gauge event. Four shooters crushed all 100 targets. After a very competitive shoot-off, Steve Wood took home the 12-gauge title, with Denny Lehman as runner-up. Class winners were Dess Ivanov (AA), Kody Hoth (A), Ed Cornelius (B), Paul Barnas (C), John Mutchler (D), and Victor Stirpe (E).
Throughout the weekend, Kody Hoth was steady, consistent, and on-target. Kody's 393×400 was the top HOA score. Kody needed every target, as Steve Wood was only one target behind to become HOA runner-up. HOA class winners were Mathew Kelley (AA), Denny Lehman (A), Colin Smingler (B), and Ed Cornelius (C-D-E combined).
For the eleventh consecutive shoot, the HOA competition featured the added handicapped HOA Challenge. All four-gun shooters were eligible to enter this event. This event is named "Joe's Challenge" in memory of Joe Strazzeri. Joe was a great skeet shooter and a stalwart of the Victor Rod and Gun Club. The DIMARCO GROUP donated $2500 in added money for Joe's Challenge. The event drew great interest from the shooters. The scoreboard was watched closely at the conclusion of each event. When the results were all in, Kody Hoth took home the top prize of $1000, followed in order by Colin Smingler ($750), Peter Bogdon ($500), and Mike Kinsella ($250). Congrats to all winners of this year's "Joe's Challenge" handicapped HOA event.
Special thanks go out to our club volunteers for their strong support of this shoot. Congratulations to our admin team of Mark S., Terry P., Andy N., and Keith M. for streamlining the registration process and ensuring that the shoot management process ran flawlessly. Also, thanks to Jim Thompson and Dan Caryl and the great crew of fine referees. We cannot thank shoot sponsors John and Elizabeth Hessney enough for their support and generosity. Each year they give back to the sport by sponsoring this fine shoot. John and Elizabeth are the owners and proprietors of the JTH Agency. They sell quality firearms, apparel, and accessories for the recreational shooting sports. Check out the store online at https://www.jthagency.com
Thank you to this year's shooters. We appreciate your continued support of this shoot. We look forward to seeing you at the 2024 JTH Agency Classic!
– Contributed by Wes Bailey