For the 90th time, shooters honored the end of the shooting season in New York by coming to Rochester-Brooks Gun Club in Rush, New York, over the weekend of August 26-28.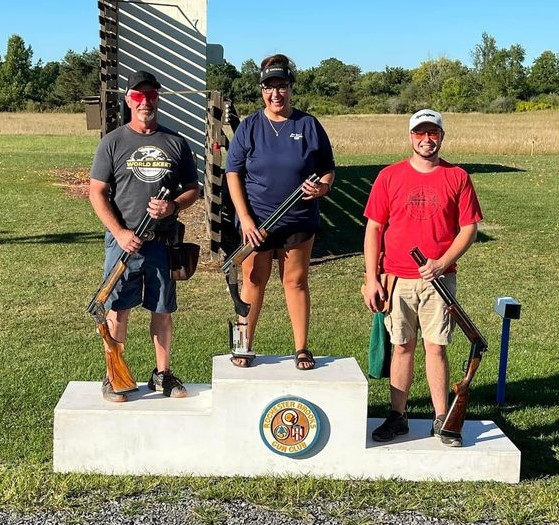 Thanks to the state association's response to a shooter survey conducted after the 2021 state shoot, the traditional schedule starting with doubles Friday afternoon was amended to shoot doubles Friday morning and start the 12-gauge on Friday afternoon. The achieved objective – a shorter day for all.
Friday morning's doubles kicked off with beautiful summer weather, but humid with a hint of thunderstorms. After a lunch break spent watching the weather radar, two flights of 12-gauge were shot on Friday afternoon, with a time-out called, thanks to an awesome display of lightning, thunder and pounding rain. Soaking wet would be the description for some of the competitors, but lots of good scores were posted!
In Doubles, shot off Friday evening, Craig Parsons shot the lone 99 to capture the championship outright, and in a shoot-off of four 98s that ended two stations shy of the first box, Bill Kalwas and Don Lewandoski finished runner-up and third, respectively. Scott Van Etten settled for A1. Other class champions included David Ballerini (AA), Shane Farr (B), Junior Champion Owen Cooley (C) and John Quealy heading up D class. Mary Alice DeFrancesco captured her first Lady championship of the tournament.
The third flight of 12-gauge took place Saturday morning and added two more 100s to the scores shot Friday. David Cooley captured the champion's step on the podium in four stations, while Bill Kalwas and Craig Parsons lasted nearly a box as they battled for runner-up and third, respectively. Mat Kelley and Scott Janowski shot off 100s to finish first and second in AA, and Larry Bonavita won A class with his 100. Other class winners included Bobby DeFrancesco over Bob Kase in a shoot-off for B class, while Doug Goodman shot a terrific 99 to take C class. Owen Cooley repeated as Junior champion and won D class with a 97, and Tim Herbstsommer won E class. Victoria Ferchaw won a shoot-off with Kristin Harshman for the Lady title.
The 20-gauge was also shot on Saturday and produced only two perfect scores and one hat-shooting ceremony. Victoria Ferchaw ran her first 100 with the 20-gauge and two stations of doubles later put Long Island's Michael Cerce on the runner-up step of the podium. Congratulations to Victoria, who became the third lady to win an Open New York state title! In a shoot off of 99s, Clay Tietjen made his first podium appearance at third, while Steve Wood, Dan Morris and Bernie Lenehan claimed the AA places, and Junior champion Cameron Baker won B class. Other class winners included Dave Sobiegray in a shoot-off of 98s for A, Junior shooter Lincoln Nichols in C class and Nicholas Gillett in D class. Victoria also won the Lady championship.
Following the conclusion of the 12- and 20-gauge shoot-offs Saturday evening, two more popular New York events were held: the shoot-off for all kids, everyone eligible, for flats of ammo sponsored by the Mitchell-Heitman Fund to benefit youth shooting, and the 5-man team shoot-off for NY State belt buckles. Owen Cooley gave targets to all the other young competitors but persevered to take home the ammo, while the 5-man team event, which rarely goes more than a station or two, was a family affair, won by David and Owen Cooley, Dan and Steve Holdsworth, and Chad Seelbinder. This is a handicap event to qualify, but no handicap in the team shoot-off, so nice to see a new winner.
Following the shooting events, Rochester-Brooks hosted a cocktail hour and BBQ dinner for all shooters and guests, concluding with the presentation of awards for the championships determined so far, and the installation of two long-time NYSSA members into the Sportsmen's Division of the New York State Hall of Fame. Congratulations to Joe Endres, still telling amazing stories in his ninth decade, and to Ed Cornelius, former secretary-treasurer of the state association, who showed us how to bring the heat.
Sunday morning kicked off with two more flights of 28-gauge followed by the conclusion of the .410 event. Four perfect scores were shot in the 28, with Steve Wood emerging victorious after two stations. Matthew Lenehan broke the next pair to take runner-up, while John Boone and Craig Parsons continued to settle third and AA1, respectively. A and B classes were both won with scores of 99, shot by Don Lewandoski and Ken Brown, C class was taken by Al Grundman and Sub-Junior shooter Weston Nichols won D class. Cameron Baker took the Junior championship, and Mary Alice DeFrancesco won a shoot-off against Donna Fusco to capture her second Lady title of the shoot.
In the .410, Craig Parsons needed a good score to wrap up the HOA championship and came through in the clutch with a nice 99×100. A shoot-off of 97s filled the runner-up and third spots as the battle of the Mats took one station for Lenehan to win over Kelley. A shoot-off of 96s in AA also established Jon Zywiczynski  as the winner in one station. B.J. Jensen won A with 95, and Victor Stirpe beat Bobby DeFrancesco in a shoot-off for B-class honors. Dan Nichols won C class, and Steve Holdsworth took home the medal for D class. Cameron Baker won the Junior championship, and Mary Alice DeFrancesco took the Lady title.
Parsons won the HOA championship outright with 398×400, HAA with 497×500. Mat Kelley was runner-up with 393, and Dess Ivanov found the third step on the podium with 391. David Ballerini captured AA1, and a shoot-off of 390s resulted in Clay Tietjen winning A class over Matthew Lenehan. Robert DeFrancesco won B, Alan Grundman took C, Gregory McChesney took home the D-class medal, and young Weston Nichols won the Sub-Junior championship, along with E class. Owen Cooley won both the Junior HOA and HAA, and Mary Alice DeFrancesco won Lady HOA.
 Nice weather, lots of good shooting, a first 100, and a wonderful party on Saturday night made a pretty good weekend. Thanks to Dan Caryl, NY Chief Referee, and his excellent button-pushers, to Roger Brooks and Mike Krol for their work on throwing targets, and to the staff and workers at Rochester-Brooks who made every effort to show shooters a good time. Finally, thanks to the shooters; we couldn't do it without you.
 – Contributed by Andrea Graham Lehr