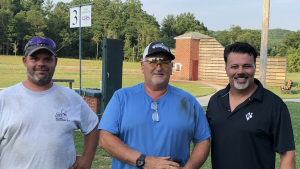 Loch Raven Skeet and Trap Center welcomed 70 shooters from across Zone 2 to the annual Harry Wright Memorial. Held every 4th of July weekend, the shoot benefits from beautiful weather in the idyllic surrounds of the Loch Raven Reservoir. This year, shooters also enjoyed brand new target machines. Credit to Shyda's Services for the exceptional hardware and targets!
Friday afternoon started things off with the doubles event. Three 99s were shot off to establish the podium: Alessandro Vitale as champion; Steven Wood, runner-up; and Mark Gay, third.
Saturdays at Loch Raven start with the 20-gauge, which saw two 100s broken. Twelve-gauge produced four 100s that afternoon. Shoot-offs established Steven Wood as the 20-Gauge Champion, followed by Michael Stasio and Dessislav Ivanov, with a 99. The 12-Gauge Champion was Dessislav Ivanov; Gilbert Traore, runner-up; and John Wells Jr., third.
Throughout the afternoon, many shooters enjoyed food fresh off the grill, as well as other snacks, expertly prepared by Emily Card. Special thanks are also in order to all those who graciously donated money for their food to benefit the Maryland State Skeet Association.
Sunday morning brought on even more hundreds. Of six perfect scores, Michael Stasio emerged Champion, followed by Dennis Lehman and Michael Rykaczewski Jr. The shoot concluded with three 100s in .410. Alessandro Vitale was Champion; Steven Wood, runner-up; and Bryson Fox, third. This was Bryson's first 100 in .410 and his first 100 ever! High Over All scores resulted in Michael Stasio as champion; Steven Wood, runner-up; and Alessandro Vitale, third.
Loch Raven has two remaining five-gun shoots scheduled this year: the James Bealmear Memorial, September 11-13 ($1000 HOA prize purse) and the Mason Dixon 500, October 23-25. We look forward to seeing everyone again later this year and next!
– Contributed by Jonathan Myrick