The Blackbird Open was held at Generations Skeet Club near Patton, Pennsylvania, on May 1.  Thirty-four shooters participated in this two-gun event, with 12-gauge in the morning and 20-gauge in the afternoon. The weather was not great, with rain most of the day, but the shoot must go on; at least it wasn't windy. There was one straight on the day and numerous scores in the high 90s, despite the rain.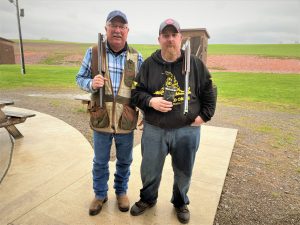 Jeff Holtz took HOA honors with a nice 197, followed closely by HOA runner-up Jack Harshbarger's 196.
Jeff Holtz's 100 straight won the 12-gauge event outright. Class firsts went to Joe Vescovi (AA-98), Michael Vescovi (A-99), Jack Harshbarger (B-98), Tim Holtz (C-96) and George Gleich (D-92). Debra Meade's 97 made her Lady Champion.
Jared Shaffer won the 20-gauge event with a 99. Class winners included Jeff Holtz (AA-97), Jack Harshbarger (A-98), John Avolio (B-95), Colby Eckert (C-95) and Emily Harshbarger (D-92). Allison Shaffer was Lady Champion with her 98.
Thanks to Ryan Holtz for running the desk.  Michael Vescovi was chief referee.  Non-shooting referees included Paige and Andrea McMullen, Renee Calvert and Alex Farrell — great job in the rain, folks! Thanks also to Pat Leyo for bringing doughnuts, to Joe McGarvey for preparing a large container of hot stew, and to Renee Calvert for the chocolate chip cookies.
– Contributed by George Gleich