The 67th Canadian Skeet Championships were held in Hamilton, Ontario, during the Canada Day long weekend of June 30 – July 3. Host site, the Hamilton Gun Club, has been undergoing a resurgence in recent years, with a huge amount of growth in membership due to the leadership and enthusiasm of their new Board of Directors led by skeet shooters Dave Troiani, Johnny Sibani and Peter Manojlovic, plus a cadre of volunteers, along with the always cheerful Sabina Lawson, who runs the day-to-day operations. Ninety-one shooters participated, making it by far the largest skeet event in Canada for over 20 years. The increased participation was due in part to the new skeet field installed since last year, with the financial aid of an NSSA Field Grant. Seven of 10 Canadian provinces were represented, along with the state of Ohio, as the son of renowned referee Terry Winders, Andrew Winders, was able to attend, making this a diverse group of shooters. Many of the attendees were making their first appearance at our championship, and the friendly atmosphere of the Hamilton Gun Club made this an event to remember.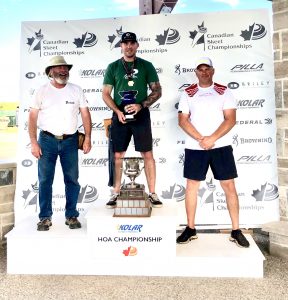 The doubles event, sponsored by Pilla Canada, commenced on Thursday afternoon and finished up Friday morning. One of the top shooters in Canada, Charlie Peacock, posted a stellar 100 straight to win outright, followed closely by Dave Troiani's 99 and Steve Loveday's 98. Dan Morris, Jim Malcolm and Rob Ludwig posted 97s to win AA, A and B Classes. C Class was captured by Lorne Goodwin, and D was dominated by new shooter Michael Chang with a very solid 92.
The Browning 12-Gauge Championship was also completed on Friday. Andrew Winders pulled out the victory after a good shoot-off of 100's with Steve Loveday. A slew of 99's shot off for third and class places, which established Dave Troiani as third, Dan Morris AA1, Daniel Lourenco as A1 and notably, Dave MacKinnon as C1. Dustin Jewell captured B1, Terry LeBlanc went home with D1 and new shooter Zelko Blazic shot a hard 94 to win E class. Zelko won't be there for very long!
One of the more recent traditions we have at the Canadian Championships is to honour the memory of one of our departed shooters by naming the 20-gauge event after them. While the event is sponsored by Patrick Groenewegen, this year's event was named for Joe Kooger. Joe was a fine shooter in his time but was more importantly a wonderful person and a great member of our shooting community in Canada. We were lucky enough to have his family represented by his son Kevin and grandson Andrew. Many of our attendees knew Kevin and Andrew, and many old stories were traded. In the event itself, three shooters got them all; Dan Tansley, champion, pulled off the win over runner-up Dean Herzberg and third-place Peter Manojlovic. It was Peter's first 100 straight, and he picked a fine time to do it. Class winners were Les Turner, Jim Malcolm, John Kapron, Basem Malek and Glenn Forsyth. Saskatchewan's own Jim Webster shot an 83 in the event – pretty remarkable at the age of 96!
Sunday saw the completion of the Briley 28-Gauge event, as well as the White Flyer .410 Championship. Andrew Winders (who may not be invited back …) shot the lone 100 to capture the Briley 28-Gauge title. Brad McRae crawled out from behind the computer to score a 99 and grab runner-up over Dave MacKinnon (third) and Charlie Peacock (AA1). Brian Lewis (A), Mike Maddin (B), John Kapron (C) and Glenn Forsyth (D) were class winners.
The White Flyer .410 medal was won outright by Bob LaRue of British Columbia. Doug Steed and Dave Troiani shot off for runner-up and third and finished in that order. Steve Loveday (AA), Lorne Goodwin (A), Jim Malcolm (B), Gary Marson (C) and Terry LeBlanc (D) captured class medals.
The Kolar Arms HOA race came down to a shoot-off between Dean Herzberg and Bob LaRue for top spot. Dean came out on top of this one, with Bob runner-up. Dave Troiani placed third, with Charlie Peacock AA1, Daniel Lourenco A1, Jim Malcolm B1, Dave MacKinnon C1, Glenn Forsyth D1 and Zelko Blazic E1. Congratulations to Lawrence Weaver as our Sub-Junior Champion, as well as Elizabeth Hoeppner of British Columbia for capturing the Ladies HOA title in a tight race over Kristina Zlatkovic.
By all accounts, the shoot was a great success and over $16,000 in payouts were made. This is by far the biggest and most lucrative shoot in Canada, and we hope to continue to build on the momentum of the last few years in the future.
On behalf of the Canadian Skeet Committee, which consists of Mike Maddin, Brad McRae and Steve Malcolm, many thanks go to our referee crew, the volunteers at the Hamilton Gun Club, our sponsors and all of the shooters.
– Contributed by Steve Malcolm
Photo credits – Spencer Warlow