The 2022 Minnesota State Skeet Championships were held at the Metro Gun Club in Blaine, Minnesota, on August 19-21. The weather was close to perfect throughout all events, with slight periods of overcast and minimal wind. Jerry Ryan of Prior Lake, Minnesota, led a field of 40 shooters, winning High Overall, High All Around, 20-Gauge, and Doubles championships.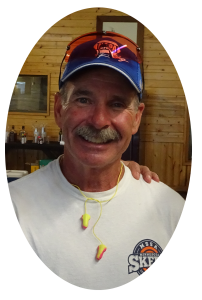 David Baker, Dan Kampa, and Justin Staebell did a great job managing the tournament, with the help of automation provided by the MySkeet software. Shooters were able to see their scores on a large monitor as they were entered. The new software also provided reports that were accessible online throughout the tournament. It communicates with the NSSA database, eliminating many tasks in the registration process, and avoiding the misspelling of competitor names and their associated information such as classifications and concurrents.
Twenty-eight shooters took to the fields for the doubles event on Friday. Jerry Ryan's 98 won the event outright. He was followed by 16-year-old Jared Miller, who posted the lone 97 to claim the runner-up place. Class winners were Bob Rick (AA), Justin Staebell (A), Bruce Pearson (B), Mike Quigley (C), and Art Peterson (D).
MSSA President Randal Baker hosted the annual year-end meeting that reviewed various administration topics and elected officers for next year.
Saturday's 12-gauge event featured two 100-straight scores posted by Jared Miller and Bruce Pearson (his first-ever registered 100). The ensuing shootoff resulted in a victory for Bruce, with Jared taking his second runner-up spot for the tournament. Class winners were Jared Miller, Dan Kampa, Mark VanderBloomer, Jeffrey Schneider, Roger Carlson, and Art Peterson in classes AAA through E.
The 20-gauge event was another 2022 milestone for Al Savage. He was honored when his photo appeared on a recent cover of Clay Target Nation [although we got his name wrong in the print issue]. His second milestone came when posting his 100,000th registered target in the 20-gauge event.
Jerry Ryan won the 20-gauge championship with an uncontested 100. Tate Peterson took runner-up after a shoot-off of 99s with Dan Kampa, who claimed AA1. Brian Hendrickson won class A, followed by Mark VanderBloomer, Gabriel Anderson, and Joseph Ambrose in classes B through D.
Dan Kampa won Sunday's 28-gauge event with an uncontested 100. A lone 99 posted by Bob Rick earned the runner-up spot. AA1 went to Jerry Ryan after a shoot-off of 98s with Gabriel Anderson and David Baker. David Baker claimed A1, followed by Gabriel Anderson (B1), Justin Baker (C1), and David Seidel (D1).
MSSA Past President Brian Hendrickson won the .410 title with the top score of 97. Justin Baker was runner-up with 96 after a shoot-off with Jerry Ryan, who claimed AA1. Bob Rick, Robert Muehlenkamp, Jeffrey Schneider, and Gabriel Anderson followed in classes A through D.
Jerry Ryan emerged as High Over All Champion with a score of 391×400. The HOA runner-up score was 388, posted by Gabriel Anderson. HOA class champions were Jared Miller (AA), Dan Kampa (A), Mark VanderBloomer (B), Jeffrey Schneider (C), Roger Carlson (D), and Art Peterson (E).
The MSSA thanks Rick Wilder and his staff for hosting an excellent state championship. Rick owns the Metro Gun Club and is bravely dealing with a neighborhood of ever- expanding commercial industry.
– Contributed by Ronald Chandler