A total of 31 shooters showed up for the Fredericksburg Rod & Gun Club's Rebel Open in Virginia over the June 12-14 weekend. Most of them shot four guns on the two-rotation, four-field program. Several shooters remarked on the fun, relaxed atmosphere that Bud Hitchcock and Nick Gravina worked hard all weekend to create. We used the "old-fashioned, big scoreboard" which a few younger shooters had never seen before. They thought it was a fun new innovation that made it easier to see what everyone shot in every event by finding their name just once. Although there was no dinner, there was still a lot of socializing at respectful distances under the big, shady porch. Five campers enjoyed the extra space.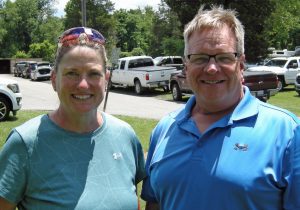 We started Friday afternoon with doubles and a late afternoon flight of 12-gauge. There were no shoot-offs on Friday, as doubles were also offered in one flight on Saturday for anyone who wanted to take advantage of it. Shoot-offs were minimal all weekend but taken seriously when they did occur. We also welcomed back lady shooter Lindsay (Toler) Coffman, who had not shot registered targets in five years but continued her tradition, started when she was a teenager, of scoring better than her shooting partner (and dad) Keith in three of the five guns. Keith got to claim victory in the 12-gauge with his 92 and a tie in doubles.
Jim Hickerson shot top scores until Sunday and looked like a shoo-in for HOA Champion when a medical problem popped up during the .410. Jim won the 12-gauge and 20-gauge events outright with 100s. John Snyder won the 28-gauge outright with his 99. So, going into the .410, John (293) and Jim (295) were only two birds apart. Roger Johnson's 94 took .410 outright. There were shoot-offs for every event but .410 and doubles for runner-up and/or third and some class and concurrent shoot-offs – just enough to keep people entertained.
John Snyder prevailed as .410 runner-up and HOA Open Champion. Hannah Goddard was Lady HOA Champion. Thanks also to Hannah for stepping up and refereeing several times over the weekend. Not an easy thing to do – shoot AND referee – as the temperature heats up. Thanks to the other referees as well: Dick Weinley, Steve Janoschka and Mark Parker. They gave welcome breaks to Bud and Nick. You can find all winners and scores on the Fredericksburg Club website, www.fredericksburgrodandgunclub.org.
– Contributed by Rebecca Myers