Fort Bragg Clay Target Center in Spring Lake, North Carolina, was the site for the Paratrooper Open, July 8-10. A total of 74 shooters competed, with 58 shooting 4 guns. Turn-out was great, and the center was once again in excellent condition, considering it just hosted 81 shooters two weeks earlier for the U.S. Open.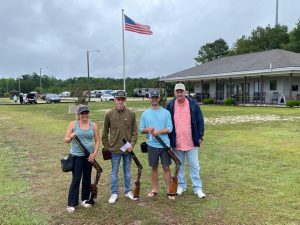 The weather caused a bit of excitement – in fact, Friday morning it was questionable if we could even hold the shoot as planned. A severe thunderstorm Thursday night and a nearby lightning strike knocked out all the skeet machines. Thanks to the hard work by the staff, trap mechanic and several shooters assisting, parts were replaced and cords rewired in record time. Enough fields were working to start doubles at 1 p.m. and execute the shoot as planned. Another storm Friday afternoon resulted in the doubles finishing Saturday morning. Saturday was a scorcher with the heat and humidity, but Sunday brought clouds and a bit of rain, along with temperatures 20 degrees cooler.
There was a 3-way tie in Doubles with scores of 98. Alison Boyette was champion, Paul Stemac runner-up and Jason Cloninger third. There was also a 3-way tie of 100s in 12-gauge with Alison winning champion, Scott Graham runner-up and Charles Lawley third. With scores of 100, Alison won a shoot-off against Tim Koller to win the 20-gauge championship; Stuart Brown was third. There were seven scores of 100 in 28-gauge, with Richard Nixon winning champion, Chip Simmons runner-up and Noah Dove third. There were shoot-offs of 99s and 98s in .410 bore for the top 3 awards — with Stuart Brown taking champion, Robert Shelley runner-up, and Chip Simmons third.
Stuart Brown won HOA by one target with a 396.  Two 395s shot off, with Alison Boyette winning HOA runner-up and Scott Graham taking gun third.
The weekend concluded with shoot-offs in a Youth Handicap HOA event. Jim Tiner presented awards to the winners:
Sub-Junior / Junior group – Mary Beth Parris 1st, Ridge Pearson 2nd, Addison Wallace 3rd
Collegiate group – Alison Boyette 1st, Henry Hardin 2nd, Noah Dove 3rd.
Belinda and Jim Tiner thank everyone who helped with set-up, serving food, and clean-up to make sure the event was successful and fun for all.  Also, thank-you to the MWR staff who had the facility prepped, resolved major issues that could have affected the shoot, and to Stuart Brown for perfect targets.
– Contributed by Belinda Tiner