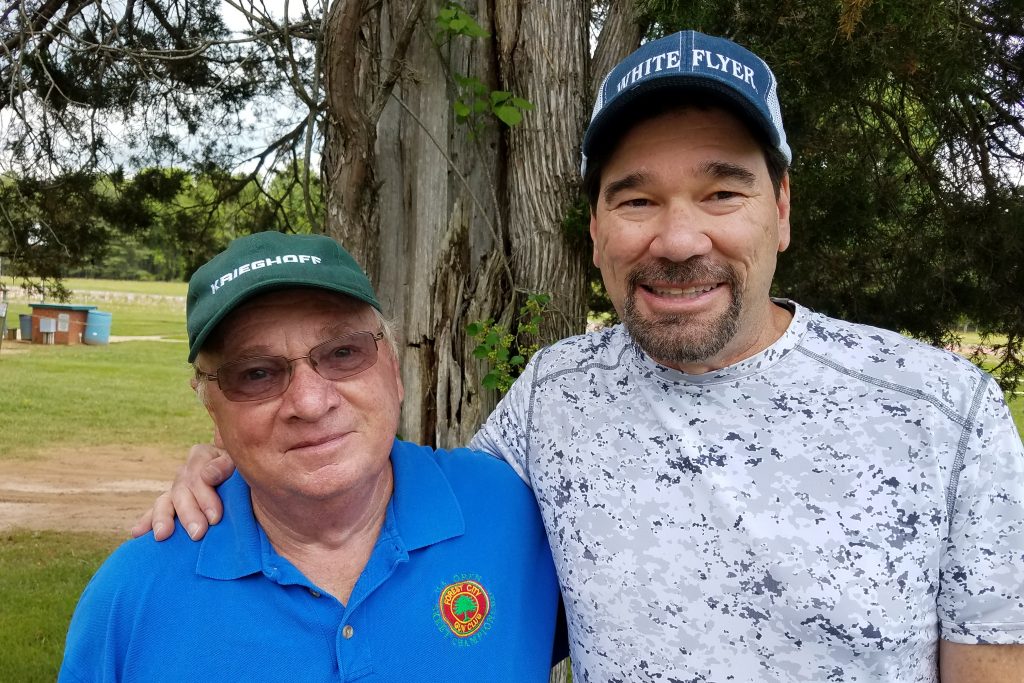 Salisbury Gun Club was a wonderful host for the 2018 Maryland Open Skeet Championships, but even with the big fan cooling off those sitting on the porch, they couldn't control the Eastern Shore heat and humidity. Since this was an open state shoot, we had eight out-of-state competitors, resulting in both State and Open winners. For clarity, the State winners are detailed in the article, and the Open winners are included in the accompanying table.
The Doubles event started in the late afternoon on Friday, July 27. As the last flight went out, the sky darkened, but Mother Nature was kind with just a slight sprinkle. With the only 100 straight, Mark Gay earned both the Open and State Doubles championships. John Swidrak and Bob Shelley shot off 98s, resulting in John capturing both State and Open runner-up, and Bob winning both State and Open third. Other State winners in Doubles included Alessandro Vitale AAA1, Mike Wollard AA1, Debbi Perry A1 and Lady, Mark Polek B1, Joe Weinbrecht C1 and Cliff Bedore D1.
Both the 12- and 20-gauge events were held on Saturday. The 12-gauge shoot-offs started with four Open winners (three in State) who had perfect scores. Maryland State winners were Mark Gay – champ, Alessandro Vitale – runner-up, and Mike Wollard – third. Other winners were Sam Armstrong AAA1, Debbi Perry AA1 and Lady champ, John Wells Jr. A1, Jeremy Dvorak B1, Ed Shifflett C1, Ralph Wellens D1 and Ernie Bradley E1. Ryan Boyles was Junior champ and John Waters was Senior Veteran and Retired Military champion.
With only two perfect scores in the 20 gauge, after the shoot-offs, Sam Armstrong was State champ with Kevin Spessard as runner-up with his first-ever 100 straight. Three 99s were recorded in the 20 gauge, (two in State) with Alessandro Vitale winning third. Remaining State winners were Mike Wollard AAA1, Mark Gay AA1, Bob Shelley A1, James Esham B1, Aaron Amick C1 and Ernie Bradley D1. Ryan Boyles was the Junior champion.
With the shoot-offs complete, a feast of shrimp and BBQ was prepared and served by club members. The Maryland Skeet Shooting Association (MSSA) meeting was held and the state team awards handed out. Two of Maryland's long-time shooters and supporters, Mark Gay and William (Bill) Wamsley, were inducted into the Hall of Fame. Mark's squad of Alessandro Vitale, Shirl Seward (who spoke for Larry) Sam Armstrong and Joe Weinbrecht honored Mark with his introduction. Joe got to go first, and as he said, "This is the only time I get to lead off!" Aaron Amick introduced Bill Wamsley, speaking on his behalf. Both shooters were honored for their shooting accomplishments over the years.
Sunday turned out to be a slightly windy day as the shooters began the 28 and .410 events. There were two 100s in the 28 gauge, both by Maryland shooters. After the shoot-offs, Sam Armstrong was the champion and Alessandro Vitale was runner-up. Three 99s shot off for third, Jeremy Dvorak, Jonathan Myrick and Kevin Spessard. Jeremy won third, Mike Wollard AAA1, Mike Moats AA1, Jonathan Myrick A1, Jay Jeffery B1, John Wells C1 and Harry Friedman D1.
The windy. 410 resulted in two 99s and two 98s. The championship shoot-off resulted in Bernard Warnowicz as champion and Sam Armstrong as runner-up. Mark Gay won third in a shoot-off with Larry Day and Mike Wollard, who took AAA1. Other class winners were Maj Tavakoli A1, Larry Day B1, Aaron Amick C1 and Brian Vess D1.
Sam Armstrong won the HOA with a 398, and Alessandro Vitale was runner-up with a 394. Third was won by Mike Wollard in a shoot off with Mark Gay, who ended up AAA1. Jeremy Dvorak was A1, Bob Shelley B1, Aaron Amick C1, Ralph Wellens D1, and Ernie Bradley E-1. Ryan Boyles was the Junior champion.
It was a hot but good weekend for all the shooters. Special thanks to Joe Weinbrecht, Maryland Skeet Shooting Association (MSSA) president; Dan Pardoe, MSSA vice president; and Mark Gay, MSSA secretary/treasurer. Without all the behind-the-scenes work that these guys did, the shoot would not be as successful as it was. Thanks to the helpers from Salisbury Gun Club: Jim Hammond, Larry Donaway, Norman Trader, Jody Baker, Tom Shockley, Mike Shockley, Robert Rayne, Bill Hardy, Rick Kubiak, Tommy Morris, Jim Richardson, Bruce Culver, Mike Ruark, Sheryl and Mike Taylor and kids from the Wicomico 4H Club, and Dan Swarenger. Much thanks and appreciation to all the referees and to Gail Benjamin – Maryland Chief Referee.
| | | | |
| --- | --- | --- | --- |
| Open Winners | Champion | Runner Up | Third |
| Doubles | Mark Gay | John Swidrak | Bob Shelley |
| 12 Gauge | Mark Gay | Alessandro Vitale | Jeff Fleischut |
| 20 Gauge | Sam Armstrong | Kevin Spessard | Mike Stasio |
| 28 Gauge | Sam Armstrong | Mike Stasio | Alessandro Vitale |
| 410 Bore | Bernard Warnowicz | Sam Armstrong | Mark Gay |
| HOA | Sam Armstrong | Mike Stasio | Alessandro Vitale |