The 2020 Earle Darby shoot at Cherokee Gun Club (Gainesville, Georgia) was filled with fun shooting. This tournament has a long history honoring Earle Darby, who was honored last year at the World Skeet Championships for his refereeing history. He is one of the cornerstones of our small club.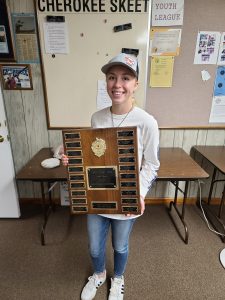 The 12-gauge event had a lone 100 shot by Pat Savage. This was Pat's first 100 since 2003 in any gun – much too long a dry spell. Class winners were Jay Tompkins (AA), Sydney Pittman (A), Dani Zeigler (B), Walton Starling (C), Myrl Miller (D) and Caleb Harmon (E). The 20-gauge was won by Blake Argo after a shoot-off of the 99s with Sydney Pitman (AA), Davis Zeigler (A), Deanna Culpepper (B), Jack Mills (C) and Luke Goddard (D).
In the 28, Blake Argo (97) was champion once more after another shoot-off with Sydney Pittman 97 (A), and Dani Zeigler (B), Dennis Lesher (C) and Myrl Miller (D).
The scheduling for the tournament has some issues, as shooting on Sunday before 12:30 is not allowed. The afternoon's .410 event was hampered by weather, as the sky was overcast and darkness made seeing targets touchy. It was apparently easier for young eyes to see the targets, as Sub-Junior Dani Zeigler shot the lone 97 to take gun champion. Class winners were Davis Zeigler, Dani's older brother (AA), Stacy Young (A), Mark David (B), Jack Mills (C) and Michael Savage (D).
The HOA was won by Sub-Junior Dani Zeigler with a fine 389 that bested the field. She has shown that she is a deserving champion. She is following up her 2019 Sub-Junior Lady World HOA championship, the 2020 Sub-Junior Lady World HOA and the .410 Sub-Junior World Championship. Davis Zeigler (AA), Sydney Pittman (A), Deanna Culpepper (B), Jack Mills (C), Myrl Miller (D) and Michael Savage (E) filled out the classes.
Congratulations to all winners and many thanks to all who attended, making this one of the best Earle Darby tournaments in many years. Thanks go to referees Bill Moseley, Henry Burks, and Mike, Davis and Mindy Zeigler. Many thanks to our sponsors Todd Bender, Pat and Mike Savage, Academy Sports and MEC Outdoors. Without all their support, we could not have this shoot.
– Submitted by Pat Savage