The 2023 Newark Open was held on July 28-30. Once again, great scores were posted. Three years running and HOA scores have been 397, 398, 398. If you like good targets, great scores, added money, a free handicap event, and plenty of free food, you should put this on your schedule.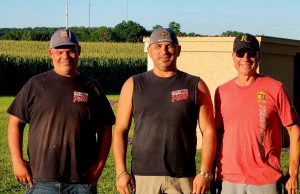 This year's tournament started out on Friday afternoon with some pretty good conditions, although quite humid. Some fine scores were posted, highlighted by Ontario, Canada's Dan Morris winning a shoot-off of 99's with Craig Parsons. Third was captured by Steven (Woody) Wood.
Saturday started out calm and humid again, but our noon flight of 12-gauge shooters were not so lucky. They got drenched! They were able to brave the downpour to conclude their third round but were called in to wait out the storm before being able to finish the event. After a 30-minute or so pause, shooting resumed in the rain. The first flight of the 20-gauge shooters also got soaked, but good scores still prevailed. Once everyone got dried out and guns were dried and cleaned, lunch donated by Newark member Craig Halstead and his wife Cindy was served.
Luckily, the remainder of the afternoon was dry, and we were able to complete the day's events in time for all to enjoy dinner provided by the Newark club. This year's dinner was catered by local favorite Bad to the Bone BBQ, and at the end of the evening, only a few scraps were found to be left over.
The winners of the day were:
12-gauge champion, Don Lewandoski; runner-up, Dess Ivanov; and third, Craig Parsons, after a shoot-off of 100 straights, and
20-gauge champion, Dess Ivanov; runner-up, Steve Wood; third, John Boone.
The 20-gauge B-C-D handicap event with free entry, sponsored by Pat Breen and Cliff Patridge, was won by Walt Aldrich with a fine score of 99. Runner-up was Larry Clarke, and third place was split between John Greco and Victor Stirpe.
Sunday brought dry conditions and more great shooting highlighted by Newark's own Cameron Baker smoking his very first 100 straight, in the 28-gauge event. Dess continued his hot streak with another 100 straight as well. Several people reported that they heard Dess breathe quite a sigh of relief when he heard that Cameron had left the club after smashing his straight to honor his commitment to play on his summer soccer team and would not be able to shoot-off the event. 28-gauge winners were champion, Dess Ivanov; runner-up, Cameron Baker; and third, Woody Wood.
In the afternoon .410 event, all eyes were on the Bulgarian. Everyone was pulling for him, as he was the only competitor at 300 straight. I suppose the lack of sleep caught up to him Sunday afternoon, as he had just arrived home from a trip to Bulgaria at 3:30 a.m. on Saturday morning. Some fine shooting on a few short hours of sleep! Unfortunately, the outcome wasn't what everyone was hoping for, but he posted an awesome 98 in the small-bore event, capturing the HOA championship with a great score of 398X400. Other winners in the HOA were runner-up Craig Parsons and third-place Steve Wood.
The .410 champion was Dan Morris, and runner-up was Craig Parsons, after a shoot off of 99's. Third went to Dess.
– Contributed by Craig Parsons