Beautiful Northern California weather did not disappoint for the first Stockton Classic held July 15-17 at the gorgeous Stockton Trap and Skeet Club. Stockton's 10 perfectly designed fields, clear, blue background and shady park provided an environment like no other. Staff and volunteers did a tremendous job hosting this event, and our wonderful sponsorship provided ample added money to entice shooters to fly in from around the country.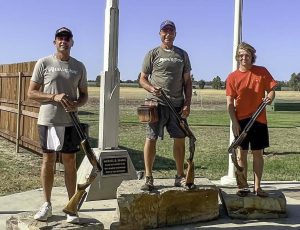 The sold-out event started Friday afternoon with doubles. Three perfect scores were posted in this event. After a lengthy shoot-off, winners were Paul Giambrone (champion),  Dave Anderson (runner-up) and Craig Parsons (third).
The main championship began Saturday morning with the 12-gauge event. There were eight straight 100s. It was an exciting moment when local favorite Rocky Romo (champion) outlasted Luke Morgan (runner-up), in a multi-box shoot-off to claim the championship. Another local favorite, Joe Fry, claimed third overall in this impressive field.
The 20-gauge event kept the excitement going with 10 perfect 100s. After another multi-box shoot-off, Paul Giambrone (champion) took the top of the podium. Central California native Daniel Bock's strong performance earned him the runner-up spot, and Clay Baldwin made his first podium in third place. Lauren Burge claimed her second Lady Champion of the weekend with her perfect 100.
Four shooters still had perfect scores by end of day Saturday, foreshadowing a close race for the HOA Championship. They Included Clay Baldwin, Daniel Bocks, Luke Morgan and Craig Parsons.
Saturday night dinner in the park was sponsored by the club. A local taco truck was brought in with all-you-can-eat tacos and beverages. Shooters socialized into the warm evening and relaxed before the final events on Sunday.
The next morning opened in reverse order, starting out with .410. Five 99s topped the score sheets in the little gun event. A strong shoot-off brought Joe Fry back to his second podium and first championship of the weekend. Runner-up was Andy Peter, with Kevin Monteleone taking third.
It was anyone's game going into Sunday afternoon's showdown in 28-gauge. Five straight 100s set up an epic battle for the podium. Two local men made it to the end, with Central California's Daniel Bocks taking champion, Craig Parsons taking runner-up and Bay Area's Jack Campbell locking in third. A highlight of this event was Caroline George and her impressive 100 straight, making her Lady Champion.
The perfect 400 eluded us for the weekend, but Craig Parsons' 398 was strong enough to capture the HOA title outright. Joe Fry locked in the runner-up spot with a 397, and Clay Baldwin brought in third with a score of 396.
Concurrent HOA winners included Lauren Burge (Lady), Joe Fry (Triple-Sub), Clay Baldwin (Sub-Sub-Senior), Andy Peter (Sub-Senior), Craig Parsons (Senior), Bill Marble (Veteran), Josh Deburger (Military), Robert Ennes (Retired Military), Water Cheng (Military Veteran) and Sean Gibson (First Responder).
Thanks again to all of our sponsors and volunteers who made this such a great event. Special thanks to all of the shooters who traveled from around the country to support this shoot. We hope everyone enjoyed themselves and will return for an even greater event next year.
– Contributed by Brad Erickson