The 84th Virginia State Skeet Championships were held at Fredericksburg Rod and Gun Club on September 8-11, 2022. The Club was ready and looked great, thanks to the hard work of Bud Hitchcock, Brian D'Souza, Nick Gravina, Jim Hart and others.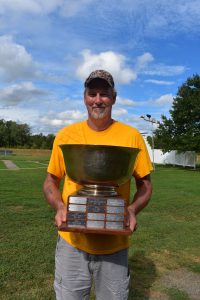 The shoot kicked off on Thursday with the 12-Gauge Preliminary Event and the first flights of doubles. Garrett Jordan posted a fine 100 to win the Preliminary Event.
Friday morning brought great weather conditions for the 28-gauge event, the start of the 20-gauge, and the last doubles flight. Conor Stephens captured the 28-gauge title, with John Snyder runner-up and Dick Weinley third. Class winners were Garrett Jordan (AA), Brian D'Souza (A), John Allen (B), Bob Myers (C) and Barry Akers (D). Class winners were awarded beautiful belt buckles, thanks to Virginia's State Shoot Assistance Grant from NSSA. Tom Williams was the Doubles Champion, winning his fourth doubles title. Highlights of the evening included the presentation of VSSA Sportsman of the Year, awarded to Mark Parker, and Referee of the Year, awarded to James Reinhold. Kevin Baker won the drawing for a complimentary entry to the main events of the World Shoot.
Saturday evening marked two first-time state title winners and several personal bests. Junior shooter Ethan Shiflett shot his first 100 straight and won the 12-gauge title! John Snyder was runner-up and Meredith Tunick-Kling third. Class winners were Keythe Hancock (AA), Jim Hickerson (A), John Allen (B), Robert Williams (C), Allen Parker (D) and Cody Ellis (E). Jim Hart won the 20-gauge, Fred Wood was runner-up and Garrett Jordan third.
The B-C-D-E HOA shoot-off was the final shooting event for the day. Class winners were determined by shoot-offs, and the lucky winners (B-David Whipp III, C-Ethan Shiflett, D-Becky Myers) returned to the shoot-off field to vie for the cash prize generously donated by Mark Scott. When the dust settled, Ethan Shiflett continued his winning streak and was the 2022 B-C-D-E HOA winner.
Following shoot-offs, shooters and their guests sat down together to enjoy the Hall of Fame dinner hosted by Fredericksburg and prepared by Jeremiah Burns MGy Sgt USMC (Ret) and his crew from Jeremiah's Kansas City BBQ. VSSA President Richard Haynie recognized the 2021 State Teams and presented their plaques. Then it was time for the highlight of the evening, the induction of Al Ange into the VSSA Hall of Fame. Al was accompanied by his wife Peggy and his family, and it was wonderful to celebrate his shooting accomplishments and contributions to our sport.
Sunday morning, September 11, brought us all together as we held a moment of silence at 8:46 a.m. to honor those who lost their lives in the attacks 21 years ago.
Fred Wood took top honors in the .410 event with an outstanding 98, followed by Brian D'Souza, runner-up, and Garrett Jordan, third. Class winners were Jim Hickerson (AA), Steve Kling (A), Savannah Morrow (B), Dale Flory (C) and Cody Ellis (D). High Over All title went to Fred Wood, runner-up to Conor Stephens and third to Garrett Jordan. Meredith Tunick-Kling was the Lady HOA champion. Savannah Morrow was Sub-Junior HOA winner, and Ethan Shiflett, 12-gauge champ, was the recipient of the Bond NSSA Life Membership Award. Our Sub-Junior and Junior shooters continue to enjoy the support and generosity of the Milton Mills Memorial awards and benefits, and the VSSA Award.
Many thanks to the outstanding Shoot Management Team – Mark Parker, our Chief Referee, Tonda Finney, Kristi Garstang and Darlene Jeffrey on the desk (and Darlene and Mark coordinating awards and trophies), and Bud Hitchcock for their tireless work to help make this shoot a success. We especially appreciate our dedicated referees, who come from far and near to help make this shoot happen.
We look forward to next year's 85th Virginia State Skeet Championships, to be held at Arrowhead Gun Club, September 7-10, 2023.
– Contributed by Hannah Goddard