Many years ago, Gordon MacRae sang "Oh, What a Beautiful Mornin" in the musical "Oklahoma!", and indeed it was on August 6 as the Victor Rod and Gun Club in Victor, New York, hosted the seventh annual WorldWide Summer Classic. The weather was as near perfect as it gets in Western New York, with light winds and temperatures in the 70's. This 12-gauge and doubles one-day registered skeet shoot, with $3000 in added money, is highly favored by shooters in the region.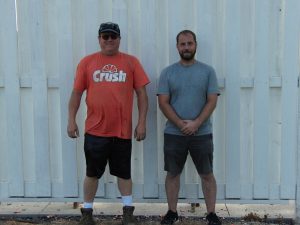 The shooters started to arrive for registration early in the morning. Shooter registration was fast and efficient for the 45 shooters due to a new, streamlined pre-registration process. The shooters were in very good spirits as they gathered in the pavilion. They enjoyed catching up with old friends while making new friends. The machines were dialed in to throw great targets against a great background. Everyone was eager to start the competition. The freshly cut and trimmed fields awaited the shooters.
The morning started with the 12-gauge event. Both Christopher Dole and David Cooley crushed all 100 targets for the only perfect scores of the day. After a brief shoot-off, Dole emerged as 12- gauge champ with David becoming the runner-up. Bill Kalwas and Mat Kelley took their scores of 99 into a shoot-off for AA class 1st and 2nd. Kalwas emerged as class AA1 after a lengthy and exciting shoot-off. Chad Seelbinder had the lone 99 score in B class to claim B1. Mike Haff and Victoria Ferchaw also had scores of 99. Mike emerged the winner of the shoot-off over Victoria to claim A1. Rounding out the other 12-gauge winners were Walt Aldrich (C) and John Yackiw (D).
At midday, the kitchen crew prepared a great lunch, much to the delight of the hungry crowd.  For the afternoon doubles competition, the winds remained relatively calm. Owen Cooley and Bill Kalwas each broke 99 targets. Kalwas won a short shoot-off to claim the doubles title, with Owen Cooley taking the runner-up spot. Doubles class winners were David Cooley (AA), Scott Janowski (A), Jeff Ventry (B), Terry Prem (C) and Jack Mutchler (D).
For the ninth year in a row, a shoot-off was not required to crown the HOA champ. Bill Kalwas bested the field with a superb 198×200 score. This was Bill's second HOA Champion title in a row. David Cooley and his son Owen shot off for HOA runner-up. This father-son match-up drew the interest of the crowd. David was able to beat Owen after a spirited shoot-off, with Owen taking A1. Owen is a Junior shooter and a rising skeet star. We will be seeing him a lot on future winners' stands. The remaining HOA class winners were Kody Hoth (AA), Dan Berry (B), Jack Mutchler (C) and William DiSalle (D).
Everything ran smoothly from the registration process through the shoot-offs due to the tireless efforts of the members of the Victor Rod and Gun Club.
We cannot thank Rick Simmonds enough for generously sponsoring this shoot. Rick is a long-standing member of VRGC and an avid shooter. We also want to thank Chief Referee Jim Thompson and his crew of referees, who did a fantastic job as always. Most importantly, we would like to thank the shooters. Without shooters willing to travel from across the region to participate, we could not have a successful shoot. We are very fortunate to have such a passionate group of skeet shooters in this part of the country. We look forward to another great shoot in 2024.
– Contributed by Wes Bailey