Grand Prairie Gun Club was proud to again hold the Penny Penwell Memorial Shoot April 14-16. Donny Penwell hosts this shoot in honor of his father, Penny Penwell, who was well-known in the Dallas area as a great shooter and supporter of skeet shooting. Donny makes sure shooters have a memorable time at his shoot. And the gun club members, who volunteer their time and hard work, are extremely supportive and take great pride in throwing great targets and providing delicious meals. They work tirelessly to ensure everyone one has a great shooting experience at Grand Prairie.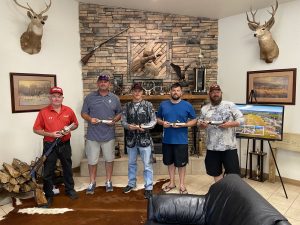 The Texas referees are second to none – they came out and worked with no planned breaks. It is so important to have good referees, and it certainly helps shooters to perform at their best. These referees did a great job, and we appreciate their support, as well as Allen Cline for his leadership to develop and train referees in the state of Texas.
The Saturday night shrimp boil and the 28-gauge Calcutta auction are definitely highlights for this shoot! Three-man teams are blindly identified electronically based on classes to get good competitive teams in place, and they are auctioned off to the highest bidder. It is great fun and provides great camaraderie as consortiums are sometimes formed to pool their funds to bid on the favored teams. Quite a bit of analysis is typically done to ensure success in winning the auction for the best team.
2023 winners of the Penny Penwell Memorial Shoot:
Adam Roberts – HOA Champion
Jason Foshea – HOA runner-up
Mike Gershick – HOA third
Kathleen Butler – HOA Lady champ
Jason Foshea – 12-gauge champ
Mike Gerschick – 12-gauge runner-up
Tommy Hubbard – 12-gauge third
Kathleen Butler – 12-gauge Lady champ
Nicholas Godfrey – 20-gauge champ
Adam Roberts – 20-gauge runner-up
Dennis Godfrey – 20-gauge third
Jo Ellen Collin – 20-gauge Lady champ
David Chancellor – 28-gauge champ
Adam Roberts – 28-gauge runner-up
Ken Wright – 28-gauge third
Jo Ellen Collin – 28-gauge Lady champ
Dustin Holmes – .410 champ
Doug Toulouse – .410 runner-up
David (Tim) Cudia – .410 third
Kathleen Butler – .410 Lady champ
Michael Dennis – Doubles champ
Travis Mears – Doubles runner-up
Jon McDonald – Doubles third
Tracy Ragle – Doubles Lady champ
David Chancellor came down from Oklahoma to referee the shoot but also shot, winning the 28-gauge after shooting a perfect score of 100 and winning the shoot-off. Then he iron-manned as a referee, as he often does.
Come out and join this shoot next year – we would love to have you!
– Contributed by Randy Walhood