Fredericksburg Rod & Gun Club held the first Ray Harding Open (a rename of the Battlefield Open) on July 15-16 to honor Ray Harding who gave so much to Virginia skeet during his life.  Ray shot skeet for 50 years, was president of the VSSA for two terms, was skeet chairman and NSSA Director for 20 years, and served on the club's Board of Directors for most of his skeet career.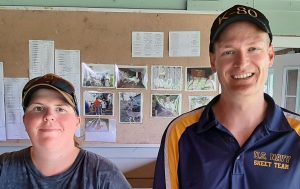 Photos of Ray were displayed and shooters talked about him all weekend. Ray had a hobby of carving and painting intricate wooden pins of birds, dogs, fish and grouse feathers. Each gun champion at the shoot received a grouse tail feather pin as a memento of the shoot and Ray.
The first shooter to be "pinned" was Fred Wood, who won doubles. Conor Stephens was 12-gauge champ with the only 100 of the weekend, followed by 28-gauge champ Dick Weinley and 20-gauge champ Gil Traore, both with blistering 99s. Conor repeated as .410 champ, but the pins were "one to a customer." James Reinhold was presented with the fifth pin in the box for his fine shooting (doubles third, 12-gauge A1, 28-gauge runner-up, 20-gauge A1, .410 third, and HOA runner-up, even as he refereed after each time he shot in the hot and humid weather. His HOA score was his personal best, just six birds behind HOA Champion Conor Stephens.
Judy Harding took delight in presenting pins to the champs and noted she had found more (of Ray's carvings that she can present next year.
– Contributed by Judy Harding and Becky Myers