The 91st annual Nebraska State Skeet Championships were held August 18-20 at the Lincoln Trap and Skeet Club (LT&SC) in Lincoln. The action started on Friday with the Oak Creek Engineering Champ of Champs event, with 25 targets in each gauge/bore, starting with the .410. Kurt Mann bested all others with an impressive 99.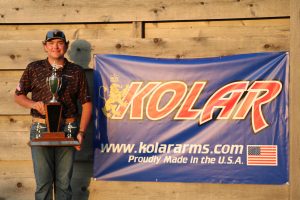 Friday afternoon brought pleasant weather – the last of such weather for quite a while – and the Cornhusker Winnelson Doubles event. Squadmates Chris Lutz and Kurt Mann shot off 97's and were champion and runner-up, respectively. Third place went to Blaine Frizzell, one of the notable Junior shooters from the weekend, and class winners included Jacob Uphoff (A), Bill Buettgenbach (B), John Rossi (C) and Mike Vainosky (D).
Shooters and guests were treated to pizza and appetizers after the Doubles shoot-offs. Thanks to Jerry Classen and all who contributed.
Saturday morning brought clear skies, calm winds, and a preview of the impending heat for the Morton Buildings 20-gauge event. When the smoke cleared, two 100-straights were shot, both by Junior shooters. Mason Pillard outlasted Blaine Frizzell in the shoot-off to take his first state title, along with his first 100-straight in the 20 gauge! Third place was Kurt Mann. Class winners were Derek Pollock (AA), Chris Lutz (A), Don Serna (B), Michael Day (C) and Mike Vainosky (D).
Oddly enough, the Nebraska winds stayed fairly light for the afternoon and the Class One Machine .410 state championship event. Chris Lutz had the lone 98 to take the championship buckle. Runner-up was Derek Pollock and third place was Jacob Uphoff. Class winners were Tristin Duff (AA), Rob Predmore (A), Tim Hartzog (B), Charles Burgess (C) and Mason Pillard (D).
On Saturday evening, shooters and guests enjoyed a wonderful steak dinner from Del Gould Meats with sides and more desserts than you could count. Thanks to everyone who grilled, provided food and drinks, etc.!
Sunday brought a continuation of high temps and humidity for the Conreco 28-gauge event. Two of Nebraska's great young shooters, Jacob Uphoff and Michael Day, shot 100-straight for champion and third place respectively, with Rob Predmore taking runner-up after shooting his first 100-straight in the 28-gauge at a state championship shoot. Blaine Frizzell (AA), Chris Lutz (A), Adam Classen (B), Charles Burgess (C) and Don Hansen (D) took class honors.
Sunday afternoon brought out almost 75 shooters vying for the Anderson Auto Group 12-gauge title. Three perfect scores were posted, with Lane Sorensen taking his first ever state title, Jacob Uphoff claiming runner-up and Kurt Mann taking third place. Class winners included Derek Pollock (AA), Rob Predmore (A), Charles Burgess (B), John Rossi (C), Rick Standley (D) and Kaela Hinze (E). The highly coveted Zych Drywall 5-Man Team Trophy went to Bill Buettgenbach, Jake Uphoff, John Rossi, Michael Day and Mason Pillard.
The Kolar HOA title went to Jacob Uphoff with a very impressive 394. Rob Predmore (393) was runner-up, and third place was Chris Lutz (391). Class winners were Derek Pollock (AA-386), Kurt Mann (A-389), Blaine Frizzell (B-389), Roger Plooster (C-385), Rick Standley (D-349) and Kaela Hinze (E-335). Lady HOA champ was Claire Kee, and Junior HOA champ was Jacob Uphoff. Chris Cobb (CO) was high gun for out-of-staters, shooting an HOA score of 386.
Highlights from the weekend included a great showing from the young shooters from around the state, with Jacob Uphoff taking three state titles and shooting 200-straight on Sunday. There was a great turnout of shooters from outside of Nebraska, including representation from South Dakota, Colorado, Missouri, Kansas and even New Mexico. Their presence was appreciated, and we hope the trend continues in the future! A big thanks goes out to the LT&SC staff and all the volunteers that helped keep the shoot running smoothly. The 2024 Nebraska State Championships will be headed west to Grand Island next year. We hope to see you there!
— Contributed by Chris Lutz