The Skyline Skeet and Trap Club in Lawrenceville, Pennsylvania, hosted its 14th annual Skyline Open on July 8-10. Skyline is a privately-owned shooting facility. The weather was beautiful all weekend.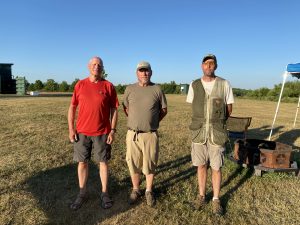 The Skyline Open is a typical 5-gun shoot that begins with doubles on Friday and ends with the ,410 on Sunday. The Mankanzana Challenge is a four-gun handicap event with a grand prize of a seven-day hunt in South Africa or $1,000 cash. For the fifth consecutive year, the Mankanzana Challenge was held in conjunction with the Skyline Open.
Clay Tietjen's HOA score of 384 was high for the Open, John Nichols took Open HAA honors and Debra Meade's 367 made her Lady HOA Champion. 22 shooters participated. Tony Johnson won the Challenge (20 participants) and chose the cash prize.
Eleven shooters shot doubles. Ethan Call finished with a 98 and was Champion. Class winners were Dan Nichols (AA), Ed Call (A), Jackson Nichols (B), Doug Goodman (C) and Weston Nichols (D).
The 12-gauge was shot on Friday and Saturday. Ed Call shot a 99 and emerged as 12-gauge champion. Class winners were Doug Paddock (A), Tietjen (B), Johnson (C, after winning a shoot-off of 98s with Bob Griffith Sr.), John Quealy (D) and Jackson Nichols (E).
The 20-gauge event was shot on Saturday. Ed Call ran them and was outright champion. Class first places included Tietjen (AA), Doug Paddock (A), Ethan Call (B), Johnson (C) and Dave Pickles (D).
The 28 was shot on Sunday morning. Bob Griffith Jr.'s 97 was good for champion. Dave Cook was A1, Steve Lucas B1, Bob Nichols C1, and George Gleich D1.
The .410-bore shooting took place on Sunday afternoon. Johnson's 94 made him gun champ. Class winners were Paddock (A), Bob Griffith Jr. (B), Lucas (C) and Quealy (D, after winning a shoot-off of 88s with John Nichols).
The Mankanzana hunt includes four trophy animals (impala, blesbuck, springbuck and warthog). Fran Bussiahn, professional hunter and owner of Mankanzana Safaris, and Theresa Call put this grand prize together for Skyline's shoot. There were 20 entrants in this event. Final scores were based on their four-gun (HOA) totals plus a class-based handicap in each gun. The results were close with Tony Johnson winning with a total HOA, including handicap, of 399; in hot pursuit and tied at 396 were Dave Cook, Stephen Lucas and Clay Tietjen. Johnson chose the $1,000 option for his prize.
A special 28-gauge Lewis Class event was sponsored by Debra Meade in memory of her loving companion Bill Straub who passed away in 2021. The $150 prize money went to Bob Griffith Jr., Lincoln Nichols and John Nichols ($50 each).
The two-man blind event winners (based on 12-gauge results) were Ethan Call and Bob Griffith Jr. (first) and Bob Nichols and Tony Johnson (second).
Three generations of the Nichols family, from Addison, NY, shot this shoot. Bob, the grandfather and Dan and John, his sons, shot, as did Weston and Lincoln (Dan's sons) and Jackson (John's son).
Theresa Call handled office duties (registration, score posting, etc.). Ed and Ethan Call helped keep things humming outside (filling houses, mechanic's duties, etc). Special thanks to Kalan Knickerbocker for pulling and scoring with help from shooters, Ed and Ethan Call, Hunter Dickerman, Clay Tietjen and Deb Meade. Special kudos go to Hunter Dickerman, who now lives in Florida but drove back to Skyline to help at his former home field and see everyone. His dad Steve served as grill chef all weekend – thank you, sir!
The club was looking great, reflecting a lot of hard work by the entire Call family. As usual, the food was abundant and delicious all weekend and included steaks and lasagna on Saturday night and Skyline's famous pies. Much thanks to Theresa and Mattea Call for the food.
– Contributed by George Gleich