On May 14, at Generations Skeet Club, athletes from across the state competed for SCTP skeet honors. Eighty-three athletes representing nine teams attended. The weather, as usual for mid-May, was cool with occasional showers and thunderstorms around.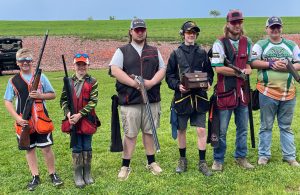 This year Allison Shaffer, Fox Township High School, holds the honor of High Over All with a score of 99, and Katelyn Henry of Central Penn Crushers, Lady champ. Competition was tough, and every target counted. Fox Township High School Trap League Senior Varsity Squad of Allison Shaffer, Zac Mosier, and Andrew Gerber took first place with a 270. HAHS Cougars Marcus Rosenstiel Jr., Joseph Katchur, and Dylana Eroh finished second with 269. Third were Katelyn Henry, Bill Gillmen, and Jared Harshbarger of the Central Penn Crushers.
Junior Varsity Champions were Fox Township's Tyler Geitner, Eli McKay, and Aiden McKay. Gavin Glossner, Samuel Klinepeter, and Nathan Pollard from Central Penn Crushers were the runner-up team. Hunter Bowlen, Emmitt Whipkey, and Jordan Miller representing the Hawkeyes  finished third.
Intermediate Advanced Champions were the Hawkeyes' Brendon Cole, Kory Taylor, and William Boden, achieving the highest squad score of the event with a 285. Teammates Deacon Whipkey, Benjamin Horne, and Parker Jones were runners-up, and Central Penn Crushers Collin Hillyer, Piercen Hoffman, and Tyler Jones finished third.
Intermediate Entry champions are Central Penn Crushers Grant Glossner, Ryan Harshbarger, and Jackson Shearer.
After the competition was completed, while the scores were tabulated, a shoot-off was held for an engraved Shamrock Leather bag for all divisions. Winners were Grant Glossner, Flint Bolt, Henry Zutter, Noah Haines, and William Boden. Receiving individual awards of Jim White belt buckles were Senior Varsity champion Zak Sutton, runner-up Marcus Rosenstiel, third-place Katelyn Henry; Junior Varsity champ Gavin Glossner, runner-up Eli McKay, third-place Emmitt Whipkey; Intermediate Advanced champ Brendan Cole, runner-up Kory Taylor, third-place Benjamin Horne; Intermediate Entrance champ Grant Glossner, runner-up Andrew Wojtaszek, third-place Brayden Kmetz; Rookie champ Brady Moffatt, runner-up Oliver Zutter, third-place Flint Bolt; Collegiate champion Kenneth Jones, runner-up Nicolas Molchan, third-place Mason Mentzer.
This year we had three first 25 straights from Ethan Barr, James Dughi, and Jayden Bonham, as well as a first 50 straight for Tyler Jones. Eighty-one competitors lined up to do the honors at the hat shoot, possibly a record for Generations. This was the first registered NSSA competition for 26 athletes in attendance. It was a long day for referees Roy and Tim Holtz, Joe Vescovi, and Renee and Bill Calvert. They were great and kept the event on track. Catering by Pirates Cove for lunch and the ice cream social held at the Party Barn during the awards presentation were first class. Thanks to the parents, coaches, and family members that attended and made  the event special for the athletes. Thanks also to the Holtz family for allowing us to hold the SCTP championship at their beautiful facility.
– Contributed by Joe Gans III