The 83rd annual North Carolina State Closed Championship was held at the Fort Bragg Clay Target Center September 9-11. Out of the 80 total participants, 65 shot all four guns, and there were 11 youth shooters in attendance. The weather was not ideal all weekend, but there were good scores and fun times had by all.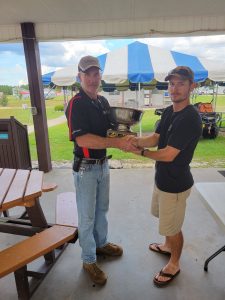 Friday started with 56 shooters taking to the fields for the doubles event. 98s stood at the top of the leaderboard with the shoot-off leaving Steve Timmons gun champion, Stuart Brown runner-up and Jeffery DeSantis third. Class champions were Mike Pittard (AAA), Jay Bunting (AA), Richard Nixon (A), Randy Browning (B), Bill Kluttz (C) and Tim Barber (D).
Little did we know what Mother Nature had in store for us on Saturday. While the morning events went on with decent weather, the afternoon would have us getting over three inches of rain in 4 hours. Five shooters were able to post perfect scores in the 12-gauge event. The shoot-off, lasting just into the second box, left Stuart Brown gun champ, with Anna Wood runner-up and Scott Graham third. A big congratulations to Ridge Pearson, a Sub-Junior from Stanley, NC, for running his first 100 straight in the 12-gauge event and lasting well into the box in the shoot-off! Class winners were Otto "Chip" Simmons (AA), Josie Cloninger (A), Aaron Kibby (B), Ridge Pearson (C), George Shuman (D), and Christopher Malone (E). The coveted 5-man team buckles went to Charles Lawley, Josie Cloninger, Jason Cloninger, Ron Hostinsky, and Adam Hostinsky.
Battling through the rain left only two 100s in the 20-gauge event, with Richard Nixon taking the top honors and John Feezor getting runner-up. This was also John's first 100 straight in the 20-gauge. Seven shooters posted 99s, with Stuart Brown clinching the last spot on the podium. Class winners for this event were David Stevenson (AA), Eric Potts (A), Bill Swenson (B), Adam Hostinsky (C), and Christopher Malone (D).
At the conclusion of shoot-offs Saturday evening our state teams were recognized as the shooters enjoyed an Eastern Carolina BBQ dinner with desserts provided by the attendees.
       First Team                                               Second Team                         Military Champion
Stuart Brown               .9903               Corrie Cloninger         .9708               Ron Hostinsky .9277
Mason Watkins           .9815               Scott Graham             .9653
Kevin Hostinsky          .9765               James Delosh             .9646               Lady Champion
Jay Bunting                 .9742               Timothy Koller             .9632               Anna Wood .9591
Otto "Chip" Simmons  .9713               Mark Smith                 .9611
Sunday's events were met with cloudy skies, but thankfully no rain. The 28-gauge event was finished with only three shooters posting perfect scores. Scott Graham was able to outlast Richard Nixon and Stuart Brown for the title, with Nixon finishing runner-up and Brown third. Class winners for this event were William Davis (AAA), Otto "Chip" Simmons (AA), Eric Potts (A), Randy Browning (B), Ron Hostinsky (C) and Doyle Estes (D). Congratulations to Jason Shell for his first 75 straight.
With the HOA still in a tight race, the little gun left two 99s battling for top honors. Stuart Brown found top honors again, leaving Jeffery DeSantis runner-up. Jay Bunting posted the only 98 to capture the last spot on the podium. Class winners for the .410 event were Corrie Cloninger (AAA), Mark Smith (AA), Randy Browning (A), Aaron Kibby (B), Neil McInnis (C), and Mike McKenzie (D).
With the final shots sent downrange, the HOA was won outright with a strong score of 398 from the newly inducted Hall of Fame shooter Stuart Brown. Runner-up and third went to Chip Simmons and Kevin Hostinsky, respectively, with 391s. Class champions were Richard Nixon (AAA) with a 388, Jeffery DeSantis (AA) with a 388, James Delosh (A) with a 390, Adam Hostinsky (B) with a 384, Allen Kirby (C) with a 367, George Shuman (D) with a 358, and Wendelle Gray (E) with a 305. Ridge Pearson won the Sub-Junior concurrent with a 373, Junior went to Josie Cloninger with a 383, Corrie Cloninger took Collegiate with a 385, and Anna Wood took home top honors in the Lady concurrent with a 386.
A big thanks must go out to Jim and Belinda Tiner for all their help in making this shoot run as smoothly as it could, and to all the refs, parents, volunteers and staff at the FTBCTC.
– Contributed By Kevin Hostinsky