September 9-11 will surely go down in the history books as a weekend to remember in Mississippi! Starkville Gun Club hosted the 2022 Mississippi Skeet Championship, a shotgun wedding and the Mississippi Hall of Fame celebration all in one weekend. Thirty competitors kicked off the events on Friday afternoon with Jeff Sullivan (MS 2020 HOF) claiming victory as 2022 Doubles Champion. Then, with a quick change of clothes, Jeff walked down the aisle (under the front porch due to rain) and tied the knot with his beautiful bride, Penny Pittmann Spooner. Jeff shot his first 100 in .410 at SGC in 2010, so it seemed only fitting that this be the venue for his shotgun wedding. The happy couple generously arranged for a wonderfully lavish banquet of food and drinks in the clubhouse, which was enjoyed by all our shooters, spouses, family and friends. Dancing in the rain was captured on video!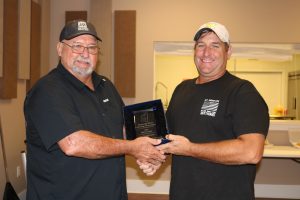 Saturday's weather was perfect, not too hot, not too cold and not too windy, and three competitors produced perfect 100 scores in the morning. Shoot-offs made Stan Salter the 12 gauge champion, Jessica Wolfe runner-up and Trip Jones third. In the afternoon, shoot-offs broke a three-way tie of 99; this time, Trip Jones prevailed as 20-gauge champion, David Gollott (MS 2021 HOF) runner-up and Jeff Sullivan third.
And then a fabulous steak dinner with our skeet family to honor our two inductees into the Mississippi Skeet Shooting Hall of Fame:
Tony Rosetti, a U.S. Army veteran of the Vietnam War with more wins and accolades in both International and American Skeet than we have room to list on this page, was the first to be honored. To his credit are four HOA World Championships, six Open Mississippi Skeet Championships, multiple Mississippi State Teams, world records, plus a 1972 Mississippi HOA score of 399 that set a state record that stood for 30 years.
Clark Hartness, a U.S. Army veteran also who joined SGC in 1992 after returning from Desert Storm, was also inducted. He has been an NSSA Concurrent All-American Team member for 16 consecutive years, with many state championship buckles to his name. He is super competitive but also a leader and innovator in the skeet world. Back in 1997, Clark was instrumental in the creation of one of the first state association websites posting news, scores and results. He has served as Secretary-Treasurer of MSSA since 1995, as NSSA Director for Mississippi since 1996 and Zone VI NSSA Executive Committeeman since 2018. In 2015, Clark led the first iZone VI Championship, which led to the launch of https://ishoots.org. Somehow, this man does all this, runs all our zone shoots, actively competes and still makes time to help anyone who asks. His contributions to our sport at a local and national level are unmatched.
Sunday morning conditions were pleasantly dry. Frank Callahan (MS 2018 HOF) won the 28-gauge championship outright with the sole perfect 100. Trip Jones was runner-up and David Gollott third, both with scores of 99. To close out the weekend, David Gollott took the .410 championship with an impressive 99, with Frank Callahan runner-up with a 98 and Russell Walker third with a 97.
David Gollott was the 2022 Mississippi State HOA Champion with an impressive score of 392. Congratulations to him, the gun champions and the 2022 Hall of Fame inductees.
The Mississippi skeet family may be smaller in numbers, but you'll be hard pressed to find a more caring and friendly bunch of folks. I, for one, am blessed to be a part of this great group of people.
– Contributed by Susan Galloway