Victor Rod and Gun Club hosted the sixth annual WorldWide Summer Classic, the "Richest Little Shoot in New York State," on August 7. This 12-gauge and doubles one-day registered skeet shoot is highly favored by shooters in the Western New York region. Enticed by $3000 in added money, 41 shooters took to the freshly cut and trimmed fields with high expectations of cashing in on the abundant prize money. The shooters started to arrive for registration early in the morning, and the machines were dialed in to throw great targets against a perfect background.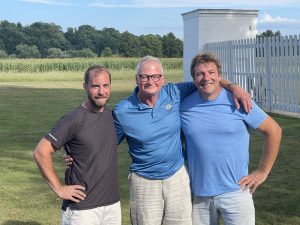 Mother Nature provided a hot and humid day, but the winds were calm, and the blue skies complemented the club's great background. The morning started with the 12-gauge event. Kody Hoth crushed all 100 targets for the only perfect score of the day, claiming the 12-gauge champ title. There were four scores of 99. Don Lewandoski prevailed in the spirited shoot-off for the runner-up spot. Mat Kelley's 99 earned him the AA1 title. Bill Kalwas' 99 took A1. Other 12-gauge winners included Zach Jacot (B), Scott MacIntosh (C), John Quealy (D) and Cheryl Henderson (E).
In the afternoon, Mother Nature turned up the temperatures into the 90s, but the winds remained calm for the doubles competition. Bill Kalwas and Mat Kelley each broke 98 targets. Kalwas won a short shoot-off to claim the doubles title, with Kelley taking the runner-up spot. Doubles class winners were Don Lewandoski (AA), Clay Tietjen (A), Mike Haff (B), John Yackiw (C) and Terry Prem (D).
For the eighth year in a row, a shoot-off was not required to crown the HOA champ. Bill Kalwas bested the field with a superb 197×200 score. Kalwas needed every target, though, as three shooters were just one target behind. In the shoot-off for runner-up, Lewandoski prevailed to take the HOA runner-up spot. The other two shoot-off contenders, Hoth and Kelley, claimed AA1 and AA2 respectively. The remaining HOA class winners were John Boone (A), Scott MacIntosh (B), Jack Mutchler (C) and Cheryl Henderson (D).
Victor Rod and Gun Club's all-volunteer team did a great job of preparing for the shoot and working during the day of the shoot. Everything ran smoothly from registration through the shoot-offs. Special thanks go to shoot chairman, Andy Nolan, and the administration team.
We cannot thank enough the generosity of Rick Simmonds for sponsoring this shoot. Rick is a long-standing member of VRGC and an avid shooter. We also want to thank Chief Referee Jim Thompson and his crew of referees, who did a fantastic job. Most importantly, we would like to thank the shooters. Without shooters willing to travel from across the region to participate, we could not have a successful shoot.
– Contributed by Wes Bailey