On Friday, July 15, Tulsa Gun Club hosted its 5-gun shoot, the T-Town Classic, and it was a hot, hot, hot one.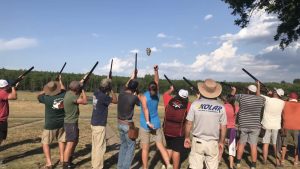 The doubles event on Friday was won by John Frere with a 99, followed by Robert Robinson with a 97 for runner up, then Jack Taylor at third with a 96 after a shoot-off. On Saturday, Derrick Morgan was crowned 12-gauge gun champ with a 100. Runner-up went to J.T. Hearn, with third place awarded to Jack Taylor, both with 99s.
The 20-gauge came down to a shoot-off for the podium with the top three men all shooting 100s.The event was won by Josh Guess. Brad Goodart fought hard for runner-up, followed by J.T. Hearn for third. Brad tried hard to heckle the young guys and get in their head but fell short.
Sunday was another toasty day, but still wonderful. It is always a great day when you're at the gun club with your family and friends. The 28-gauge gun champ went to Carol Goodart with her first 100 straight in this gauge. After the field of 99 scores shot off, Ally Robinson took the runner-up title, followed by Josh Guess for third.
After all the shooters melted down in the 104-degree heat, John Frere prevailed as the .410 bore gun champ with a 98. Jack Taylor earned runner-up with a 97, followed by Robert Robinson with a 96.
HOA champion was Josh Guess with a 394, runner-up was Robert Robinson with 392, and Derrick Morgan, third with 392.
– Contributed by Amelia Morgan