In true style, shooters came out to enjoy some awesome shooting and camaraderie! It was a pleasure to have worldwide shooters join us for their first shoot in three years. Shooters from the United Kingdom and New Zealand were a welcome sight, as they have become friends of the Grand Prairie Gun Club over the years and it was awesome to see them again. Martin Brister, Kerri Fallon, Matt Fallon, Shane Quinn, Ray Rogers and John Tonkin joined us, and it was so nice to see their smiling faces – it has been a long three years.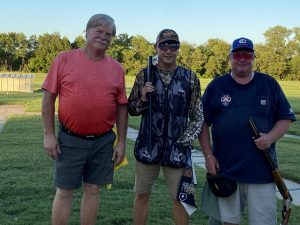 We also welcomed out-of-state shooters James George and Bill Myers from Louisiana and New Mexico, respectively.
The first World Warm-Up Mini was held this year due to the generous support of Jason Foshea and Brian D'Souza, with 12-gauge in the morning and doubles in the afternoon. The Mini was eventful for at least one shooter who shot the lone 100 for the entire weekend. If you were there, you know who it was, and we were all reminded several times by this person of his achievement as the lone 100 – congrats to Randy Walhood!  He kept us smiling. We also congratulate Brian D'Souza as champ of the doubles event as well as his HOA win. Jason Foshea was the Mini runner-up, and Richard Funk captured third place.
Sixty-one shooters joined us for the Main. Jason Foshea was a big winner, capturing the champ slot for 12-gauge, .410 and HOA. Brian D'Souza landed 12-gauge runner-up, and Houston shooter Pat Byrne was third in 12-gauge.
Other gun winners included:
12-Gauge – Jason Foshea, champion; Brian D'Souza, runner-up; Pat Byrne, third
20-Gauge – Brandon Cade, champion; Gary Jaggears, runner-up; Donny Penwell, third
28-Gauge – Richard Funk, champion; Brandon Cade, runner-up; Jason Foshea, third
.410 Bore – Jason Foshea, champion; Matt Fallon, runner-up; Gary Jaggears, third
Jason Foshea and Brandon Cade shot off for the HOA Champion position, with Jason coming out on top. Gary Jaggears captured third place. Lady shooters at the top for the Warm-Up were Jo Ellen Collin, champ; Emily Nevin, runner-up; and Jenny Pang, third. Emily and Jenny have been shooting a couple of years and are coming on strong in these competitions.
One other activity that was memorable and a lot of fun was the 3-Man Blind Calcutta for the 28-gauge event. The 3-Man Blind teams were determined via the MySkeet software to place teams together based on their classes/averages. The teams were announced, and after the completion of the 12- and 20-gauge on Saturday, shooters dined on a steak dinner to study and determine their strategies for the auction of these teams. It was quite entertaining to see the bidding war that ensued, including consortiums that were formed to pool their monies to gain the highest bid for a team.
Hope to see everyone again next year as well as new ones – we love to see new shooters come to Grand Prairie.
The Grand Prairie Club is a volunteer-run club. Many, many thanks go to the awesome group that made sure we had awesome targets and every need met. There were no delays due to machine breakdowns or waiting on someone to load houses. Volunteers also swept the fields, kept us hydrated by filling the coolers with ice and water multiple times during the day and made their work look effortless – like a fine-oiled machine. In addition, Grand Prairie fed the shooters lunches and dinners, again with volunteers providing the food and services to ensure everyone was well-fed and enjoyed themselves. Their hard work was noticed and appreciated. Thank you to all!
– Contributed by Jo Ellen Collin