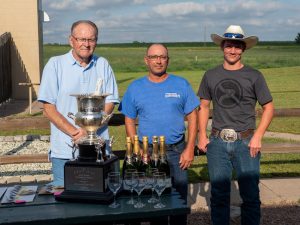 Saturday morning brought the Morton Buildings 20-Gauge Championship event. Kurt Mann of Kearney added another state title to his resume, shooting the lone 99 in the event. After a shoot-off of 98s, Dave Meisinger was runner-up and Corey Zenon was third. Class winners were Rob Predmore (AA), Chris Lutz (A), Adam Classen (B), Richard Burkhart (C) and Rob Hinze (D).
The Class One Machine .410 Championship event was next up on Saturday afternoon. Skies were darkening, and phones were busy checking radar all afternoon, in the hopes the event would be completed. Rob Predmore broke a 96 and added yet another buckle to his collection. Rob and his .410 like LCWGC, as he posted a 100 straight in the baby bore last year at the Conley shoot in North Platte. Dale Fangmeyer, runner-up, outlasted Chris Lutz, third, in the shoot-off of 95s. Class winners included Bill Buettgenbach (A), Deric Meisinger (B), Wayne Bennett (C) and Steve Zwiener (D). The rain and lightning finally came, and the last squad out had to finish on Sunday morning.
On Saturday evening, shooters and guests were treated to a wonderful smoked pork chop dinner. Door prizes were handed out, thanks to our many great sponsors. To wrap up the day, Deric Meisinger came away with the free entry into the 2019 World Skeet Championships.
Sunday was a day of firsts, starting with the Conreco, Inc. 28-Gauge Championship event. Jacob Uphoff shot his first ever 100 straight in the 28-gauge, and the only 100 straight in the field, to take his first Nebraska state title. Runner-up went to Jerry Classen, and third went to Dave Meisinger after shooting off their 99s. Rob Predmore (AA), Corey Zenon (A), Jim Lewandowski (B), Bill Garber (C) and Rich Johansen (D) took class honors. It is good having Mr. Johansen back in the state, as he had left for Nevada for quite a few years.
Fifty shooters took to the fields Sunday afternoon for the Anderson Auto Group 12-Gauge Championship event. Only one of those 50 shooters didn't miss, and that was Josh Peters. This was Josh's second state title of the weekend. Harry Walker, runner-up, outlasted third-place Don Serna and Zach Hinze (C1) in the shoot-offs of 99s. Other class winners were Predmore (AA), Bill Garber (A), Nick Degenhardt (B), Leighton Webb (D) and Cody Nelson (E). The coveted John Day 5-Man Team trophy went to the team of Cody Nelson, Ron Fucinaro, Nick Degenhardt, Mike Kirkland and Jim Stumpf.
Rob Predmore (389) came away with the Kolar HOA title. Other notable HOA results included Josh Peters, runner-up; Chris Lutz, third; Dave Meisinger (A1); Don Serna (B1); Zach Hinze (C1); Rob Hinze (D1); and Jes Crankshaw, Lady Champion. Josh Peters (482) claimed his fourth belt buckle for the weekend by winning the HAA title.
Thanks to Lincoln County Wildlife Gun Club, as well as all of the staff and volunteers, for putting on such a great shoot. Thanks also to our many of out-of-state guests who participated this year. The 2020 Nebraska State Championships will be in Omaha next year. Hope to see you there!
– Contributed by Chris Lutz