The summer of 2022 saw West Virginia Clays of Charleston lose one of its favorite sons, Thomas Cutlip. Tom had been a long-time member and officer and friend to the skeet shooting community in West Virginia and the surrounding area. He is sorely missed. The weekend of June 3, 2023, the first Tom Cutlip Memorial shoot came to fruition.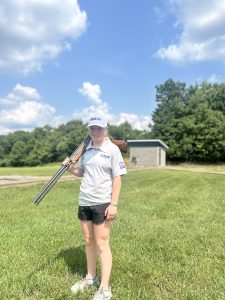 West Virginia and the surrounding area is very active in the Scholastic Clay Target Program, and this weekend was the first registered targets for 11 young shooters from Kentucky, Ohio and West Virginia. Fourteen-year-old Carter Shafer took C1 in the 12-gauge with a 94, D1 in the 20-gauge with 94 and HOA C1. Triple-Sub Tyler Dahse was 12-gauge E1 with a score of 93. Sub-Junior Alexandra McGrew was C1 in the 20-gauge with 90, C2 in the 28-gauge with 89 and won her first shoot-off in .410-bore for D2.
The adults shot well also, with Joe Charles taking 12-gauge gun champ with 99 and 20-gauge gun champ with 97. Bob Estep was 28-gauge gun champ with a fine 95 on his first registered targets. Scott Sparks took the .410-bore with 92. A special thanks to Jill Taylor, shoot chairwoman, and Brenda Horne for the best food on the planet. With any luck, this will be a recurring event in honor of a fine gentleman, Thomas Cutlip.
– Contributed by David Ashworth