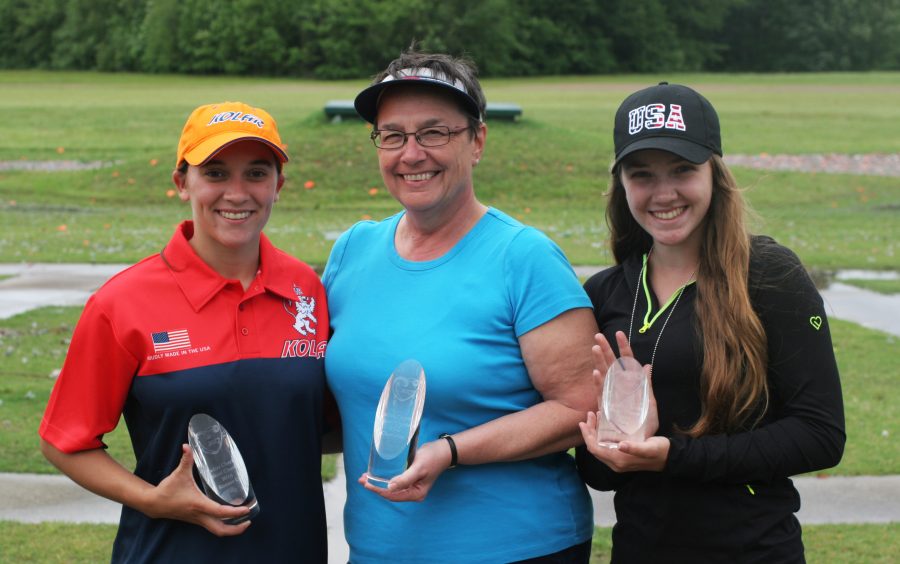 On April 8 — 10, Fairfax Rod & Gun Club, Inc. in Manassas, Virginia, welcomed 65 lady shooters, 30 of whom were novices, to compete, introduce new ladies to skeet shooting, and raise money for the Fisher House Foundation. We are proud to announce that we raised a total of $22,000 this year, which is a $1,000 for each year of the shoot's existence.
Overcast, chilly weather for April in Virginia and seven coaches welcomed an all-time record number of 30 novice shooters to two hours of an introduction to skeet shooting via our Krieghoff International Novice Team Event on Friday morning. Following a few hours of instruction, the seven Novice Teams, including the coaches shooting a regular round with the .410, competed in a one-box modified round of skeet.
Team DeFrancesco, composed of Denise Loring, Diane Murtha, Mary Pat Hennigan, Linda Tucker, and Jenna Fees, took first place. Following in second place was Team Key: Annette Spetallieri, Anita Kane, Suzanne Rosenberg, and Annmarie Trost. Third place honors went to Team Gormish: Kirstin Knott, Sandra Miller, Shawna Wood, and Alicia Williams. Fourth place was Team Gamble: Linda Fortunato, Jessica Fortunato, Barbara Heffernan, Lana Vu, and Ann Cliburn. Thanks to the generosity of Krieghoff International, each of the lady novices in the first through fourth place teams received either a Krieghoff shooting pouch or hat.
Our other three teams were: Meg Hennigan, Ruth Tucker, Stefanie Portugallo, and Cassandra Ruark, coached by Dale Cox; Mary Williams-Lynch, Loretta Lynch, Connie Buckley, and Joy Schaya, coached by David Latimer; and Kelly Sanborn, Betsy
Hennigan, Bonnie Camp, and Kathie Jordan, coached by Karen Ruddle.
Novice Sandra Miller then proceeded to shoot her very first NSSA-sanctioned targets at the 2016 Ladies Charity Skeet Classic in the Murrell Smith 12-gauge event. Welcome to NSSA registered shooting, Sandra! Two of our Novices from 2015, Theresa Buonocore and Sydney McWilliams, also shot the Ladies again this year. We hope this will be the start of long shooting careers for all three of you. A number of this year's class also asked how to take it forward from here and we have set them up with local coaches to continue shooting. Hopefully we'll have a few more shooters join the NSSA ranks from our efforts here.
Baker and Bill Wise worked registering the ladies for the NSSA sanctioned competition by noon on Friday down in the Vince Marcum Skeet Pavilion. Each lady shooter, Novices and Registered alike, received a handsome burgundy attache case embroidered with the LCSC logo and filled with handmade gifts from Brenda Bangert and David Latimer. Babette Burley, Peggy Meunier, and our wounded shooter, Winnie Tucker, sold raffle tickets and LCSC shirts. A great job all weekend, can't thank all of you enough!
The John Haugh Doubles event got underway Friday afternoon concluding with a wine and cheese tasting social. John Waters presented gorgeous engraved Salisbury bright-pewter trophies, which each of the six event sponsorships allowed us to purchase. Alyssa Gormish took the Doubles Champion with a 93, followed closely by RU Debra Perry and third place went to Marina Pakis with 92's after a shoot-off that went four stations. Class 1st winners were presented with pewter coin jiggers with second and third place class winners going home with an engraved LCSC enameled pin.
Despite the challenging weather conditions of snow and wind on Saturday, the ladies posted good scores in the Murrell Smith 12-gauge event with the standouts of 98 for Champ Vicky Stellato, 97 for RU Debra Perry, and 96 for Third Christina MacMillan. The longest shoot-off was to determine Lady Group I-3- 7. Five ladies with 95's battled for several stations with Alyssa Gormish and Holly Paul taking it to the seventh station before Holly emerged victorious.
Scores were only a little bit lower for the John Waters 28-gauge event. Holly Paul's 95 earned her the Championship bowl, followed by Alyssa Gormish with a 94. A shoot-off was needed between Mary DeFrancesco, Susan Huszai, and Colleen Berg to decide third with Mary as victor.
Grill Master Bobby Defrancesco and Greg Buonocore grilled the big New York strip steaks to order for the chilled and hungry shooters and volunteer workers. Baked potatoes, salad, rolls, and two of Kathie Latimer's famous caramel chocolate cakes waited inside. Thanks to Lynn Gormish for heading up a crew of volunteers to get everything set out prior to the shoot-off's and award presentations.
Thirteen men participated in a .410 competition on Friday & Saturday shooting two regular rounds and two rounds of doubles. The proud and humbled winners of the engraved pewter mugs were Dan Felton, with an impressive 93 as Champion, edging out RU Ray Gilbert by one bird, and John Snyder as third. Four shooters competed in the 5-stand event. Clay Gormish was Champ, with TW Williams RU and Dan Felton third. Congratulations to them all. Both their sportsmanship and their entry fees were appreciated.
As the sounds of eating died down, Becky Myers presented winners of the men's event specially engraved trophies, announced the results of the Wi$he$ for Warriors program, and thanked our many sponsors, shooters, donors, and volunteers by group. Wi$he$ for Warriors is a contest where ladies collect cash donations throughout the year for the charity and bring it to the shoot. Susan Huszai again volunteered to administer the program and with eight lady shooters participating this year, they collected a total of $3,273.00 for the Fisher House Foundation. Sue again took first place and Theresa Buonocore was the second highest Wi$he$ for Warriors money raiser. Both received an engraved silver-plate Revere Bowl and sincere thanks for their efforts. Mary B. Considine, Chief of Staff of the Fisher House Foundation, spoke about the mission of the foundation and awarded a special military Challenge coin to the Event Champions determined so far, to the volunteers who have been especially helpful over the past five years, and to three of the Ladies Shoot Foremothers who were present this year: Winne Tucker, Mary Beverly Gamble, and Carolyn Lause. Following Alyssa Gormish's able demonstration of the secret handshake method of receiving the coin, Mary successfully transferred all the coins to the remaining recipients.
Blue cup drawings preceded the auction with winners of the BIG items including: Debra Perry, who won the Mini World entry; Christine Wittington, who won the Main World entry donated by NSSA; and Christine Fox who will shoot the 2017 LCSC for free.
The evening's entertainment was then turned over to showman T.W. Williams, who ably conducted our live auction. Overall, there were seven items for auction which included a quilt made by Susan Huszai, an exotic wood & "ammo" pen made by Club member Chris Jabbs, an Italian crinkled leather shooting pouch & belt from Donny Weaver, three state product baskets containing a variety of state products including shoot entries, a Remington wooden ammo box containing ball caps signed by Wayne Mayes & Al Magyar, and a scratch box turkey call. Our thanks to the auctioneer Col. USA Ret., T.W. Williams for another spectacular job, to the contributors and especially to the bidders. My personal thanks to John Waters, who after bidding $500 to win Sue's quilt, gave it to me as a thank you for my work in keeping the Ladies shoot going for the past five years.
We again delayed the raffle drawings to allow dinner guests time to buy tickets and to choose items. Then, after dinner and the disappearance of most of the dinner guests, a volunteer crew of Babette Burley, Mary Alice Defrancesco, and Susan Huszai conducted the drawings so that participants could pick up their winnings before they left on Sunday.
Sunday brought bright sunshine, but was still a bit chilly. We started with the Bozard Ford 20- gauge event, followed by the Kolar Arms USA .410 Bore event, concluding with the Haugh/Smith/Waters HOA event. Scores were high in the 20-gauge Champion Susan Huszai's 100, RU Alyssa Gormish's 99, and third Christina MacMillan's 98. The Kolar Arms .410 Bore event was won by Debra Perry's 97, followed closely by Vicky Stellato's 96, and Maria Pakis 95.
Finally, the Haugh/Smith/Waters HOA trophies, which were re-named this year to honor the three individuals who sponsored gun events every year of the last five years, were presented to: Champion Debra Perry (381), RU Vicky Stellato (380), and third Holly Paul (379). Debra, a Lady
All American team member, was also presented the All American HOA Crystal vase which is a tradition started by former NSSA President, Louise Terry, when the shoot was held in Memphis, TN. John Waters presented the trophies for all the Sunday events.
As always, we want to thank our referees who donated their pay to the charity and to Greg Huzsai for the wonderful photos including this year some awesome photos of snow shooting.
Thanks again to the tireless work of Club Facilities Manager, Jamie Martin; his assistant, Oscar Lechuga; the members of Fairfax Rod & Gun Club; and to the Board of Directors, who have hosted this event for the past five years.
We ended our five-year run here with the best participation ever. A special thanks to the event sponsors who stuck with us though-out the run: Krieghoff International, Kolar Arms, John Haugh, Murrell Smith, John Waters, and Alamo Sporting Arms and Bozard Ford. Without your continued support we would not be able to hold this event nor be as successful in our fundraising.
We hope to see even more shooters next year as the shoot returns to Memphis, TN under the chairmanship of Barry & Dayna Rich. The weekend in April will be announced as soon as Barry can work out the scheduling with the Memphis Sports, watch our website
www.ladiescharityshootclassic.org.
– Contributed by Rebecca Myers