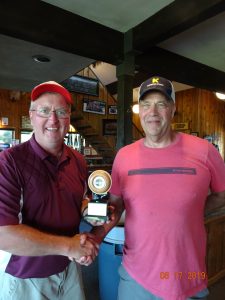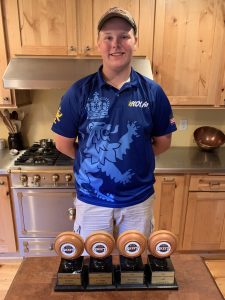 Seventeen-year old Hayden Wege claimed championships in nearly every event at the 2019 Minnesota State Skeet Championships. He first appeared at the Minnesota State Championships in 2016 at age 14, shooting in class D with an HOA score of 355. In subsequent state shoots, Hayden posted HOA scores of 383, 389 and now 395, claiming the 2019 Minnesota State Championships in doubles, 12-gauge, 28-gauge, .410, HOA and HAA.
Hayden attributes much of his success to Tony Lowe, his mentor and NSSA Certified Skeet Instructor who also coaches for the Minnesota Youth Shooting Program SCTP team, as well his mother Kristen Wege, who serves as Hayden's coach and is a Certified Shotgun Instructor, and the head SCTP coach for the Minnesota Youth Shooting Program. Hayden will finish high school this year and enroll at Bethel University in McKenzie, Tennessee, where he earned a shooting scholarship.
The American flag was raised at the start of the doubles event with the singing of the National Anthem by Justin Staebell, a formidable skeet shooter who sings opera.
The 20-gauge championship was won by incoming Minnesota Skeet Shooting Association president, Jeff Schneider, who bested Hayden Wege in a shoot-off of 99s.
Class champions include:
HOA – Michael Lohman (AA), Justin Baker (A), Janice C. Lohman (B), Mark Cameron (C) and David G. Seidel (D)
12-Gauge – Mark VanderBloomer (A), Robert Muehlenkamp (B), Tate Peterson (C),
Marcus Andrade (D) and Arthur R. Peterson Jr. (E)
20-Gauge – Hayden Wege (AA), Gene J. Helsene (A), Paul Davis (B) and Harry Hoppmann (C)
28-Gauge – Mark VanderBloomer (AA), Gene J. Helsene (A), Brian Hendrickson (B), Mike Halbach (C) and Mark Cameron (D)
.410-Bore – Justin Staebell (AA), Justin Baker (A), Randy Vaske (B), Mark Cameron (C) and
Tate Peterson (D)
The Minnesota Skeet Shooting Association thanks Minneapolis Gun Club Manager, Mark Cameron, for hosting another great state championship. Thanks also to Bob Muehlenkamp and Mike Quigley for running the NSSA software, making the reservations and maintaining the scoreboard.
– Contributed by Ronald Chandler