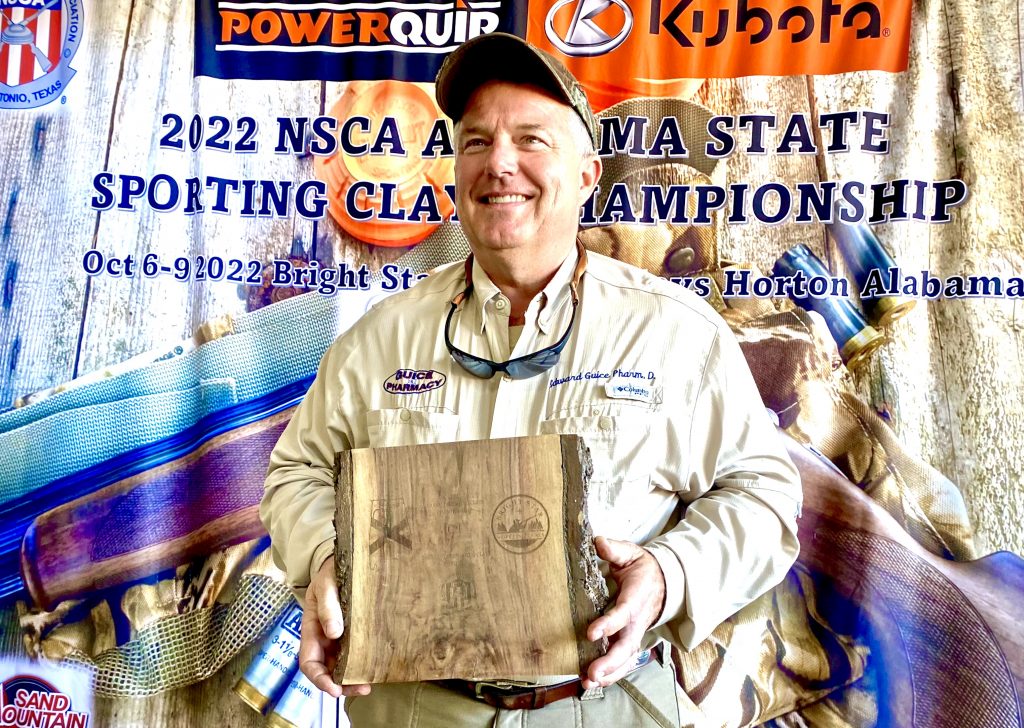 The fall colors and cool, comfortable weather rolled in perfectly to support the 2022 Alabama State Championship at Bright Star Sporting Clays, October 6-9. Bright Star Sporting Clays is a family-owned operation that started as a few practice machines for owner Jason Jackson and his son. It has grown from its humble beginnings to a full course that throws more registered sporting birds than any other range in Alabama.
Jason brought in Corey Howell, of Howell Traps, and Dean Blanchard to set the courses and provide additional machines for the Sub-Gauge, AFS, FITASC, True Pair and Super Sporting courses. Shooters from Alabama, Tennessee, Georgia, Mississippi, Florida and one from Ohio attended to test their skills and enjoy the welcoming atmosphere.
The Prelim and Main Event were set in the wooded area of the property, while all other events were set on the rolling pasture land of the property. Jason wanted courses where everyone would have fun and still be challenged.
Corey and Dean delivered perfectly with courses that tested all but allowed everyone to break their fair share. The shadows and filtered sunlight on the leaves of the Prelim and Main courses presented added challenges of their own, beyond the wide variety of birds set.
The Friday Prelim finished up with a four-way tie at a score of 98. The shoot-off for all the ties were conducted on the Super Sporting course, but with 20 to 30 yards added to the shooting distance and throwing true pairs. It was  literally like a true pair long-bird competition and a lot of fun. The Prelim was won by Jeff Cramblit, with Brad Collins taking runner-up and Chuck Cranford winning the 12-gauge event.
The Saturday Main Event course ended with several Masters in the mid- to high-90s, but the leaders were Alex Ryan Clark of Georgia and two-time Alabama State Champion Chuck Cranford tied at 98. Chuck was having a tremendous weekend competing in 9 of the 10 events offered at the tournament. He ended up with four HOAs, one runner-up and a Master first.
For most, Sunday's Main course proved more challenging, but not for Junior shooter Hunter Stover of Mobile, Alabama. Hunter succeeded in shooting an amazing score of 99, a full three birds ahead of the nearest competitor and enough to win him his first Alabama State High Overall title. Chuck Cranford's scores were good enough to hold on to the runner-up position, and Alex Ryan Clark was third, also taking the Non-Resident High Overall.
Alabama shooters didn't win everything; one of Mississippi's top shooters, Steven Tzotzolas, stepped in and won the True Pair event. High Lady was won by Alabama Junior shooter and match photographer, Katie Skinner. For full results, visit ScoreChaser.com.
The Alabama State was very much a family-oriented tournament with many father/son, husband/wife pairs shooting together. For Hunter Stover and his father Benny Stover, it was a very rewarding crown to years of competition.
For Bruce Park, it was his first major tournament and also the first he had shot with his son Sumter, who won D class in both the Main Event and Super Sporting, while dad earned punches in a tie for C1 in Super Sporting.
All three of the Alabama NSCA delegates were in attendance, and all three took home awards. Rocky McCluskey was runner-up in AFS, Perry Johnson took A1 honors in both AFS and FITASC, and Steve Dickinson was M3 in the Prelim event.
It seemed as though everyone won something. Reviewing the payouts on ScoreChaser, over 80 of the shooters won a part of the very generous $18,000+ payout. The tournament sponsors were Albertville PowerQuip Kubota, Atlas Traps, Howell Traps, Comp-N-Choke, Sand Mountain Toyota, White Flyer, and Lake Guntersville Tourism Board.
Everyone seemed very happy with the tournament, thought it ran smoothly and was having a good time. The Saturday evening dinner was catered by the local SCTP group and was delicious. Thanks to all the SCTP shooters and family who took on the duties as trappers for the event.
Bright Star and the Jacksons wanted to put on a match where everyone had fun, promoted fellowship and camaraderie, and felt like they were a part of something, and it seemed the crowd agreed they succeeded. Many were already looking forward to and planning for next year's event.
– Contributed by Jeff Cramblit
Photos by Katie Skinner