The 2022 Newark Open at Newark (NY) Rod and Gun Club started out on Friday, July 29, with pretty decent conditions. Six squads of shooters took to the fields, and at the end of the day, Dess Ivanov and Craig Parsons posted the high scores. After a lengthy shoot-off (something less than 10 boxes) Parsons emerged with the title. Canada's Dan Morris was third. Class winners were John Boone (A), Craig Halstead (B), Al Grundman (C) and Joanna Nichols, (D).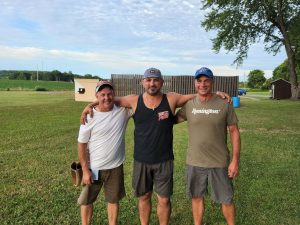 Saturday brought ideal temperatures but plenty of the "Great Lakes puffies" and more breeze than skeet shooters hope for. Even so, and with the aid of finely tuned machines by trap mechanic Pat Breen and Lawry New York orange (black rim targets),  great scores were recorded, including three 100s by Dan Morris, Steve Wood and Scott Janowski.
After the shoot-off dust settled, Dan Morris emerged as champion, Scott Janowski was runner-up and Steve Wood claimed third. Class winners Craig Halstead (A), Dave Sobiegray (B), Doug Goodman (C), Larry Clarke (D) and Joan Paddock (E).
The afternoon brought more of the same conditions until late afternoon, and again three perfect scores were posted. This time, Craig Parsons came out on top, Steve Wood was RU and Dess Ivanov made the podium in third place. Class winners were Dan Morris (AA), Dave Sobiegray (A), Cameron Baker (B), Joan Paddock (C) and Cheryl Henderson (D).
Due to the generous donation of members Cliff Patridge and Pat Breen, we had a 20- gauge B, C, D class handicap challenge, free of charge to all competitors. Newark's own junior shooter Cam Baker won the event with a fine 98X100, and splitting second and third-place monies were Joan Paddock and Jim Reilly.
Capping off the evening was a dinner provided by the club and catered by Newark's Nana's Village Restaurant & Catering.
Sunday brought near-perfect conditions except for a few "puffies" in the middle of the day. 28-gauge was held in the morning and Steve Wood and Dess Ivanov had the two perfect scores, with Dess finishing as champ, Steve as runner-up, and Craig Parsons in third place. Winning the classes were Scott Janowski (A), Craig Halstead, (B) Cameron Baker (C) and Cheryl Henderson (D).
The .410 event brought 99s by Dess Ivanov and Craig Parsons, with Dess winning the championship, Craig runner-up and Dan Morris, third. Walt Aldrich (A), Jim Reilly, (B) Victor Stirpe (C) and John Greco (D)
HOA Champion was Dess Ivanov with an impressive 398X400. Runner-up was Steve Wood with 397X400, and third-place was Craig Parsons with 396X400. Class winners were Clay Tietjen (A),  Jim Reilly (B), Cam Baker (C), Joan Paddock (D). Ivanov was also HAA Champion, Wood was runner-up and Parsons, third.
The club would like to thank everyone that pitched in to make this happen, with a special thanks to the refs that did a great job pushing the buttons for us. We hope to see everyone again next year!
– Contributed by Craig Parsons