Meadville Sportsman's Club in northwestern Pennsylvania held the Kriner Insurance Group 200 on July 18. The weather was hot and humid with nary a cloud in the sky; an occasional light breeze did help a bit.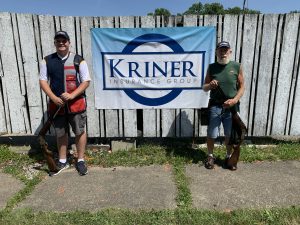 Fourteen shooters shot 100 each 12- and 20-gauge targets. Austin Applegarth was HOA champ with a sizzling 198. Mike Rykacewski Jr. was HOA runner-up after winning a shoot-off of 194s with Josh Crofutt and Dale Snow.
The 12-gauge was shot first. Applegarth was champion, but not until he won a shoot-off of 99s with Dale Snow. Class winners included Ernie Avolio (AA), Snow (A), Carl Biddle (B), Brian Fox (C) and Mike Rykacewski Sr. (D).
A nice lunch of cold cuts, potato salad, macaroni salad, chocolate chip cookies, and soft drinks was provided.
The 28-gauge event was last. Applegarth continued his good day by winning the champion distinction with his 99. Crofutt, Biddle, Steve Best and George Gleich, respectively, finished AA1, A1, B1 and C1.
Samuel Marks registered shooters, posted scores and managed shoot-offs, as well as pulling and scoring; kudos to him! Other referees and helpers included Sam Marks, Larry Price, and Mark Johnson.
Many thanks to the Kriner Insurance Group for sponsoring the shoot. In addition to adding money, the Group provided various take-away items (key chains, travel mugs, pens) and abundant cold bottled water.
– Contributed by George Gleich