The Blackbird Open was held at Generations Skeet Club near Patton, Pennsylvania, on May 7. Thirty-four shooters participated in this two-gun event, 12-gauge in the morning and 20-gauge in the afternoon. The weather was overcast with scattered rain showers, mainly in the afternoon, but relatively warm and not too windy.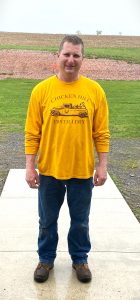 Chris Kline took HOA honors with a perfect 200. Pat Leyo and Mark Eckert both posted HOA scores of 197. Debra Meade was Ladies HOA champ with a 195. Great shooting by all!
Kline's 100-straight won the 12-gauge event outright. Meade's 98 was good for Lady Champion. Class winners in the 12 included: Leyo (AA-97), Jack Harshbarger (A-99), Meade (B-98), John Avolio (C-97), Don Steinert (D-95) and George Gleich (E-89).
Kline was also 20-gauge champ, but not until he bested Leyo and Frank Smithmyer in a shoot-off of 100-straights. Missy Vescovi was Lady Champion with a 98. Class firsts went to: Smithmyer, Leyo, Mark Eckert (99), Scott Hazlett (94) and Andrew Hazlett (86), AA, A, B, C and D, respectively.
Kudos to Ryan Holtz for running the desk and Michael Vescovi, who was chief referee. Non-shooting referees included Renee Calvert, Andrea McMullen, Alex Farrell and Braden Holtz — great job, refs! Thanks also to Pat Leyo for doughnuts and to Renee Calvert for cookies!
Many skeet shooters agree that recruiting young shooters is one of the most important tasks we face as a sport. Generations' next generation of skeet shooters is on the way! Sub-Junior Luke Holtz (13) and Juniors James and Braden Holtz and Gabe Smithmyer shot on a squad with Gabe's dad Frank who showed them how to do it with his 100-straight.
Nine pairs of parent and child competitors participated in this shoot. Families represented included: Harshbarger, Sutton, Hazlett, Vescovi, Steinert, Smithmyer and three sets of Holtz teams.
Junior shooter Zak Sutton of the Lawrence County Young Guns from Wampum, PA, shot and did quite well (two 95s). Sporting clays is the main focus of this group of several dozen young shooters, but they also participate in trap and skeet. Zak's dad, Ed, shot his first registered skeet and finished with very respectable scores.
And speaking of young skeet shooters, Generations also hosted the PA SCTP Championships on May 20, with approximately 90 young people participating. Kudos to Joe Gans 3 for all his efforts with the kids!
– Contributed by George Gleich