A chance meeting at the Rhode Island State Skeet Championship between two youth coaches, one from Connecticut and one from Massachusetts, started a conversation about getting their junior shooters together for a low-key, fun skeet practice. A couple phone calls later, the plan was made for the Fall River (MA) Rod and Gun Club to host the youth team shooters of the Ledyard Clay Mechanics (Ledyard Sportsman Club, CT) and the Groton Clay Grinders (Groton Sportsmen Club, Groton, CT) on November 4, 2018.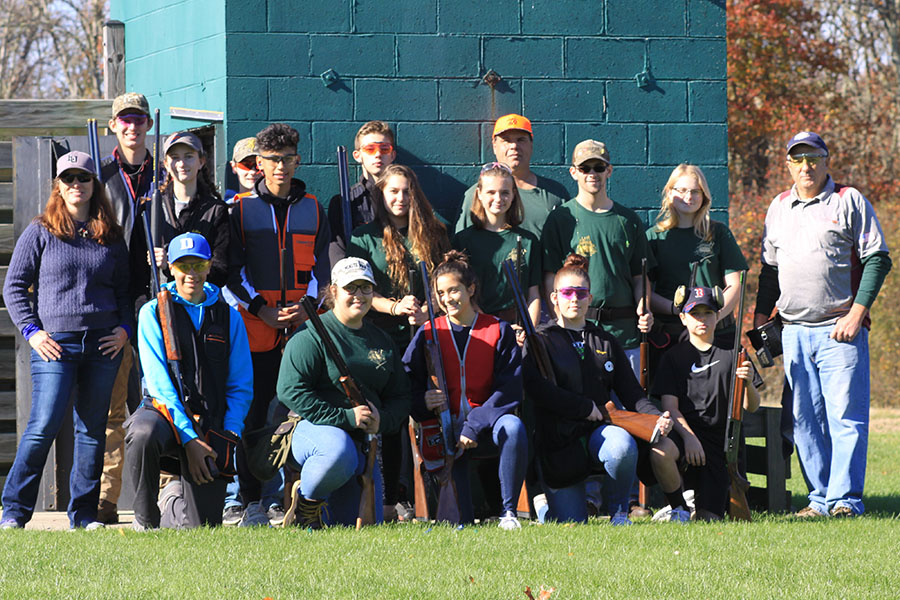 It turned out to be a beautiful fall day in New England for the three full squads to shoot two rounds of skeet. The 15 shooters taking the field ranged in age from 12 to 16 years old, and it was almost a 50/50 split with seven girls and eight boys. Besides having fun, the coaches really wanted their young athletes to get to know each other and hopefully learn a thing or two. There were a few that had only been shooting skeet for a few months and others for a few years. Some preferred 20-gauge semi-autos, and some shot 12-gauge over/unders. The firearm didn't matter. The skill level didn't matter. Halfway through the first round, everyone started fist bumping and giving encouraging words like "good break" and "You were in the middle of that one." The all-boys Ledyard team – all fairly quiet boys – were squadded up with some of the outgoing girls from Groton and Fall River who soon managed to pull them into conversations, first about shooting skeet targets, then on to other kid stuff.

Off the field, club members were firing up the grill to get lunch started, and parents were making their own connections. Moms and dads were interested in knowing how each other's kids started shotgun shooting. Some started shooting in Boy Scouts, others hunting with their dads, and others because their friends were doing it so they wanted to try it. They discussed the great life lessons that the shooting sports taught and how it gave them such confidence on and off the range. The coaches from Ledyard and Groton had had kids (including their own) in their programs who were now shooting on collegiate teams, many receiving scholarships, which is always of interest to parents of any age kids.
After lunch, the Ledyard and Groton teams introduced the Fall River team to the game of "Adios," similar to "Annie Oakley," with all the kids, plus some coaches and parents, lining up on a trap field. The first two shooters in line load; shooter one calls for a trap target and has the first opportunity to shoot and break the target; shooter two then can shoot the target if shooter one misses or shoot at a chip if the target is broken. If they both miss or shooter two doesn't break a chip, they are both safe from elimination. If shooter two breaks the missed target or a chip, shooter one is "Adios." It was a great time, and some amazing long shots were made on some very small pieces of target, turning them into tiny chips. Never underestimate what a 20 gauge can do.
At the final gathering, Fall River's Coach Armand told everyone to look around because these are the faces you will see at future Zone 1 NSSA matches. It was great seeing all the support provided by the club, the coaches, the parents and the next generation of shooters. There is no doubt that there were friendships born at this practice. And it won't be the last get-together. Ledyard and Groton plan to return the favor by hosting the next skeet practice. Although seeing all the kids hammering skeet targets was fantastic; the best part of the day was watching the kids hang out in the clubhouse talking excitedly and overhearing the exchange of information and something about their new group in Snapchat … whatever that is.
– Contributed by Amy Stuchell