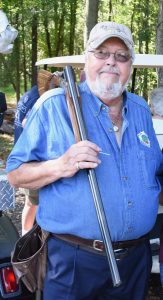 In 2011, NSCA Hall of Famer and former Executive Council chairman Bob Lepor made sporting clays history when he shot his 200,000th registered target. That record has now been broken. On Sunday, September 24 at high noon, Bob shot his 250,000th registered NSCA target during the main sporting event at the Delaware River Classic in his home state of New Jersey.
"Bob's accomplishment and dedication to the sport is remarkable," said Anthony Matarese, whose club, M&M Hunting and Sporting Clays, hosted the event.
Bob's journey into the history books of sporting clays began in 1994 when he shot his first registered NSCA target at the U.S. Open held at Hopkins Game Farm in Maryland. He posted 1,000 registered clays that first year alone, but really ramped things up the following year after recovering from an illness. Bob used shooting as a means to rehabilitate himself in an effort to increase his strength and stamina. By the year 2000, he'd shot 100,000 registered targets.
"Bob's most prolific year was in 1999, when he shot 31,650 registered targets," reported Diane Sorantino, a close friend and frequent squadmate of Bob's. "Between 1994 and 2017, Bob averaged over 10,000 registered targets per year, and during one three-year period, he averaged 20,000 per year."
After reaching 200,000 in 2011, Bob was noncommittal about hitting the quarter-million mark. "I don't know about 250,000," he said at the time. "I'll let that run its own course. We'll see."
Six years later, Bob had this to say about his most recent milestone, "I was the first to reach 100,000 and first to reach 200,000. Now, being the first to reach 250,000, I must admit it feels like I have accomplished a real personal goal."
He didn't make this journey alone, though. "Bob has tremendous family support in pursuing his shooting goals," said Sorantino. "Bob's wife, Marilyn, has traveled to many shooting events and frequently accompanies him at Nationals in San Antonio. Over the years, Bob's granddaughter, Elizabeth Carbone, has also shot many tournaments with him." Both Marilyn and Elizabeth were on hand to see Bob shoot his 250,000th target.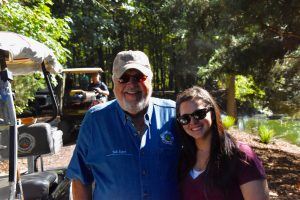 Spending time with his granddaughter has been particularly gratifying to Bob. "She was there for 100,000 and 200,000 as well," he noted. "Having Elizabeth along with me on this journey, either shooting or just supporting me, has meant everything to me!"
Spending time with grandpa has meant a lot to Elizabeth, too. "Looking back on my adolescence, shooting with my grandfather for nearly seven years provided me with some of my most cherished moments of our relationship," she reflected. "Not only was I able to compete side by side with him, but we also got to travel the country together, doing something we both loved.
"Through his patience, guidance, and knowledge, I was able to become a successful shooter for my age group," Elizabeth said. "I am so proud of his incredible accomplishment and even prouder that I got to experience firsthand a very large amount of his 250,000 targets."
It isn't all about the numbers, though. Bob has also taken time to give back to this sport he so dearly loves. Sorantino points out that Bob was awarded the Hal du Pont Service Award, which is given to an NSCA member who has given back to the NSCA and had a positive influence on the game and its members.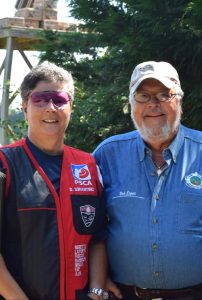 "This award describes Bob completely," she continued. "He has served as a State Delegate, Advisory Council Member, and Executive Council Member. As chairman of the Executive Council, he spearheaded and managed many positive changes that benefited the NSCA and its members. Bob worked tirelessly at all these positions, and we often joked that it was a full-time job without the paycheck."
Although he's approached sporting clays in a workmanlike fashion — one has to in order to rack up such an astounding number of targets — it's mainly been about family, friends and fun. "The sport does give you the opportunity to meet many people and make some great lifelong friends," Bob acknowledged.
Sorantino counts herself among those friends. "I've personally shot many targets alongside Bob," she said. "We actually live in the same hometown, approximately one mile away from each other. It was shooting that brought about our friendship. To this day, we continue to shoot tournaments together. We know each other and our shooting styles, and it works well for us both. Most of all, we always enjoy a good laugh — and a good meal — together!
"It is my honor to know Bob, and I treasure our special friendship," Sorantino added. "I look forward to seeing him shoot many more NSCA registered targets. I'm proud to be a part of his recording-setting goal, and very proud to say Bob Lepor is my friend."
"I've known Bob for over 20 years and am honored to call him a friend," echoed Matarese.
In the end, the shooting sports are all about the friendships we make, not the number of clays we break. That said, don't be surprised if the tally approaches 300,000 in a few years. If there's one thing you can always count on Bob Lepor to do, it's shoot a lot of targets. The last 23 years have proven that time and time again — a quarter of a million times, in fact.
Photos by Photos by Derek Moore & Devin Kearney
Click on any photo to enlarge it.