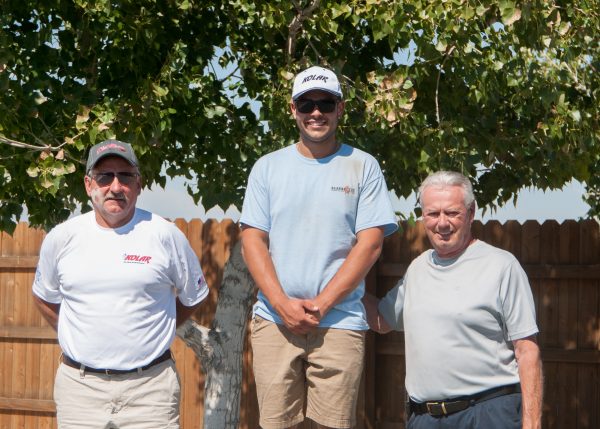 In 2015 the California State Skeet Shooting Association made the decision to adjust the date of their State Championship to May, the weekend after Mother's Day. With a three-club rotation that includes NorCal, SoCal, and Central California, it was the mid-state's turn to host. That put the tourney on the weekend of May 19-21 at Kern County Gun Club near Bakersfield, a lovely facility that has hosted notable tournaments, including zone and state shoots.
The tournament would be a three-day event, with Doubles and 12 gauge to be shot on Friday, the balance of guns over the weekend. Weather was typical of the central valley in May, mid-80s on Friday and upper 90s by Sunday and a relatively constant breeze picking up each day about mid-morning — very manageable and shootable conditions.
The RVs and shooters started rolling in on Thursday to set up and practice a bit. The club has put a lot of energy into some of the niceties that accompany a state event, including new scoreboard, enhanced patio areas set up to create a stadium effect for shoot-offs, fresh gravel, and decorations courtesy of Katie Fry. Led by the legendary Ginny Fazer, the team of Bobby Williams and Tina Stephens made registration look easy. Jamie and Susan Horton assembled the State t-shirts and swag, and gorgeous they are. Bill Burke and Mike Anderson coordinated with the club field staff to ensure the best targets possible. Every morning at 7:00 a.m., Mr. Burke and Anderson ran through all the fields, hooping and adjusting as needed. Admin and field management often go overlooked. Be sure to say "thank you" to these folks when you see them. They work tirelessly.
Sponsors are tremendous and generous, and they are the backbone of making this type of event happen. Thank you to ours, including Derrick Gerecke, Mike Jones, Colby and Katie Fry, Jon Cunningham, Chuck Antonino, Keith Key, Wes Reece, Ed Bolt and his Lunch Bunch, Brad and Kathy Allen, Dick Wurster, Randy and Donna Holtzclaw, the Buonis, the Kern County Skeet Committee and Kern County Gun Club.
In case you've been living in a cave for the past few years, there is a young man from Northern California who is impressive both on and off the field. In April, he won the Zone 7 Championship in severe shooting conditions. In 2016, he broke the highest score at the Junior World. And he is the reigning Cal State Champion. He consistently shoots high scores and wins titles, and his accomplishments aren't just on the skeet field. Straight A's in school accompany high work ethics and social skills. So it was no surprise that the 2017 California State shoot was the Nick Ballentine show. He won the HOA by two targets, along with a couple of gun titles, beating several wily veterans along the way.
Click image to view larger
As is customary, the tournament started on Friday morning with Doubles. Ballentine, McLaughlin, and Bolt each broke 99, finishing in that order. A couple managed 97s, a few more 96s and 95s. Class winners were Dan Lewis AAA1, Robert Lopez Jr. AA1, Brad Young A1, Andre Frey B1, Dr. Bill Bell C1, and the legendary Joe Adams D1. After lunch the 12 gauge would be contested.
Miracle of miracles, Ballentine dropped a target in the 12. He's human, and a couple of grey beards jumped on the opportunity. Two straights and half a dozen woulda-shoulda 99s meant a battle for the podium. NorCal's Dan Lewis beat out SoCal's Joe Falabrino for the gun title, then the 99s went at it for the last spot. Ballentine prevailed for third, followed by Lopez AAA1, Jack Bernardi AA1, Brett McLaughlin A1, lefty Cliff Weaver B1, Hal Stewart C1, and San Diego's Ron Schaefer D1.
Led by newlywed Kathi (Friesen) Allen, her husband Brad Allen, and Katie Fry, the club hosted a nice taco bar for the guests. Chicken, steak, and pork tacos were enjoyed by nearly 100 people, and you can't have tacos without margaritas. The CSSA Board of Directors also conducted one of their regular meetings in the clubhouse. Of note is the scheduling of the 2018 Zone 7 Championship at Kern County Gun Club. As the hosting state, the Californians all agreed to fully support and assist in next year's Zone Championship.
Saturday morning, 7:00 a.m.: Burke and Anderson are setting targets. It's perfectly calm, a slight chill in the air, the sun is coming up. It's going to be a good day. Yellow shells are being assembled by the various shooters in preparation for the 20-gauge event. A group of about 10 Juniors are arriving from Southern California, two others having arrived on Friday. The Junior program is the pet project of Tina Stephens, CSSA Board. Since the basic entry for Junior shooters is paid by CSSA, this group of youth are here to take a shot at skeet. For some, it was their second state shoot. For many, it was their first time in a registered event. And for just about all of them it was their first time at Kern County. They shot both the 20 and 28 gauge this day and represented very well.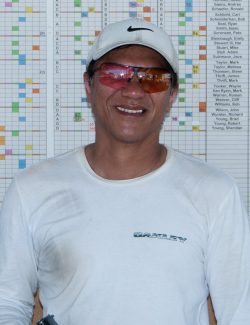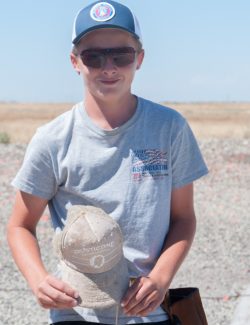 At 8:30, the sounds of shooting filled the air. The 20 gauge would be complete by noon, two banks of the 28 by sundown. It was to be a very full day, including a banquet in the evening. In the 20, a rather eclectic group broke perfect scores, led by JR Fernandez's first ever 100 straight. Larry Blount of Arizona and his lovely daughter Emily Steinbaugh also ran hundies. Nick Ballentine completed the quartet. A couple of 99s and a group of 98s would scrap it out for the various class titles. In the end, it was no surprise to see Ballentine 20-gauge Champion, Blount runner-up and Steinbaugh third. Class titles were Dan Lewis AAA1, Jack Campbell AA1, Adam Stull A1, Emeterio Fernandez B1, Melissa Taylor C1 and Denny Armstrong D1. Steinbaugh had a clean run of Lady titles so far.
The 35th annual CSSA Hall of Fame and Awards Banquet was held at Stockdale Country Club. Frank and Lori Buoni sponsored the group, providing access to the beautiful and grand facility. White linens and tablecloths made the group feel like dignitaries. Speaking of dignitaries, two were inducted into the California Skeet Shooting Hall of Fame. Jerry Murphy and Cliff Bolt received the award for their many years of hard work promoting skeet and building clubs in the Central Valley. Michelle Bolt presented an insightful and entertaining program which took us through years of this great friendship and journey. Following the HOF presentation, the state teams were announced and awarded. Finally, a scholarship was awarded by Susan and Jamie Horton. Two prior recipients were there: Jenna Buoni and Diana Riddle. A deserving Nick Ballentine will be the 2017 recipient of the Horton Scholarship.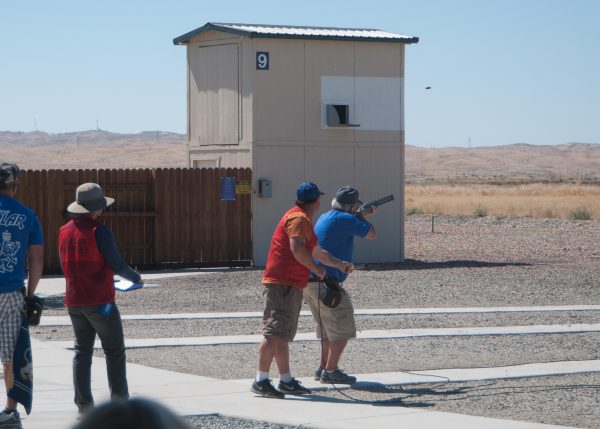 Sunday at 8:30 a.m., the last bank of the 28 was completed. The .410 followed, with the last bank going out at 1:30. It was another full day that included the HOA event, and another first 100 straight was broken in the 28 by hometown favorite and upcoming Junior Joe Fry. He made it look easy. Three others got 'em, setting up an entertaining shoot-off. Once again Ballentine prevailed for Champion, Joe Fry captured runner-up, and the other Kern County Legend Hal Stewart completed the podium. Dan Lewis earned another AAA1, Bill Marble AA1, Wayne Cagle A1, Murphy Miller B1, Brad Allen C1 and Hal Garb D1. This time Diana Riddle took Lady Champion.
After three guns, Ballentine was down just one target. Dan Lewis was right on his tail, down only two. Hal Stewart was down four, along with a slew that have missed four or five. Somehow it always comes down to the .410. Half an ounce of lead, less than 300 #9s to break a target moving about 45 mph. Seems impossible when you think about it. Bill Burke never gave it a thought, breaking 99 of the flying disks to win the gun title outright. Bill Marble's 98 took runner-up outright, and Bill Borrelli's 97 took third without contest. This time Ballentine beat out Lewis for AAA1 by a target. Blount was AA1, Wayne Cagle A1, Hal Stewart B1 and Kern's own Dick Wurster C1. Anthony Abernethy completed it for D1, while Remington DeWitt took the Lady .410 title.
By beating Lewis in the .410, Ballentine assured his second straight California HOA title. Lewis was relegated to runner-up, and Bill Marble completed the podium at third. Robert Lopez was the AAA1 Champ, Jack Campbell AA1, Larry Blount A1, Hal Stewart B1 with a very nice 391, Warren Liu C1 and Vic Parachini D1. Emily Steinbaugh was the Lady HOA Champion.
And one more momentous event: Carl Schlicht of Utah shot his 100,000th registered target at the championship. Congratulations, Carl.
Part of the conversation since 2016 has been whether the May date makes sense for this championship. It's a fair conversation, but until the entire three-club rotation is complete, the tourney will remain in May. Next year it's off the Stockton for what promises to be a first cabin weekend in all aspects. And as mentioned earlier, the 2018 Zone 7 should land in April at Kern County. Add to that two or three other notable shoots in the Golden State, and you've got a nice West Coast swing. Make it a point to join us next year.
– Contributed by Chris Baker