In the February issue of Clay Target Nation, our popular "Hey, What's That Gun?" column tells the story of a one-of-a-kind shotgun owned by an NSSA-NSCA member who wanted to remain anonymous. Due to space considerations, we couldn't give all the details in print, but you can read all about it here. The shooter writes: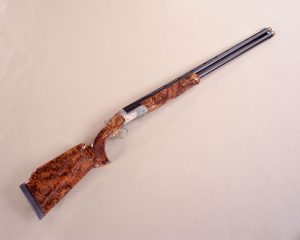 I commissioned this fully bespoke shotgun when I was competing in skeet. Every part of the gun's construction was performed by one of the most masterful American craftsmen and artisans. My intention was to create the ultimate American-made shotgun, and there is good evidence it was achieved. This project got off the ground in 2002 and the gun was delivered in late 2004. The first decision was the gun itself had to be a premium-level competition shotgun. Kolar was the obvious choice here, as the only American maker of pro-level competition guns. They also readily agreed to allow and participate in having the stock work and engraving done by others. No other premium gunmaker, neither foreign nor domestic, was willing to work on a truly bespoke gun like this one.
This is a full skeet set with a 12-gauge barrel, carrier barrel, 20, 28 and .410 tubes, full set of chokes for all gauges, two forearms (a traditional skeet and a beautiful birds-beak design) and a custom Americase to hold it all. Kolar built the gun, shipped it to the stock maker, then shipped the action to the engraver and finally assembled the completed gun. As expected on a multi-year project of this magnitude, there were bumps and issues, but they facilitated everything to the ultimate outcome you see here. My thanks to the folks at Kolar for allowing my dream to come true.
Next, I selected the finest wood blank I could find. This was no easy task. I was a patron and member of the Firearm Engravers Guild of America (FEGA), and for many years, they co-hosted their annual convention with the American Custom Gunmakers Guild. There were several members of that guild that were stock makers and wood vendors, so I literally looked through thousands of blanks. I looked through hundreds more on every stock wood site on the internet. I actually found the wood at a vendor in the Safari Club International show. The Turkish Circassian walnut blank was from a 900-year-old tree in the Caucasus mountains. This tree was growing when Richard the Lionheart was on Crusade! Nothing more about the wood need be said — it speaks for itself. It has caused more than a few twisted necks as folks walk by the gun rack at shoots.
With this fabulous wood secured, I needed a stock maker who really knew what he was doing. He had to be an artist in wood as well as an expert technician so the gun fit me. Paul D. Hillmer of Iowa was my choice after asking many knowledgeable people. He specialized in building competitive shotgun stocks. When Kolar completed the gun in-the-white, they shipped it to Paul, and I brought the wood with me. I spent two days at his shop. After the normal greetings, we got down to business. Paul was amazed at the wood I brought him, and I was relieved he declared the grain structure sound enough to handle the tens of thousands of rounds that would pound it. He spent more than two hours measuring me, adjusting a fit gun, and then tweaking it to perfection. When the measurement was completed, he carefully transferred the measurements to the wood blank, and then the real work began. I was expecting him to use a drawknife and rasps but was amazed that instead, he had a custom-designed disc on a motor arbor. He then started grinding the stock blank freehand! I was as nervous as an expectant father as he was creating my new baby in front of my eyes. His skill level was off the chart. He also used a couple of other custom-made tools as the blank was quickly roughed into shape. What I thought might take days he did in hours. I was taking pictures through the whole process, but one tool was so special he would not allow me to photograph it — his secret, he said.
By the morning of the second day, Paul had the stock fitted to the action and I fired it in his indoor range. He molded the grip to fit me like a glove. He had built the exact cast-off, pitch, twist, and drop into the wood and then tweaked everything until he was satisfied it was perfectly shooting to point of aim. The stock was about 85 to 90% of the finished shape and the forearms somewhat less. I left the rest to him. A steel rod was installed through the wrist of the stock to strengthen this critical area, and the action was glass bedded for additional protection. Since this gun was intended to be shot in competition during summer months in Texas, it had to endure sweat, humidity and rain storms, so everything that could be done was done to that end.
As I mentioned, I had been in FEGA for years and become friends with many of the Master Engravers. Having seen all the engravings presented during that time, I wanted Eric Gold to engrave the gun. This required me to have that request in place at least four years in advance, as Eric's skills were and are in high demand from the most discerning of firearm aficionados around the world. Eric has won many awards for his work, including even the storied Holland & Holland firm. We already had a friendship before this project started, and it developed even further. As this was a competition gun, the engraving could not be the typical ducks or pheasants. It had to denote the speed and accuracy required of the sport, but I didn't want something with clay pigeons on it like some of the contemporary production guns. So, Eric and I had a brainstorming session and came around to the thought: What is the fastest bird? A peregrine falcon, of course. At first, we thought of a falcon chasing and then killing a pigeon. But then I thought, no! This is a Texas gun, and a dove can outfly a pigeon any day. We had our theme!
We researched literally hundreds if not thousands of pictures of both falcons and doves. As we homed in, Eric developed the artwork that comes before all engravings. With the scenes drawn, he worked his magic with his distinctive scroll, including his signature inlayed wild roses. This is bulino engraving, which is composed of thousands of small dots that ultimately provide the photographic-like detail to the engraving scenes. Eric works under a 40-power microscope to do this work.
The Kolar offered a special challenge: The Kolar action is made on CNC equipment out of through-hardened 4140 Chrome Moly steel billet — very tough stuff. They are made this way so they do not have to be heat tempered after the machine work, which can cause movement in the action dimensions. It is common practice for engravers to annul actions to make them soft enough to engrave, but we could not do that in this case. Therefore, Eric had to engrave on the hard action. He told me it was so hard he couldn't engrave more than 1/10" before having to resharpen his carbide graving tool. In the end, he declared that was the first and the last Kolar he would ever engrave! It took him 10 months of work, start to finish.
One final detail from Eric. The top lever came to him with the pad of the lever already checked. Eric could not stand that! He sent the lever to an expert metal worker, who cut 2/3 of the lever off and welded on a blank of steel. With the blank canvas, Eric then custom-craved the lever to his satisfaction. He presented me the cut-off lever as a keepsake.
Paul finished the stock and forearms and returned them to Kolar. Kolar blued the barrels, and when the action came back from Eric, they did final assembly the gun. The only outstanding issue was the finish on the action. I had previously used Metalife, a proprietary hard chrome plating, to protect engraved actions. Metalife is super thin at .0005 – .00005, so it doesn't cover up any of the engraving, yet will never separate nor peel off, and it is absolutely rust-proof. Unfortunately, we discovered through test plates that Metalife is so slick that gold inlays will not stay in place on a Metalife surface. Eric engraved on the raw 4140 steel, and although it is chrome moly, 4140 is not rust proof. We initially thought that Kolar could French Gray the action, which involves an acid wash process, but the fine detail of the bulino engraving nixed that. Upon consulting with the best gun finish experts, we decide to go Italian, i.e., to go bare metal with no finish. Eric mixed up some very fine black powder with some Reniassance Micro-Crystalline Wax to protect and highlight the engraving. In addition, I researched a couple dozen rust-preventive products, including calling their technical services. I settled on Corrosion-X, as it bonds to the metal and cannot be wiped off without solvent. This gun was built to shoot, not to sit in a safe. So I am very diligent about wiping the gun down after each outing, and 16 years later, it does not have a speck of rust.
After all that work, we took the gun to the 2005 FEGA convention and Eric entered it in every category it was eligible for as his only entry that year. It won every award, including the Connecticut Shotgun award and the top prize as the Engraver's Choice award. It was also featured in a Shooting Sportsman article about Eric by Clair Kofoed and one of Tom Turpin's books on fine custom guns. Many knowledgeable industry people considered it the finest firearm built that year.
I am sure many of the skeet shooters that were around Texas in the 2005-2008 time frame might remember this gun. A new job ended my skeet shooting after 2008, but I am back shooting sporting clays.
You can view photos of the gun below. Click on each photo to enlarge.