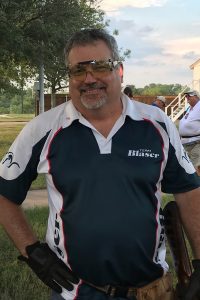 Grand Prairie Gun Club upheld a stellar reputation by hosting the 2018 World Warm-up skeet tournament September 14-16.
The threat of bad weather was not a deterrent as 61 shooters began the competition on Friday with the Doubles event. Jason Foshea, Champion, finished with the only 100, and Shane Quinn was runner-up with 99. Lauren Burge brought in Lady Champion and third overall with a 97. For those who did not need to return at the end of the day for shoot-offs, savory hors d'oeuvres were served by the volunteer kitchen staff.
Saturday began with 74 contestants in the 12 gauge and beautiful skeet weather on the horizon. Exceptional scores were turned in by all classes, but there was a single 100 shot by Shane Quinn, champion. Candidates for runner-up and third came from a pool of eight 99s. Tom Deaton, runner-up and Retired Military Champion, and Andrew Benson, third and Junior Champion, took the remaining top spots. Lady Champion was Jo Ellen Collin, and Charlie Abendroth finished as Lady runner-up. Saturday's competition was concluded with the 20 gauge. Again, there was a lone 100 in the event. Jason Foshea repeated as Champion and Military Veteran Champion, Shane Quinn kept a place at the top with runner-up, and Paul Newman was third. AAA first through third were Richard Funk, Andrew Benson and Greg Van Belois, respectively. Jo Ellen Collin made another appearance as Lady Champion with a 98, and Lauren Burge was runner-up with a 96.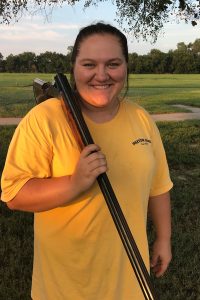 A light rain fell during the last rotation but managed to clear by the time shoot-offs started. Once the last shot was fired, everyone retired to the clubhouse for grilled steak and all the trimmings.
Sunday opened with the 28 gauge and some outstanding scores: Paul Newman, Richard Funk, Andrew Benson and Dennis Parkison each shot a 100 and met at the end of day to determine the winner. Andrew Benson was the first to be excused with a miss and took AAA1. Paul Newman's miss gave him third place, leaving Parkison and Funk to battle for champ. Funk had a miss on the next station, giving Parkison gun champ with his first-ever 100 straight in any gauge. There is every indication that Dennis will be a force to be reckoned with in the future.
When it was time for the .410, the sunny weather disappeared, the wind rose and the rains fell. The weather change was not a challenge for Matt Fallon; a score of 99 and three clean stations in a shoot-off made him Champion. Adam Roberts's 99 and a strong presence in the shoot-off placed him as the runner-up, and Mike Gerschick, also with a 99, placed third. On the AAA podium were Van Lewis, Lauren Burge (Lady Champion) and Greg VanBelois. Merril Stanfield was Lady runner-up and Jo Ellen Collin Lady third.
HOA Champion with a 397 was Richard Funk, followed by Andrew Benson at runner-up and Junior Champion and Van Lewis at third. Mike Gershick earned AAA1 and Paul Newman AA1. Lady Champion was Lauren Burge with a 386 and Jo Ellen Collin runner-up with a 384.
This event could not have taken place without the extraordinary membership of the club. GPGC is fortunate to consist of people that generously give of their time and talents to ensure this shoot is produced. A big thank you is extended to the many volunteers that loaded houses, cleaned fields, ran the kitchen and manned the grill. Thank you also to the team of Mike Skidmore and Jim Speer who made registration and record-keeping seamless. Finally, the Texas referee staff, headed by Tamme Cervenka, lent their usual expertise the tournament and deserves our gratitude.
It you have never been to a Grand Prairie shoot, consider putting us on your 2019 competition schedule. The next registered event will be the Penwell in April, and it would be an excellent opportunity to experience great shooting and Texas hospitality.
– Contributed by Tracy Ragle