The Maple Leaf flew proudly along with the Stars and Stripes on June 3-5, as we welcomed our Canadian friends back to Conesus Lake for our 38th Conesus Lake Open.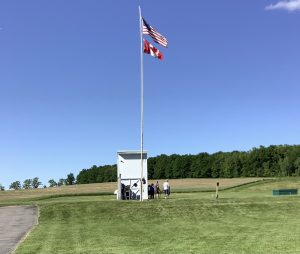 Clear blue skies dominated the weekend weather, as did Canadian Brad McRae, who escaped back across the border with both the HOA and HAA titles.
In the HOA, Mathew Kelley finished as runner-up. That big guy known as "Little Charlie" Parks, of Ohio, finished first in AA, with Dave Sobiegray (A), B.J. Jensen (B), Marc Bennett (C) and John Yackiw (D) rounding out the class winners.
Ricky Laurito finished one target shy of McRae to take HAA runner-up, while Jeff Ventry (AA), Kody Hoth (A), Doug Paddock (B), Ron Casella (C) and Owen Cooley (D) emerged victorious in the classes.
Friday's festivities got off to a raucous start as two of New York's perennial "big dogs" went head-to-head to see who would take the doubles championship. Ricky Laurito emerged as victor after the shoot-off of 98s. David Cooley was runner-up. Congrats to Kody Hoth (AA), Dave Sobiegray (A), Doug Paddock (B), Glen Safford (C) and John Yackiw (D) for taking their classes.
At the CLO, we shoot the 12-gauge first and work our way to the little gun. Saturday was a bit breezy, and David Cooley tackled the conditions with the lone 99. Brad McRae outdistanced John Boone (A) and B.J. Jensen (B) for runner-up. John and B.J. settled for their class victories. Terry Prem (C), Marc Bennett (D) and Victor Stirpe (E) rounded out the class champs. We want to thank our sponsor, Steve Morsch, of Morsch Pipeline and Excavation for his support of this event!
In similar fashion, Rochester native Colin Smingler shot the lone 99 in the 20-gauge to emerge as champion. A three-way shoot-off between McRae (AA), Laurito and Jim Johnson (A) resulted in Laurito prevailing as runner-up. Chad Seelbinder eked out a 1-target margin over Mike Haff to win B honors, and Jim Reilly outdistanced the pack in C class. Junior shooter Owen Cooley triumphed in the D class shoot-off.
Saturday also includes an optional event – the 20-gauge Red Hot. In this event, a shooter's 20-gauge score is handicapped, and all shooters compete head-to-head for a 4-way split of the money. In the shoot-off, participants receive half of their original handicap. Scott Van Etten finished fourth, Ricky Laurito third and Marc Bennett second. Junior shooter Owen Cooley hung on to beat the old guys for the win! This is not the last you'll hear of Owen.
Saturday night festivities included a fine chicken barbecue for participants and their guests.
On Sunday, the 99s continued with Kelley, McRae and Laurito all gathering to shoot off for top dog. Brad McRae kept it clean to win, with Kelley taking runner-up and Laurito winning B class. Congrats to Dave Sobiegray (A), Cynthia Johnson (C) and John Yackiw (D) for their class victories.
The president and vice president of the New York State Skeet Shooting Association faced off to determine the .410 champion. Both Jeff Ventry (president) and Mathew Kelley (VP) shot solid 97s to "get to the dance." Matthew smoked the pair to win and was promptly delegated the responsibility of handing out awards every night at the New York State Shoot by president Jeff! Class winners were McRae (AA), Sobiegray (A), Michael Haff (B), Dr. Kristen Harshman (C) and John Quealy (D).
There were some dominant performances in the concurrent events. Owen Cooley swept the Junior concurrent, while Jack Mutchler stole all the Senior Veteran titles.
John Boone won all 6 Military Vet Championships with Dave Cook finishing runner-up for them all.
Kristen Harshman was our Lady Champion in the HOA, HAA, 20 and .410. Cynthia Johnson grabbed the 12 and 28. The same two great lady shooters split the runners-up – Johnson the HOA, 20 and .410, Harshman the 12 and 28.
Mathew Kelley captured Sub-Sub-Senior champion to keep Brad McRae from the sweep. Runners-up included Kelley (HOA, HAA, 20, 28), B.J. Jensen (12), and McRae (.410).
Veteran awards went to Pennsylvanian Ron Johnson (HOA Champion, HAA Champion, 28 Champion, .410 Champion), Doug Goodman (12 and 20 Champion, HOA and HAA runner-up), Glen Safford (12 and 20 runner-up) and John Quealy (.410 runner-up). Canadian Dan Duhamel captured the 28-gauge runner-up with some nice shooting, eh?
In Triple-Sub, Kody Hoth was champ in the HOA, HAA and 12. Clay Tietjen won the 20, and Peter Bogdon the two smaller guns. Runners-up were Bogdon (HOA, 20, .410), Tietjen (HAA 28) and Zach Jacot (12).
Sub-Senior was a battle between six great shooters. Champs included Scott Van Etten (HOA, .410), Dave Cooley (HAA, 12), Jim Johnson (20) and Don Lewandowski (28). The runners-up went to Mike Haff (HOA), Van Etten (HAA), Brian Milanese (12), Cooley (20), Haff (28), and Lewandowski .(410).
Dave Sobiegray captured three Senior titles (HOA Champion, 28 and .410 runner-up), Ricky Laurito four (HAA and 28 Champion, HOA and 20 runner-up), and Jeff Ventry two (.410 Champion, HAA runner-up). Single winners included John Boone (12 Champion), Colin Smingler (20 Champion), and Mike Ferchaw (12 runner-up).
This leaves one story yet untold. We are thankful to have Pete Hamann of Pete's Stockworks (https://petesstockworks.com/) sponsor a unique event that mirrors the NCAA Basketball March Madness. This is a FREE event where all 4-gun shooters are assigned to one of four brackets based on their 4-gun average. They shoot head-to-head in each gauge using a handicapped score (handicap is 70% of difference between average and 100, max 100). Any ties are shot-off each night.
After shooting all four guns, four shooters remain. They go to the shoot-off field for their chance at $500. When the dust settled late Sunday afternoon, Mike Haff, Ron Casella, John Boone and Owen Cooley became the representatives of their respective brackets and took to the field to see who would be crowned the Pete's Knockdown Round Champion. Now, I'm not here to tell you that youthful exuberance, great eyesight, cat-like reflexes, and great training from a storied doubles shooter/coach/father had anything to do with it, but junior shooter Owen Cooley "schooled" the field. Nice job, Owen!
Since its inception, the Conesus Lake Open has been a regular member of the Top 100 shoots in the NSSA. We take great pride in hosting the event and welcoming our shooting community to our facility! See you in 2023!
– Contributed by Dan Caryl