This year's Comstock, hosted by Vegas Skeet Association, was a great event attended by shooters from as far away as New Zealand, Canada, Massachusetts and at least eight other states.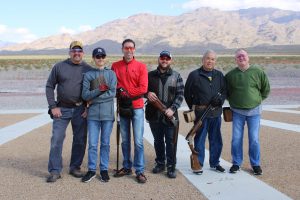 With the impending coronavirus scenario threatening to close the county-owned facility, we managed to finish the shoot just under the wire.
Friday's doubles event was in doubt due to rain early in the day, but the weather cleared up by shoot time. With overcast skies, the shooters were challenged. John Lyman bucked the weather to take the doubles with a score of 99, with James Murphy taking runner-up at 97.
On Saturday, the skies cleared and the wind pick up slightly. Neal Whitney and Sean MacWalter each shot a 99, with Neal Whitney victorious. MacWalter kept shooting well and broke 100 straight to take the 20-gauge title, with Randy Gutirrez taking runner-up with a score of 98.
Sunday brought about good weather with a slight breeze. Neal Whitney followed up on the previous day's score with a 100 straight in 28-gauge for the championship, and Victor Cordova scored a 99 for runner-up. The .410 event proved to be tight, with Neal Whitney and Mark Saussure taking champ and runner-up. 
Neal secured the HOA title with a score of 390, and John Imbt claimed runner-up with a 380.
The annual $500 Bender BCDE Challenge shoot-off came down to four shooters: B-class Larry Miranda and Gary Richter (with two misses allowed), C-class Aden Wyckoff (three misses) and E-class Jeff Galliher, with six misses. The shoot-off lasted a while, with Larry Miranda holding on to win the event and Aden Wyckoff and Jeff Galliher taking runner-up and third, respectively. 
Thanks to Todd Bender for his generous support of the Vegas Skeet Association and the Comstock. 
The fabulous Clark County Shooting Complex is where Vegas Skeet Association hosts their 11 annual events and multiple leagues. If you're ever in Las Vegas or wish to attend one of their events, contact them at vegasskeet@gmail.com or visit nevadaskeet.com.
– Contributed by Bob Donovan