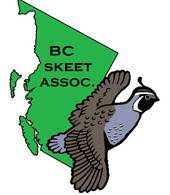 The 2019 British Columbia Skeet Championship commenced on June 7 at the Courtenay and District Fish and Game Protective Association Shotgun Ranges. This was a good opportunity for the Courtenay Club to get ready to host the Canadian Championships at the end of June. This would be the first time in memory, or perhaps ever, that the Canadian Championships have been held west of Winnipeg, and it required lots of prep work, maintenance and preening.
But first the BC's. The Doubles event commenced at noon Friday and attracted shooters from around the province to compete for the beautiful new state championship pins produced this year by the NSSA. Saturday saw the 12- and 20-gauge events take place, and Sunday we finished off with the little guns, 28 and .410. Scores were strong, with lots of competition in all classes.
Over the two days, a couple of super volunteers – Carol Curry and John Murphy – kept us well-fed and happy. Saturday night, the host club treated us to a great steak BBQ, with chef Jim Wheeldon at the grill. Shirl Leggett and Polly Watters did a great job of providing a range of sides and desserts. Mike Graham helped with the clean-up. The volunteers are wonderful and allow us to have these great events. Thank you!
Then it was on to the annual meeting where next year's events were planned and discussed. A new logo, which will be used on our letterhead and field banners, was also approved.
Everything ran smoothly over the three days. Thanks to Lisa Cunningham, our Shoot Director, and Jim Whyte, scorekeeper for a job well done. A big thanks to all those who refereed and helped out loading the houses.
– Contributed by Tom D. Walker
| | | | | | |
| --- | --- | --- | --- | --- | --- |
| | DOUBLES | | | 12 GAUGE | |
| CH | Bob La Rue | 96 | CH | Bob La Rue | 100 |
| A1 | Hilton Robinson | 94 | AA1 | Hilton Robinson | 97 |
| B1 | John Sanderson | 93 | A1 | Jim Whyte | 97 |
| C1 | Greg Burgess | 90 | B1 | Chris Mobley | 95 |
| D1 | Elizabeth Hoeppner | 89 | C1 | Matt Bauer | 93 |
| | | | D1 | Jim Giles | 94 |
| | | | E1 | Tom Walker | 93 |
| | | | | | |
| --- | --- | --- | --- | --- | --- |
| | 20 GAUGE | | | 28 GAUGE | |
| CH | Mike McMichael | 99 | CH | Lisa Cunningham | 99 |
| AA1 | Bob La Rue | 98 | AA1 | Bob La Rue | 98 |
| A1 | Hilton Robinson | 98 | A1 | Hilton Robinson | 96 |
| B1 | John Sanderson | 98 | B1 | John Sanderson | 96 |
| C1 | Matt Bauer | 94 | C1 | Matt Bauer | 96 |
| D1 | Tom Walker | 92 | D1 | Elizabeth Hoeppner | 95 |
| | | | | | |
| | | | | | |
| --- | --- | --- | --- | --- | --- |
| | 410 BORE  | | | HOA | |
| CH | Jim Whyte | 98 | CH | Bob La Rue | 390 |
| A1 | Hilton Robinson | 95 | AA1 | Bob La Rue | 390 |
| B1 | John Sanderson | 98 | A1 | Jim Whyte | 387 |
| C1 | Matt Bauer | 91 | B1 | John Sanderson | 386 |
| D1 | Mark Turnbull | 84 | C1 | Matt Bauer | 374 |
| | | | D1 | Elizabeth Hoeppner | 361 |
| | | | E1 | Rudy Luiken | 338 |
HAA
TEAM BC

(TOP 5 HOA)

CH
Bob La Rue
486
1
Bob La Rue
390
A1
Hilton Robinson
480
2
Jim Whyte
387
B1
John Sanderson
479
3
Hilton Robinson
386
C1
Matt Bauer
465
3
John Sanderson
386
D1
Elizabeth Hoeppner
450
5
Mike McMichael
381
E1
Rudy Luiken
423