The 2023 Minnesota State Skeet Championships were held at the Minneapolis Gun Club in Prior Lake, Minnesota, on August 25-27. The weather was ideal throughout all events, with a few tricky periods of wind to keep shooters alert. Jared Miller, a 17-year-old Junior from East Bethel, Minnesota, led a field of 42 shooters, winning High Overall, High All Around, .410 Bore, and Doubles championships.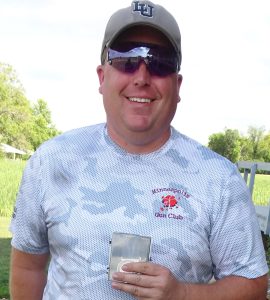 Bob Muehlenkamp, Brian Hendrickson, and Justin Staebell managed recording of the scores and winners using MySkeet software which provided online access to reports throughout the tournament. It communicates with the NSSA database, eliminating many tasks in the registration process and avoiding the misspelling of competitor names and their associated information (classifications, concurrents, etc.). Mike Quigley did a great job handling the shoot-offs.
The Friday Doubles event drew 26 competitors. Two Juniors claimed top honors. Jared Miller won the Doubles Championship with the lone 96, and 18-year-old Junior, Gabriel Anderson, won the runner-up title. The Doubles class winners were Tadd Stanton (A – another Junior), Bruce Pearson (B), Jeffrey Schneider (C), and Art Peterson (D).
MSSA President Randal Baker hosted the annual year-end meeting, noting that 33 Minnesota shooters posted 100-straight scores to date, and first-100 straights were posted by Justin Staebell, Brodie Schaefer, and Randy Vaske.
David Baker posted the first perfect score of the tournament in Saturday's 12-gauge event. Gabriel Anderson's 99 claimed his second runner-up title. Class winners were Matt Robinson, Jared Miller, Tim Olson, Erin Quaranta, Emily Wraspir, and Jon Parranto in classes AA through E.
David Baker's 99 won the 20-gauge championship after a shoot-off with Tim Olson and senior veteran Don Tesch. Tim Olson took runner-up. Bob Rick won class AA, followed by Chad Herrmann, Jared Miller, Don Tesch, and Roger Carlson in classes A through D.
Jacob Boerboon won Sunday's 28-gauge event by posting an uncontested 100, his first-ever perfect score in the 28-gauge. A lone 99 posted by Jared Miller earned the runner-up spot. AA-1 went to David Baker, and Randy Vaske, Tim Olson, Bart Ott, and Mark Cameron won classes A through D.
Jared Miller posted the lone 99 in the .410-Bore event to win the gun championship outright. Dan Kampa posted a 96 to win the runner-up spot, followed by David Baker (A), Tim Olson (B), Erin Quaranta (C), and Jon Parranto (D). Mike Quigley made Minnesota state history by shooting (and breaking) his 200,000th registered target.
Jared Miller's 393 won the High Over All Championship over runner-up David Baker, who posted a 390. Jared Miller also won the High All Around Championship. HAA runner-up was Jacob Boerboon.
The MSSA thanks Mark Cameron and his staff at the Minneapolis Gun Club for hosting another excellent state championship.
– Contributed by Ronald Chandler