The inaugural Ladies Skeet Clinic was held on September 29 during the Mini World, with 12 participants paired with four instructors. Instructors were JoEllen Collin, Jackie Ego, Bethanne Miles, and Hannah Goddard, with Susie Galloway assisting. The objectives of the clinic were to provide a safe, friendly and supportive environment for our students to learn the fundamentals of shotgun shooting from and with other women.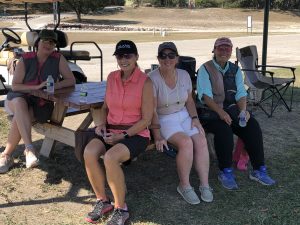 Experience levels ranged from never having handled a gun/shotgun before, to some beginners who had shot a little skeet, sporting clays, or trap. All were eager to learn about skeet shooting.  We had classroom time where we got to know each other, gave a brief overview of clay target sports, with emphasis on skeet, its history, and NSSA, and conducted a thorough safety orientation.
JoEllen Collin and Jackie Ego checked everyone for eye dominance, and the instructors helped dial in gun fit for all the ladies. Instructors went over proper mount and stance before each group headed out to the four fields NSSA had ready for the group. It wasn't long before shots were fired and cheers went up and down the line as some of the students broke their very first skeet targets.
At the conclusion of shooting, the group headed to headquarters, met members of the NSSA staff and the Executive Committee, and enjoyed a fabulous lunch, compliments of NSSA. NSSA also provided Complimentary Limited Memberships for all the clinic participants. Huge thanks to duPont/Krieghoff, Krieghoff, Briley, Federal, and NSSA for their generous gifts, loaner guns, ammunition and the special touches that made this inaugural clinic a success. With a full clinic and waiting list for the inaugural event, we're already planning for an expanded 2024 event.
– Contributed by Hannah Goddard