Pennsylvania Skeet Shooting Association held its 82nd annual Pennsylvania State Open Skeet Championship at the Shenecoy Sportsmen facility in McConnellstown, PA on August 24-26. The weather, facilities, targets and referees were all great. 190 participants shot at least one gun, including 37 out-of-state shooters from Delaware, Florida, Massachusetts, Maryland, North Carolina, New Jersey, Ohio, Virginia, and West Virginia.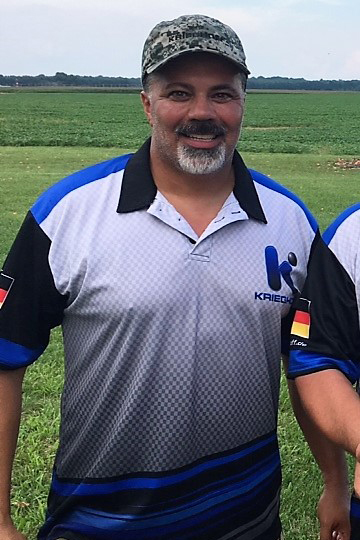 Alessandro Vitale, Zone 2 committeeman from MD, was open HOA (398) and HAA (497) champion. Sam Armstrong was open HOA (396) and HAA (495) runner-up. Pennsylvanians Ted Capers and Fran Kosmacki were open HOA third (395) and open HAA third (492), respectively. PA HOA champion, runner-up and third, respectively, were Capers, Kosmacki and Richard (Frenchy) Larosa; Kosmacki, Larosa and R. Dennis Lehman were PA HAA champion, runner-up and third.
The 28-gauge Prelim started the festivities on Friday morning with 48 shooters participating. Michael Zavasky posted the lone 100 and emerged as champion. Clay Gormish and Jared Shaffer shot 99s and were, respectively, runner-up and third.
117 participants shot Doubles on Friday afternoon. Armstrong and Vitale shot 99s and were open champion and runner-up, respectively, while Chris Kline's 99 was good for open third. Kline (99), Gary Nace (98) and Lehman (98), respectively, were PA champion, runner-up and third. PA class firsts went to Kosmacki, Kenny Riddile, Gormish, Tom Hillard, David Darrough and Rege Guckert (AAA-D).
In the main event, there were 13 perfect 100s in the 12-gauge, seven in the 20, 10 in the 28 and one in the .410. PA champion, runner-up and third, respectively, were Lehman, Kline, and Ernie Avolio in the 12 (185 shooters with Michael Stasio from DE winning open champion); Capers, Lehman and Gormish in the 20 (183 shooters); Kosmacki, Zavasky and Gormish in the 28 (176 shooters with Armstrong open third); and, Peter Anderson, Capers and Paul Augustin in the .410 (171 shooters, with Vitale's 99 taking open runner-up).
Class (PA) winners were Matthew Sanders, Frank Smithmyer, Augustin, Meghan Darrough, Rich Rothrock, Richard Teti and Jack Makdad (12-gauge AAA-E); Kosmacki, Dan Felton, Adam Vollmer, Mark Saussure, Jackson Paul and Robert Saam (20-gauge AAA-D); Tom Johnson, Pat Leyo, Ed Call, Colin Crawford, Jeff Wright and Tracey Snyder (28-gauge AAA-D), and Joe Vescovi, Matthew Sanders, William Teti, Howard Page, Paul and Bob Waite (.410 bore AAA-D).
Among Junior shooters, LaRosa, Meghan Darrough and Paul, respectively, were PA HOA champion, runner-up and third, and open champion, runner-up and third. PA Ladies HOA winners were Debra Meade, champion; Meghan Darrough, runner-up; and Linda Sanders, third. Open Lady winners were Meade, champion, Sue Huszai at runner-up and Meghan Darrough, third.
A mega-hat shoot took place on Saturday evening, starting with a hat shoot in memory of Frank Walsh. After the memorial hat shoot, seven other hats were blasted by a long line of shooters. This must have been one of the biggest hat shoots (at least by the number of shooters out there) of all time.
Colin Crawford bested 47 other shooters to win the BCDE Challenge shoot-off. The top prize was a Henry rifle donated by Ed and Theresa Call.
The 5-man team handicap championship shoot-off – free to all shooters, based on 12-gauge averages – involved 13 teams. For the second consecutive year, the winners were the North Carolina Boys: Scott Graham, Russell Bingham, Steve Timmons, Rob Pope and Chip Simmons. Each received a beautiful belt buckle.
With 33 entries in the HOA Handicap shoot-off, the winners were Capers, Kosmacki and Leyo, in order.
PA State Teams for 2017 were recognized. The PA first team included Kosmacki, Lehman, Kline, Felton and Gormish, and each received a nice wooden plaque.
A drawing between 13 first-time 4-gun shooters at the State Shoot resulted in Carl Biddle being reimbursed his 4-gun entry fees. Josh Crofutt was the winner of free entry fees to the 2018 World Skeet Championships.
The PSSA President's Cup award for 2017 was presented to Bob and Becky Myers in recognition of their long-time support of skeet clubs and their major milestone of 1 million combined registered skeet targets at the World Shoot this year.
Many shooters had firsts at this year's State Shoot. Shooting their first 100s were Rich Rothrock, Jack Makdad, Armand Watts and Randal Horsley in the 12; Colin Crawford in the 28; and Peter Anderson in the .410. First 75s included Tori Holtz, Joe McGarvey and Guy Barr in the 12. First 50s included Allison Shaffer and Tracey Snyder in the 28.
George Gleich shot his 225,000th registered bird during the 20-gauge event.
All Juniors and Sub-Juniors participating in this year's State Shoot had 100% of their entry fees paid by PSSA; shells used (4 boxes for each event except the Prelim) were also provided by PSSA.
Special thanks to the many club volunteers and sponsors whose hard work and support made our event a success, and to those who contributed a total of $5,400 in added money.
– Contributed by George Gleich
Click on any photo to enlarge it.