Saturday, September 23 was the second annual Harry Michelson Youth Clinic held at St. Joe Valley Conservation Club, sponsored by Sandy Michelson, Harry's daughter. Harry was a lifelong NSSA member and chief referee for many years. After his passing, Sandy wanted to continue her father's legacy by introducing young shooters to the game of skeet.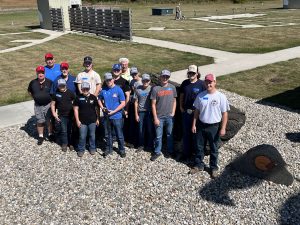 The clinic was designed to provide young shooters with the opportunity to learn about the game of skeet and take instruction on the field with certified skeet instructors. Eleven youth from around the area participated in the afternoon session. Youth from Central Noble, Aboite Clays and St. Joe Valley Conservation Club participated in the clinic.
Mike VanZile and Bruce Christian organized and coordinated the activities. Mike Lasley, Larry Easley and Ted Nussbaum assisted with the field instruction. Larry Easley covered gun safety and skeet etiquette in the classroom. All the participants were given approximately two hours of field instruction covering foot position, hold points, gun mounting and how to have fun.
At the end of the session a 25-bird tournament was held for all the participants. Grant Reith was first, Alex Gilot was second and Joseph Fellows was third.
A big thank you to Sandy Michelson for sponsoring this event and for her commitment to our sport and our youth.
– Contributed by Ted Nussbaum