Competitors from New York, Connecticut, Florida, North Carolina, Pennsylvania, and Canada arrived at Rochester-Brooks Gun Club for the annual state/open championships the weekend of August 25-27. Interestingly, half of the championships were won by shooters capturing their first open state titles – a changing of the guard? Too soon to tell, but it made for some exciting moments!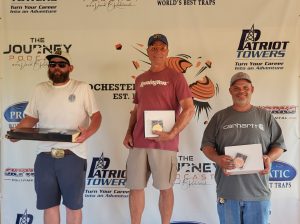 A questionable weather forecast proved accurate for the first events, with tropical humidity levels and a slight mist kicking off the Referee, Doubles and start of the 12-Gauge on Friday. Kerry Henderson defeated runner-up Terry Winders for the Referee Championship, leaving the crew free to push buttons for the rest of the weekend.
No perfection in doubles, as three 99's took to the shoot-off field to settle the podium. Don Lewandoski took six stations to defeat runner-up Bill Kalwas for his first New York State Open title, with Pennsylvania's Dennis Lehman winning third along with the non-resident champion medal. There was no battle for the New York-resident third step, as John Boone's 98 was good for the medallion.
For a complete listing of all winners, please go to www.ishoots.org which was utilized during the competition for texting shooters scores and shoot-off statuses and scrolling scores throughout the universe. Thank you, Clark Hartness!
The "Swamp" returned on Friday evening, 80 pounds of ribs to benefit the Heitman Fund, which in turn benefits youth shooting in New York. Old-time skeet can now be enjoyed by the young generation of hotshots.
The 12-gauge event concluded Saturday morning under much more pleasant weather conditions, sunny and mild, no humidity – whew! Four perfect scores resulted in Swamp-master Dave Cooley returning to the championship podium, followed by Mat Kelley and Craig Parsons winning third. Dennis Lehman also won his second non-resident champion medal.
Saturday also saw the conclusion of the 20-gauge event, where it took half a round of doubles for another first-time champion, Clay Tietjen, to win out over seasoned veteran Craig Parsons. In a shoot-off of 99's, Steve Wood ascended to the runner-up spot on the podium, and Dave Ballerini won the non-resident champion prize.
Saturday night's festivities featured the usual traditions, including one more belt-buckle win by the squad of Craig Parsons, Dan Morris, Ed Smith, Cam Baker and Andrea Lehr, plus the Heitman-sponsored Sub-Junior/Junior shoot-off for flats of ammo, snapped up by Owen Cooley, Weston Nichols and Ethyn Moore. These two shoot-offs are crowd pleasers and especially fun to watch the kids just destroy targets!
A cocktail party and delicious Dinosaur BBQ dinner, both sponsored by the host club, was followed by the awards presentations. This year, the NYS Executive Committee honored long-serving NSSA EC member Roland Smith by bestowing the award in his name on our most recently retired Executive Committee member, Dr. Michael Ferchaw. This award is a closely held secret; surprises are always great, and for once, Doc was speechless!
Sunday morning kicked off the conclusion of the 28-gauge event, with sunny skies and perfect temperatures for shooting. Surprise, surprise, only one perfect score, and our third first-time NY open champion was Scott Janowski. 99's settled the remaining podium rungs as PA's Chris Kline took runner-up and the non-resident champion medal, and Ed Smith won third. To complete the NY resident podium, Rick Ayers was awarded the NY third medallion.
Sunday afternoon's .410 event resulted in only one score of 99, posted by Craig Parsons, followed by a shoot-off of 98's settling Ed Smith as runner-up and Zach Jacot as third. Dan Morris won the non-resident champion medal.
As usual, the .410 event settled High Over All, with Craig Parsons winning the championship over Ed Smith and Steve Wood – all uncontested. Dan Morris won AA1 along with the non-resident champion prize and Sub-Senior HOA. Brian Mayeu defeated Rick Ayers in a shoot-off for A1, Justin Aldrich won B-class, Dan Ficarra headed up class C, and Victor Stirpe wrapped up the class medals with a win in D.
Concurrent HOA winners included Sub-Junior Champion Weston Nichols, Junior Champion Cam Baker, Ed Smith in Triple-Sub, Chris Kline won the Sub-Sub Senior shoot-off, Parsons took Senior, Bob DeFrancesco won Veteran honors, and Victoria Ferchaw won the Lady award. Michael Cerce won First Responder, and the military was well represented by champions Jon Zywiczynski (Military), Jeffrey Groh (Retired Military) and John Boone (Military Veteran).
The final championship of the tournament, Champ of Champs, involved a shoot-off of 99's where Steve Wood captured the medallion.
Thanks to Rochester-Brooks for hosting this annual event. The club and grounds were in great shape, and Howell Traps was hired to set targets. Thanks to Dan Caryl, NY chief referee, who worked his Rolodex to bring in the best, a move appreciated by all shooters. Mother Nature cooperated after we showed her Rite-in-Rain sheets the first day, and the social activities, club food, contributed to a memorable state championship. See you all next year!
– Contributed by Andrea Graham Lehr