The 2022 New Jersey Skeet Championship was held over the weekend of Friday, September 9 through Sunday, September 11. Joint Base-Range 14 once again hosted the event. The competition started with the Friday doubles event, and Jim Seiler broke a very strong 97 to take the championship. Class winners were Ben Galioto (A, 94), Mason Palidar (B, 95), Jay Taylor (C, 91), and South Carolina's Bob Liptak (D).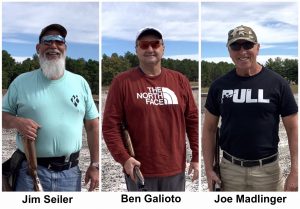 On Saturday morning, the weather was perfect for our first gun, the .410 bore. Peconic River shooter Larry Bonavita shot a terrific 97 to win the Open .410 championship. Mike Cerce took AA1 with a 92, and Jim Seiler won A1 with his 96, which also earned Jim the .410 state title. Donna Fusco claimed B1 with a nice 94, and another New York shooter, Ralph Novotny, nailed down C1 with a 92. D1 honors went to Howie Mann.
On Saturday afternoon we shot the 20-gauge event, and a determined Ben Galioto was able to bear down and post a 100 straight to win the title. Mike Cerce posted a 97 to take AA1, and Mike Costello broke a 98 to win A1. Cliff Schafer iced B1 by putting together four solid rounds to break a 98, and Jay Taylor's 92 won C1.
On Saturday evening, NJSSA provided shooters with an amazing BBQ dinner, beverages and dessert. This year's dinner was a special event, as Ed Amaty and Ben Galioto were both inducted into the New Jersey Skeet Shooting Hall of Fame. Presentation plaques for both gentlemen will be on display on the New Jersey Hall of Fame board at Joint Base.
On a cloudy Sunday morning we shot the 28-gauge event. This year we will have to open up the records book and enter a new state champion's name. Joe Madlinger broke his first 100 straight in the 28-gauge and won his first state title. Larry Bonavita won AA1 with a 97, Ben Galioto took A1 with a 98, and Cliff Schafer won B1 with a 95. Neil Alexander shot a solid 96 to take C1 and Howie Mann broke an 88 to reel in D1.
The last gun was the 12-gauge event, and Jim Seiler put an exclamation point on a solid weekend of shooting by breaking a very hard 100 to claim his third state title of the weekend! Larry Bonavita won AA1 with a 97, and Ben Galioto, who missed early, went into damage control mode and preserved a 99 to win A1. Paul Billings secured B1 with a very strong 98, and Ed Amaty locked up C1 with a 95. Tony Viel broke a 95 to secure D1, and Jay Taylor broke a 94 to claim E1.
The coveted and lucrative HOA title represents a body of work over a strenuous weekend of shooting. Ben Galioto's focus and tenacity resulted in a 391×400. This was Ben's sixth career HOA title! Mike Cerce took AA1, and Larry Bonavita's 387 took A1. Only three targets back, Jim Seiler posted a solid 388 to claim B1, and Jay Taylor's 370 took C1.
A special "thank you" goes out to the following people for making this year's New Jersey State Shoot possible. Thank you to Ben Galioto for his help in running all of the administrative functions for the shoot. Also, we thank our referees, Ed Amaty, Mark Bricker and Sophia Galioto, who all did an outstanding job refereeing. A special thank you goes to Howie Mann for making our State Shoot t-shirts and patches possible, and we extend our sincere thanks to the entire Joint Base staff for all of their assistance. It is very much appreciated! And last, but not least, a big thank you goes to our loyal New Jersey contingency for stepping up and supporting our shoot, and to everyone who made the trip from New York to support our shoot. Thank you all for attending, and for making this year's state shoot a huge success!